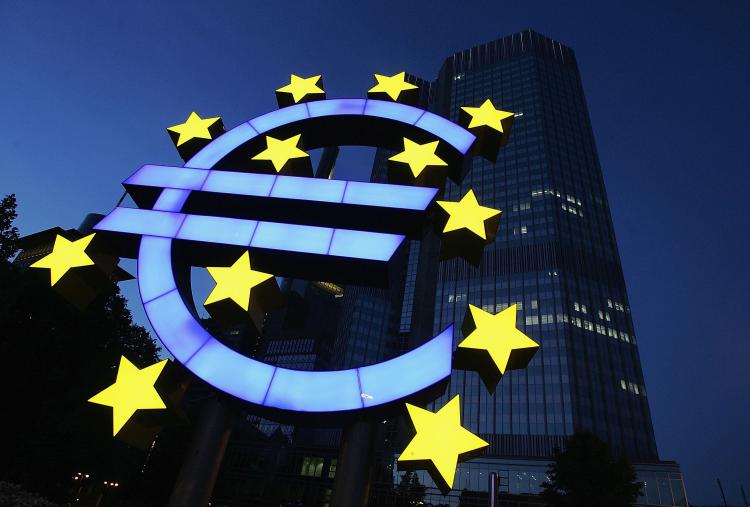 The eurozone has finally clawed its way out of the worst recession since World War ll, boosted a robust 4 percent gross domestic product (GDP) increase in the third quarter.
Out of the 16 euro-using countries, the key economic contributors to the jump in third-quarter GDP are Germany, France and Italy.
The worst performer during the third quarter among the top eurozone economies was Spain, which recorded a 3 percent decrease in GDP and its unemployment rate soared to a disastrous 18 percent.
The German economy, the biggest in the European Union—2.49 trillion euros (US$3.7 trillion) in GDP, 27 percent of the eurozone total—has made a significant improvement, increasing its economy by 7 percent in the third quarter. This is mainly due to an increase of German exports in automobiles, machinery, and chemicals. The increased exports came across as a surprise to analysts due to the fact that a strong euro didn't stop buyers from buying German goods in tight economic times.
The big accelerator for the German auto industry came from a smartly designed car-scrapping program, replacing hundreds of thousands of old cars with new ones—much like the "Cash for Clunkers" program in the United States. Germany has also managed to keep its unemployment rate relatively low at 7.9 percent.
France's economy also improved, increasing its third-quarter GDP by 3 percent mainly based on higher exports. However, analysts were disappointed with the data, as they had predicted France to grow by 6 percent in the third quarter.
"[France's rebound] is still rather weak and reliant upon the stimulus package put in place by the authorities," said Oscar Bernal, an analyst at ING Group. "Only public spending is likely to keep sustaining growth in the next quarters," he added.
The United Kingdom recorded a 4 percent GDP decrease in the third quarter, a far cry compared to the same period last year. This leaves the U.K. as the only major global economy still deeply entrenched in the recession.
The U.K. government also spent billions of pounds in rescuing the nation's banks and businesses, but its economy hasn't yet reaped much benefit. Unlike Germany and France, the U.K. economy is not as export-reliant even as the British pound has weakened relative to other currencies.
Analysts believe that a rebound in the U.K. economy won't arrive until its property market revives. There has been some property value increases over the last few weeks but its mortgage market remains weak.