Following what some participating diplomats called "tortured" and "toxic" talks at the recent European Council Summit in Brussels, EU leaders have reached an agreement on a set of conclusions that are to be the bloc's policymaking roadmap going forward, said European Council President Donald Tusk on Friday, June 29.
Sharp divisions over how to handle the flow of illegal migrants from south of Europe were widely feared to be a dealbreaker, which Tusk sought to bridge by circulating a set of draft summit conclusions to European capitals a week ahead of the European Council meeting on June 28-29, and following up with a blitz persuasion campaign.
The document was broadly characterized by a policy shift away from compelling EU member states to accept quotas of relocated asylum-seekers, and towards hardening borders and working with nations and organizations upstream, to stem the human tide closer to its source.
Following nine hours of often stormy talks, EU leaders agreed on a range of measures, including the new concept of "regional disembarkation platforms" outside the European Union, where asylum requests would be assessed before claimants get to Europe.
Such platforms would differentiate between economic migrants and those in need of international protection and reduce the incentive to embark on perilous journeys.
Other points of consensus included sharing out refugees arriving in the bloc on a voluntary basis and creating "controlled centers" inside the European Union to process asylum requests.
EU leaders also agreed to share responsibility for migrants rescued at sea, a key point insisted upon by Italy's new Prime Minister Giuseppe Conte.
Early Thursday evening, German Chancellor Angela Merkel and Conte set aside 45 minutes for a chat, only to break it off after 20 minutes when the Italian leader rejected the German leader's overtures, according to diplomats.
Before the dinner clash over migration started, Conte refused to endorse a summit text on security and trade until other leaders had bowed to his demands to help Italy manage the Mediterranean arrivals.
Asked earlier by reporters about the possibility of Italian dissent from the joint consensus, European Commission President Jean-Claude Juncker expressed confidence that a compromise could be hammered out.
"I'm not worried about the [Italian] veto, but I'm worried about the situation on the coast of Italy, so we have to show solidarity."
Yet for those privy to the negotiations behind closed doors, that a consensus would be reached was far from obvious.
"It is so toxic. They go into the room, clash, storm out, go back again, clash again. With no end in sight," said one exasperated diplomat as the Friday dawn approached.
Diplomats described a tense, tortured meeting with small groups of leaders huddled together in a desperate bid to break the deadlock and avert the humiliation of heading home without having produced an agreement.
On Friday, Tusk and Juncker emerged to speak to reporters and announce a breakthrough.
"We have managed to reach an agreement in the European Council, but this is, in fact, the easiest part of the task, compared to what awaits us on the ground, when we start implementing it," said Tusk at a post-summit press conference Friday.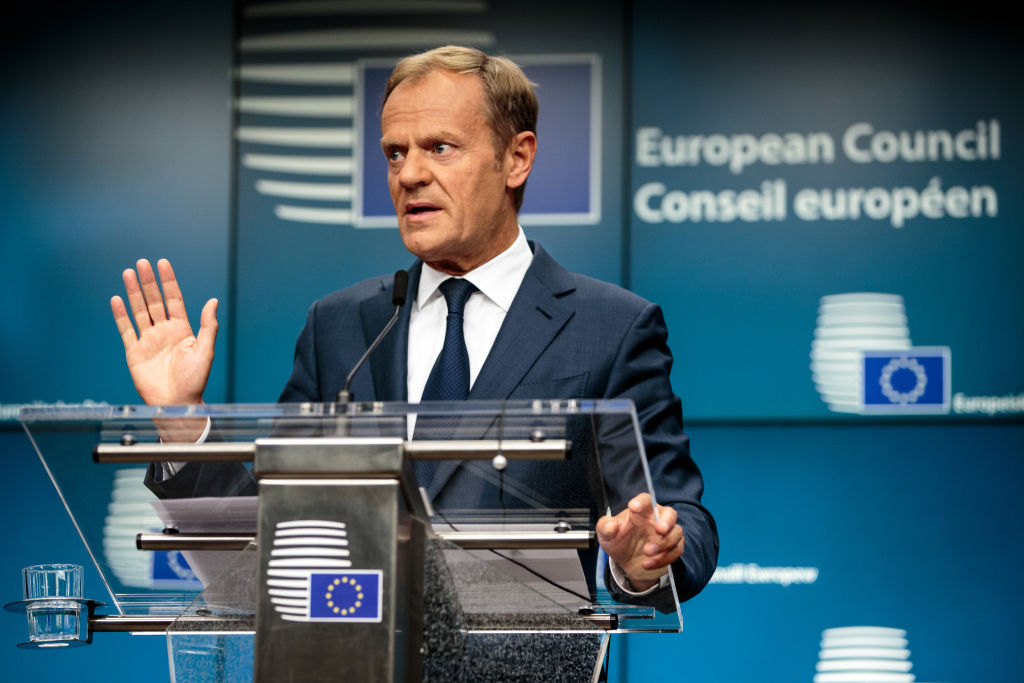 And while Tusk highlighted the consensus in a positive-sounding tweet–"EU28 leaders have agreed on #euco conclusions incl. migration"–he admitted to the press conference assembly that "it is far too early to talk about a success." Many of the points agreed to appear to be a roughly-charted course, rather than detailed prescription for action.
European Council spokesperson Preben Aamann conveyed a statement on Friday, containing the set of conclusions.
"The European Council reconfirms that a precondition for a functioning EU policy relies on a comprehensive approach to migration which combines more effective control of the EU's external borders, increased external action and the internal aspects, in line with our principles and values," the statement reads.
The European Council also announced the decision to step up efforts to stop migrant smugglers by supporting the Libyan Coast Guard.
Juncker told reporters that a consensus had been reached to release a second payment under the Facility for Refugees in Turkey program in the amount of 3 billion euros, with the aim of preventing new crossings from Turkey and bringing the flows to a halt.
Leaders also agreed on a new dedicated external migration management facility to be included under the next EU long-term budget.
This focus on voluntary acceptance of asylum-seekers and controlled centers, featured in the joint statement, as well as on increased border protection, was hailed by the Prime Minister of Poland at a press conference on Friday.
Poland and Hungary have both long-opposed the now abandoned policy of a compulsory quota-based acceptance of asylum-seekers.
"An ever greater number of countries is becoming convinced that the best solution is not to forcibly relocate refugees [within the EU] nor to impose fines on countries that refuse to accept them, but to expand our collaboration to help those countries which are the source of the refugee flows to Europe, as well as to harden the external borders of the European Union," said Prime Minister Mateusz Morawiecki.
Polish Prime Minister Mateusz Morawiecki speaks at a press conference in Brussels on Friday, June 29. (Screengrab via Chancellery of the Prime Minister)
Besides the challenges of implementation of the newfound consensus, more work remains to complete the reform of Europe's asylum rules. Five out of the seven legislative proposals are close to finalization, but none have been adopted.
Reuters contributed to this report.
Watch Next:
How Communism Seeks to Destroy Humanity
Communism has caused the deaths of more than 100 million people over the last century through famine, political killings, and genocide.