Epoch Times Reporter's Gmail Among Those China Hacked
March 25, 2010 2:11 pm Last Updated: October 1, 2015 8:31 pm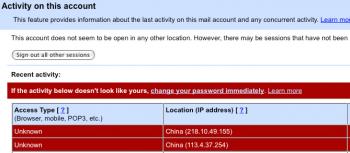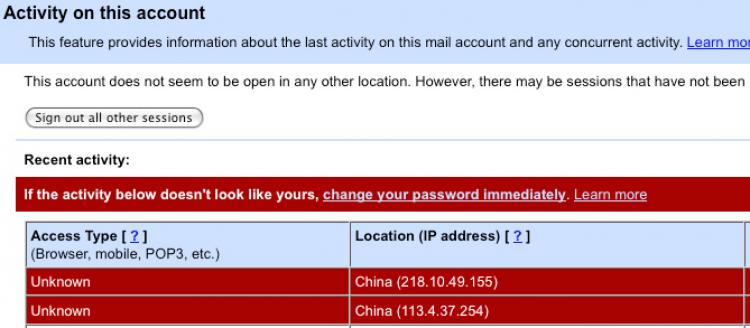 Human rights activists and journalists, including an Epoch Times reporter from Washington, D.C., have been finding an alert from Google in their Gmail accounts letting them know their email was hacked from China.
On Wednesday night, Nicholas Zifcak, a Washington-based reporter for The Epoch Times who mainly covers federal politics and national affairs, signed into his Gmail account to find a banner across the top warning him: "Your email account has been accessed from China, click here to find out more."
Clicking on the link brought him to a page outlining the IP addresses that accessed his account, one of them from a company called China Unicom. Both addresses were based in Harbin city, Heilongjiang province.
Ironically, a story Zifcak wrote in December on the White House's new cyber security appointment had made reference to concerns over Chinese cyber attacks. He said he was not using the Gmail account for sensitive information so the alert was not as concerning as it could have been.
Google added the warning feature that very day as a way make sure users were aware if their accounts were accessed from an unusual IP address. Gmail had always had a link below users inboxes where they could check recent activity and where their account was accessed from, but the new alerts turn that feature into a more useful security function.
Journalists working in China were warned their accounts could be hacked in January but it seems notices like the one Zifcak received have been coming out just as Google shifts its business out of China and into Hong Kong. Zifcak's warning shows his account was accessed from inside China last week, just as Google was preparing to announce its withdrawal.
Stephen Gregory, a spokesperson for The Epoch Times, said he was not surprised to hear one of their reporters had his account broken into, given the newspapers track record on China coverage. The Epoch Times reports on many topics sensitive to the regime and has written an editorial series calling for Chinese people to withdraw from the Chinese Communist Party or its affiliated organizations. Tens of millions of people inside China have expressed support for ending the CCP on The Epoch Times Web site.
"The Epoch Times is the media outlet most frequently blocked by the Chinese regime," he said.
"The monitoring of the email of one of our reporters here in the United States demonstrates how the communist party's attempts to censor speech inside China makes it hostile to freedom of the press anywhere in the world. We hope the world's media will respond to this hostility by reporting more vigorously on the topics the Chinese regime wants to censor."
The Epoch Times on Wednesday issued a statement praising Google's move to stop censoring its search results in China even in the face of having its business activities there shut down by the ruling communist regime.