The Prime Minister's Office has condemned climate demonstrations involving activists blocking access to oil terminals in the UK as costing taxpayers millions of pounds and "putting lives in danger."
On Tuesday, Home Secretary Priti Patel and Prime Minister Boris Johnson denounced environmental protesters who they say are "wreaking havoc" on roads.
'Lawless'
Patel urged police to be tougher on Just Stop Oil, an activist group in coalition with Extinction Rebellion (XR), which is protesting the UK government's awarding of new oil contracts to businesses.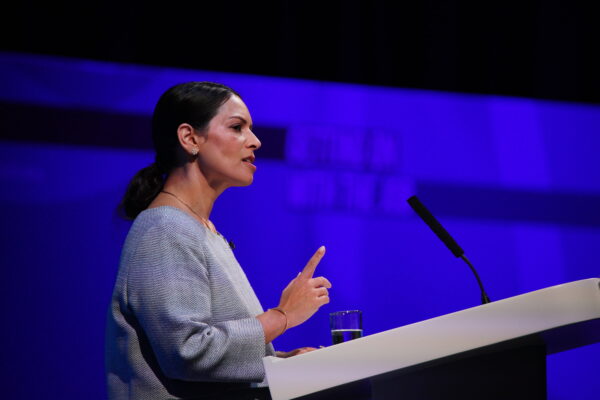 On Tuesday, eight activists from Just Stop Oil were arrested after a road was blocked. Last week, activists claimed they dug tunnels underneath the carriageway in Grays, which is a key delivery route for the nearby oil terminal. The group said its tunnellers "are still underground disrupting the oil death machine" in a post on Twitter.
The group was also filmed blockading petrol stations and damaging petrol pumps. On Aug. 26, Just Stop Oil said on Twitter that they "decommissioned pumps at 7 stations in central London."
"These thugs and so-called eco-warriors are waging a war against the British people by going out of their way with planned disruptions affecting our daily way of life, our freedoms, our free press. They are in the wrong," said Patel in the Daily Mail.
"They should all be stopped, in my view. This is a symptomatic illustration of lawlessness in our country where it's seen as OK for these people to behave in this way. It is not OK," she added.
'The police must impose the full force of the law and not allow these protesters to get on site. There are laws in place which should be used. Laws including arrest for aggravated trespass exist and my Public Order Bill will bring in new criminal offences for these tactics and protests," she added.
1,000 arrests
A No 10 spokeswoman said Johnson backed Patel's words, adding: "Obviously the right to protest is a fundamental principle of our democracy but these demonstrations are wreaking havoc on our roads and they're disrupting thousands of journeys and costing millions in taxpayers' money and also putting lives in danger."
"To date, Just Stop Oil protests have cost police and other agencies millions of pounds and police on the ground have made over 1,000 arrests to date of Just Stop Oil protesters who are distracting officers from preventing crime and keeping our communities safe," she said.
The spokeswoman pointed to the government's Police, Crime, Sentencing, and Courts Act which has come into effect.
She said that this increased the sentences available for offenders convicted of carrying out disruptive acts and police had more flexibility in the way that they manage protests.
The Public Order Bill "will give police pre-emptive powers to prevent guerrilla tactics" and "we will continue to ensure the police have the powers that they need."
More Subversive Agenda
Groups like XR have been accused of having a "subversive agenda."
In 2019, a report (pdf) by Policy Exchange written by former Head of the Metropolitan Police Counter Terrorism Command Richard Walton argued that XR was a campaign that seeks to use mass civil disobedience over climate change, to impose full system change to the democratic order.
And that it seeks a "more subversive agenda, one that is rooted in the political extremism of anarchism, eco-socialism, and radical anti-capitalist environmentalism."
In response to the report, XR said it was "a movement of mass civil disobedience with the principle of nonviolence at its core."
Just Stop Oil said they are planning mass blockades in Westminster, central London in October in a post on Twitter. The group is funded by the Climate Emergency Fund, which itself is funded by the oil heirs from the Getty and Rockefeller families Aileen Getty, Rebecca Rockefeller Lambert, and Peter Gill Case.
Just Stop Oil told The Epoch Times that they would not be stopped by what they described as "threats" from Patel and Johnson. "We will continue our campaign of peaceful civil resistance until the government agrees to end new oil and gas," they said in a statement.
PA Media contributed to this report.