Five Irvine City Council candidates shared their views on the COVID-19 pandemic, the environment, and housing development Oct. 12 in a debate hosted by the Associated Students of the University of California, Irvine (ASUCI).
Aside from the topics brought up by ASUCI, all candidates advocated for a more expedient plan to build a long-awaited veterans cemetery on land near an abandoned air base.
Abigail Pole, Lauren Johnson-Norris, Christina Dillard, Diana Jiang, and Anshul Garg attended the virtual debate via Zoom. All 14 candidates were invited to participate, however Vice Mayor Mike Carroll, Mark Newgent, John Park, and Hai Yang Liang declined. More candidates will participate in Part 2 of the debate Oct. 14.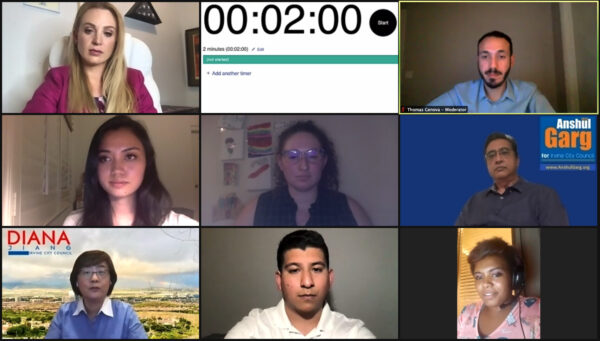 Pole, 22, is a recent graduate of UCI. She said she chose to run for a council seat because of her frustration over the veterans cemetery plan, high rents, and the shortage of student housing.
She accused the council of dismissing the plight of students who rallied to oppose the city's ordinance against boarding houses, which "would make housing more expensive, and higher education even more unattainable, especially for students of color."
"I remember when the sitting city council, some of whom are candidates now, completely ignored students' pleas," she said. "I remember the hopelessness and despair that I felt. … Instead of a kind ear, some understanding, and a promise to move forward together, we were rebuked."
Christina Dillard, a 24-year-old paralegal student, said she is "just a regular citizen" who wants to bring forth change on city council.
"I'm just a single mom," she said. "I'm just trying to make the world a better place one step at a time. I'm just trying to be the change that I'm so desperately looking for, but I've yet to find. …What are we doing about social injustice? What are we doing to be a self-sustaining city? What are we doing to lead the charge on green energy?"
Diana Jiang holds a master's degree in electrical engineering. She is a community volunteer and is involved in various UCI committees. Jiang said her platform is about keeping her community healthy and safe, and making sure Irvine keeps up with the rapid pace of developing technology.
Jiang called for "enhanced transparency" at city hall and more cooperation between city council and UCI research centers to create more jobs, increase city revenues, and provide more services to residents.
Lauren Johnson-Norris, an attorney, small business owner, and a city commissioner, said she is running a "clean money" grassroots campaign, and that her views are progressive and inclusive.
"I'll be ready on Day One with a COVID-19 plan, a climate-action plan, a green public transportation plan, and move forward my progressive agenda to benefit all of our residents, including our UCI students," she said.
Johnson Norris highlighted her endorsements from U.S. Rep. Katie Porter (D-Calif.), State Assemblymember Cottie Petrie-Norris (D-Laguna Beach), and Lt.-Gov. Eleni Kounalakis. She also said she has the support of the Sunrise Movement, which describes itself as "young people uniting to stop climate change and create millions of jobs in the process."
Anshul Garg, 52, a businessman and entrepreneur, has lived in Irvine for 18 years. His goals are to expand the police department, support small businesses that were hit hard by the pandemic, and promote renewable energy, he said.
Garg wants to work with UCI, which has its own recycling system, to develop a better way for the city to recycle plastic. "I would like to talk to the right people at UCI and, you know, get that implemented if possible," he said.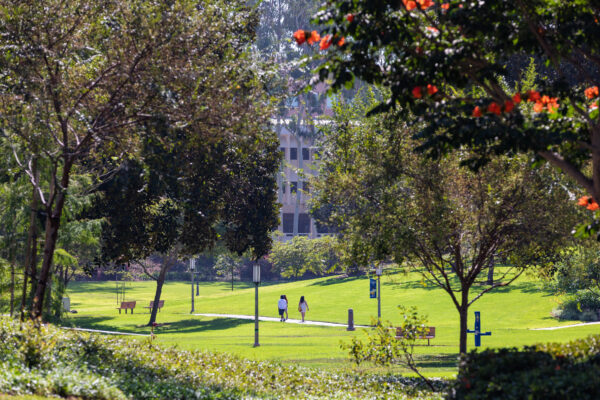 The Environment
Candidates were asked what steps they would take to strengthen the city's existing Climate Action Plan and environmental policies.
Jiang said she would encourage energy-efficient buildings, reduce the use of chemicals for weed control, and promote using recycled water for lawns.
Johnson-Norris said new housing should be built with energy consumption in mind, and that the city should incentivize native landscaping to reduce water consumption.
"One thing that we can do right now is implement clean energy through transportation. Also, to reduce traffic, we can use our education system to create a new workforce of good paying jobs that prioritize local hiring [and] veteran hiring, and those would be green jobs," she said.
"Climate change is the greatest existential threat of our generation," Johnson-Norris said. "I think that we should move forward with our climate goals with an eye toward environmental justice."
Pole said, "It is a real threat, and our own scientists are telling us that we're running out of time."
She called for a new fleet of city buses that run on clean energy, tax incentives to put solar panels on older buildings, rezoning to create multi-family dwellings and low-income housing, free Wi-Fi, and establishing a city credit union "that eliminates the need for bank fees."
Dillard called for more solar panels and finding alternative clean energy sources. "We only have one planet. We really need to take care of it. I don't know if any of you have seen 'The Lorax,' but that's where we're quickly headed. I don't know if it's really going to take somebody selling air out of a can before people … realize that they can't breathe money …" she said.
She believes recycling should be mandatory. "Why are we still even allowing 10-cent paper or plastic bags? It's not like people aren't paying for these bags and then throwing them away. Why are we not doing more with our own water conservation?" Dillard said.
COVID-19
Candidates were asked if they support the city mandate to wear face masks and practice social distancing.
Pole supports the mask mandate and suggested fining those who break the rules "because it is unfair to those who are trying to keep their loved ones safe." She also suggested the city set up hand washing stations and face mask disposal sites.
Dillard, who was recently tested for COVID-19, was worried she could infect her father and her baby. "COVID-19 is very real [and] very scary," she said. "Luckily, the test was negative." She said masks should be worn and those who don't wear them should be fined.
Jiang encouraged mask-wearing as the next flu season approaches, especially among seniors. All teachers and essential workers should wear them, she said.
Johnson-Norris said she supports state laws and city mandates. So far, she said, the voluntary compliance has been working. "So, I think it's important to continue to follow on that path and support it with robust testing, contact tracing, data collection, and more PPE [Personal Protective Equipment]."
Garg said the masks are "working for everyone" to slow the spread of disease, "so, basically, we have to keep going with this until we have a vaccine created."
Affordable Housing
Candidates were asked what they would do to alleviate the affordable housing crisis. All agreed that rezoning areas for multi-family dwellings for higher density apartments is the most obvious solution.
Veterans Cemetery
In 2014, the city council adopted Resolution No. 14-92, allowing the state to build a veterans cemetery at the Amended and Restated Development Agreement (ARDA) site at the former El Toro Marine Corps Air Station (MCAS). Over the years, two areas at the ARDA site were considered, and council approved the site in April by a 4–1 vote, with Mayor Christina Shea dissenting.
Dillard said she doesn't understand why council has dragged its feet while families are waiting for a safe and peaceful place to lay their lost loved ones to rest. "I think that we're losing sight of what it's truly meant to be about. … We will see this to the end, and we will get that done, because I feel like that's the least we can do as a city."
Garg said a veterans cemetery could have been built years ago. "Why is this thing lingering on for so long?" he asked.
Pole said the state has already committed $30 million to the project, and the federal government is prepared to contribute $10 million. "There's no excuse. My grandfather is a veteran. California has the second highest population of veterans, and there's no place for Californians to lay our veterans to rest."
Johnson-Norris said residents overwhelmingly support the site chosen for the cemetery and that it should be built "right away."
"I'm married to a United States Coast Guard veteran, both of my grandfathers served in World War II, and my great uncle in Korea. So, this issue is really personal to our family," she said. "There are funds, and it is time that we provide a final resting place to our veterans and honor our word to them. They have sacrificed so much for us."
Jiang said she supports building the cemetery within budget and making sure the voices of the neighboring communities have been heard in both the design and construction phases.
"All veterans who have put their lives on the line for our country deserve a proper resting place in honor of their sacrifice," she said.
Social Justice
When candidates were asked to share their thoughts about Black Lives Matter (BLM), all candidates said they support peaceful protests. While Jiang supports the black community, she said she has some concerns about BLM, the organization itself.
Pole criticized city council for not flying the Pride flag at City Hall last year. "The council ended up voting no, despite the pleas from students who identify as LGBTQIA+, myself included. Because I identify as a member of that community, I was deeply hurt that once again, the city council did not care."