Elephants Being Killed on Indian Railway Tracks
April 19, 2013 2:40 am Last Updated: April 21, 2013 9:43 am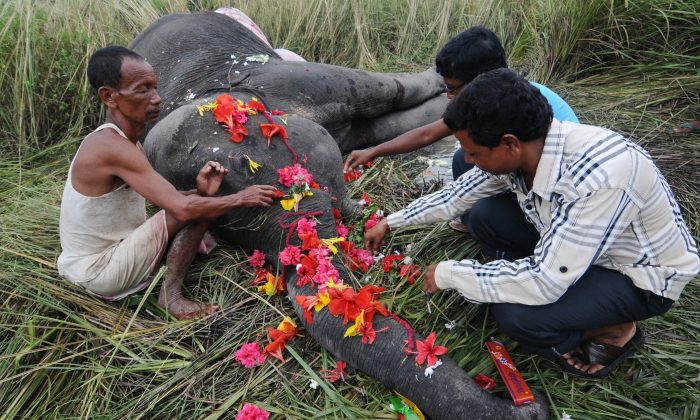 Wild elephants continue to be killed on the railway tracks across India, suggesting an open confrontation between the wild life habitats and the Indian railways.
In March this year, an adult male elephant was killed by a speeding train in the Buxa Tiger Reserve located in West Bengal.
The reserve's northern boundary runs along the international border with Bhutan. It serves as a corridor for the elephants migrating between the two countries, making it dangerous for these animals.
Such incidences have become more frequent in the last few years. In December last year, five elephants were reportedly killed after they were hit by a passenger train in Orissa state, as the animals were crossing railway tracks with their herd. 
"In recent years elephants have been killed on railway tracks in the states of West Bengal (Buxa Tiger Reserve), Assam, Uttrakhand, Orissa, and Tamil Nadu (Krishnagiri)," said K. Tito Joseph, program manager at Wildlife Protection Society of India. 
According to Joseph, elephants usually travel in herds through forest and elephant corridors. "Elephants nature is such that it annually moves through corridors in search of food and railway tracks come in between."
According to Eleaid, an organization involved in conservation of Asiatic Elephants, India has 50 to 60 —percent of Asia's total wild elephants and 20 percent domesticated. The total elephant range is spread across 110,000 square kilometers in south, central, north-east, and north-west of the country.
In a report titled "Elephants on railway hit list," published in the Civil Society magazine, author Vivek S. Ghatani writes that there are 529 elephants in Buxa. Recently the state government stated 49 elephant deaths in the last two years in the region, out of these 22 were killed by the speeding trains.
"During our meeting with railway officials, we repeatedly requested them to bring down the speed of trains from 80–90 kmph to 25 kmph so that the driver can stop the train in time after sighting elephants. But our pleas fell on deaf ears," said R.P. Saini, field director of the Buxa Tiger Reserve, in the Civil Society magazine's report.
Joseph said that some good mechanism should come into place to prevent elephant deaths on railway tracks. "The railway tracks should be removed from the elephant corridors. This will need huge investment but eventually this needs to be done."
The situation is reportedly similar in other parts of the country. According to a report by Press Trust of India (PTI), the government was recently informed by Indian Railway Ministry that 49 elephants were killed on railway tracks around the country since 2010, including 5 killed in January this year.
According to the PTI, the Indian railway minister, Pawan Kumar Bansal, said that advisories have been issued to zonal Railways to sensitize train crew and station masters on regular basis. 
The incidences have led to increasing demands that trains be stopped at night on tracks that run through wild life reserves as elephants mostly move at night in herds.
However, Joseph believes that proper coordination between the forest and railway officials could greatly solve the problem. "Forest officials have to do patrolling and they have regular updates of the movement of elephant herds. They should timely pass the information of their movement to the railway officials."
"Such accidents are usually happening at the same locations. Proper coordination between railway and forest officials can minimize the causalities." However, he stresses that gradually the tracks should be removed from the corridors.