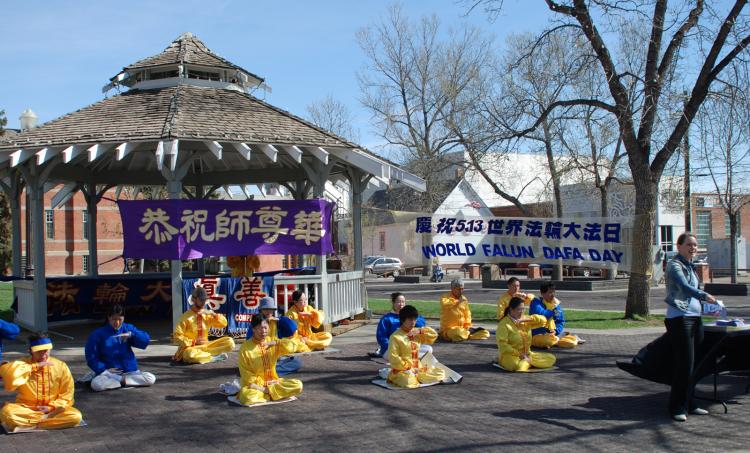 EDMONTON—The Edmonton Falun Dafa community celebrated World Falun Dafa Day, May 13, with a colourful presentation outside Old Strathcona Farmers' Market on Saturday.
Despite the windy weather, the sun shone brightly and the mood was joyous as practitioners celebrated the 12th anniversary of the commemorative day and the birthday of Mr. Li Hongzhi, founder of the Falun Dafa spiritual practice, also known as Falun Gong.
"With Falun Gong's global spread since 1992, millions of people have seen disease symptoms disappear, resolved family differences, forgiven those who have harmed them, and discovered the true power of kindness," said Chi Yeh, host of the event.
"This is the gift that Falun Gong practitioners celebrate today."
Mr. Yeh invited practitioners to read greetings from several government officials, including Prime Minister Stephen Harper, Environment Minister Peter Kent, Citizenship and Immigration Minister Jason Kenney, and Edmonton Mayor Stephen Mandel. Mayor Mandel also proclaimed May as "Falun Dafa Month."
"I would like to commend the members of the Falun Dafa Association of Canada for sharing their practices and traditions with Canadians. Your commitment to the promotion of your ideals has contributed to the diversity and vitality of our nation," said a message from Mr. Harper.
Throughout the speeches, practitioners in brightly coloured traditional clothing beat Chinese drums in appreciation of the warm greetings.
The group also demonstrated the Falun Gong exercises and talked to the public about the ongoing persecution of Falun Gong practitioners in China, launched by the Chinese regime in 1999. Many people came to ask questions about the practice and were grateful for the opportunity to learn. Practitioners handed out folded paper lotus flowers to onlookers that said "Truthfulness, Compassion, Tolerance," the core principles of the practice.
Trevor, a western practitioner, said the principles are "universal" and anyone from any culture can benefit mentally and spiritually from learning Falun Gong.
Shar Chen, coordinator of the local Falun Dafa Association, said the practice completely cured her arthritis. She said she is very lucky to celebrate Falun Dafa Day in a free country, but feels sad that many of her friends and family continue to suffer under the persecution in China.
Ms. Chen came to Canada shortly after the persecution began in July 1999, and later learned that some of her friends back in China had been tortured to death.
"We hope more people will come to know about the persecution in China," she said. "If I was practising in China I might not still be alive today."
Jack Yu, a practitioner and local businessman, said practising Falun Gong helped him to take material gain lightly and brought him inner peace.
"I'm so excited to be a practitioner," he said. "I don't get angry about things any more."
At the end of the day the group came together to sing "Falun Dafa Hao" (Falun Dafa is good), to the delight of passersby.