Editor of Regime's Mouthpiece Supports Rape Case Waitress
June 11, 2009 7:41 am Last Updated: October 1, 2015 9:44 pm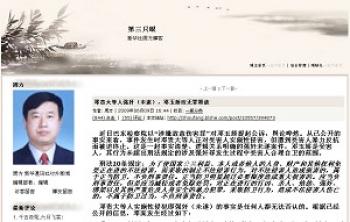 Zhou Fang, an editor/reporter of the Chinese regimes' mouthpiece, Xinhua News Agency, recently joined many Chinese bloggers in supporting Deng Yujiao, a waitress who stabbed a local official to death after he made unwanted sexual advances towards her.
Since her story broke, Deng's supporters have been growing, including some prominent figures that are closely tied to the regime. For instance, the man who identified himself as "Police Prince," recently filed a petition in the Badong Procuratorate in Central China's Hubei province, that placed the mayhem charge against Deng.
Zhou Fang, is another who recently posted an article entitled "Deng Guida Attempted to Rape; Free Deng Yujiao" on his blog asking authorities to free Deng without charge and also questioning the power of China's judicial task force and institutions.
Below is an excerpt of Zhou's article:
"The Badong Procuratorate's placing a mayhem charge against Deng Yujiao has shaken the Chinese public. Judging from the publicly disclosed facts, when the incident took place, Deng Guida and the other two persons were sexually assaulting the victim, and the victim retaliated with violence. This is clearly and logically an attempted rape case, in which Deng Yujiao was a victim. Deng's action did not go beyond acting in self-defense against an attempted rape, as defined by the criminal laws."
"It is an undeniable fact that Deng Guida and the other two attempted to rape [Deng Yujiao]."
"We cannot help but ask: In the presence of such clear facts, Deng Yujiao should be released without charge. Why did the Badong Procuratorate insist on placing a mayhem charge against Deng Yujiao? The only reason for their doing so is because they have turned a blind eye to the crime committed by the three disgraceful officials and they have publicly abused their power to persecute the victim."
"What is even more shocking is that many judicial task forces and institutions, including the Public Security Bureau, the Supreme People's Procuratorate, and the Supreme People's Court, and other different levels of judicial offices have remained silenct in the face of [the Badong local authorities'] perverting the law and making a judicial mistake; they have silently allowed such an illegal action to take place in China where we are trying to establish the rule of law in society."