Economists See "Red Flags," As Real Estate Vacancies Soar in China
December 20, 2005 12:00 am Last Updated: December 20, 2005 12:00 am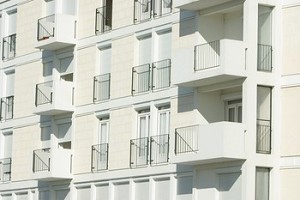 The latest figures from China's National Bureau of Statistics show that as of the end of October, commercial housing in China has a vacancy rate of 26 percent, an area equivalent to 112 million square meters (1.2 billion sq. ft.). This rate far exceeds the internationally recognized warning signal of 10 percent. Of these 112 million vacant square meters, over 50 percent have been vacant for over a year, which represents over 250 billion yuan (approx. US $31 billion) of tied-up capital.
Though more than 100 million square meters of commercial property are vacant, there are still many people who are in desperate need of housing, but cannot afford it. Theoretically, a vacancy rate is a direct reflection of the supply-demand ratio. Taking a broad view of the real estate market in some Chinese cities, housing in the lower mid-price range has been snapped up quickly, while demand for economical low price housing exceeds supply. On the one hand, newly-developed residential properties in many cities, especially high class residential one, are seldom sought by purchasers, but on the other hand, there is a huge population of lower middle income earners who are unable to afford housing. So behind the red-hot property market in some cities, there appears to be an oversupply of high-end residences, but a shortage of low income housing.
Supply Fails to Meet Demand for Affordable Housing
In Beijing, the majority of vacant residential housing consists of relatively expensive properties priced above 4000 yuan per sq. meter (US $417 per sq yd.). But properties priced below 3000 yuan per sq. meter (US $313 per sq. yd.) have a lower vacancy rate, meaning that the present real estate market is seriously unbalanced. The two main factors behind this phenomenon are the speculation in land prices, which has led to increased production costs, and the overly optimistic profit expectations of developers. All this has led to an extraordinary situation in some cities' real estate markets, where affordable housing is snapped up quickly but there are fewer sales of upper middle class housing targeted at white collar executives, entrepreneurs and other successful people in society.
Vacancy Rate In the Danger Zone
However, though the commercial housing vacancy rate has greatly increased, housing prices overall have continued to rise. Because commercial housing is overpriced relative to the income from residential property, city dwellers do not demand as much commercial housing and are unable to buy commercial properties.
Mr. Yi Xianrong, head of the Chinese Academy of Social Science's financial development office, said that the vacancy rate for China's real estate has reached a dangerous level. According to international standards, a vacancy rate in the range of 5 to 10 percent, where demand and supply of commercial housing are balanced, is considered reasonable and beneficial to the healthy development of a national economy. But a rate in the 10 to 20 percent range is considered dangerous, and measures must be adopted to increase the marketability of commercial housing in order to ensure the normal development of the real estate market and the economy. Vacancies above 20% are considered to be an indication of an oversupply of commercial housing. Mr. Yi emphasized that if the vacancy rate does not decrease to the reasonable range within a certain time frame, serious problems are ahead for China's economy.