When Eagle Rock resident Pauline Adkins, 68, looks back on the years she's lived in the eclectic neighborhood just north of downtown Los Angeles, she says she has no bad childhood memories.
But now, she looks at her neighborhood and sings a different tune. She says a growing number of homeless encampments, increased crime, and an expanding number of dissatisfied residents are dividing the community. Like other residents across the state, many blame their locally elected officials.
Motivated by the thought of children growing up in a "deteriorating neighborhood," she spearheaded the effort to launch a recall campaign on July 19 against Los Angeles Councilmember Kevin de León, who oversees the 14th Council District. The district also includes Skid Row, which is home to Los Angeles's largest population of people living on the streets.
"I have not in my life seen so many Democrats turn against somebody as they are against him. I really believe it's bipartisan. I believe that when you're talking about a community as tight-knit as Eagle Rock, Highland Park—this community—we're tired," Adkins told The Epoch Times.
On documents filed with the city's elections office, she said the main reason for the recall attempt was that de León had failed to control the growth of homeless encampments in the city. Four other Eagle Rock residents signed the documents as well.
"I believe that the homeless are running the streets of Eagle Rock," Adkins said.
Pointing to a construction project near a small homeless tent on the sidewalk of Highland Avenue, Adkins added, "This is a clear and almost dangerous example of it right here, where this young man would not move."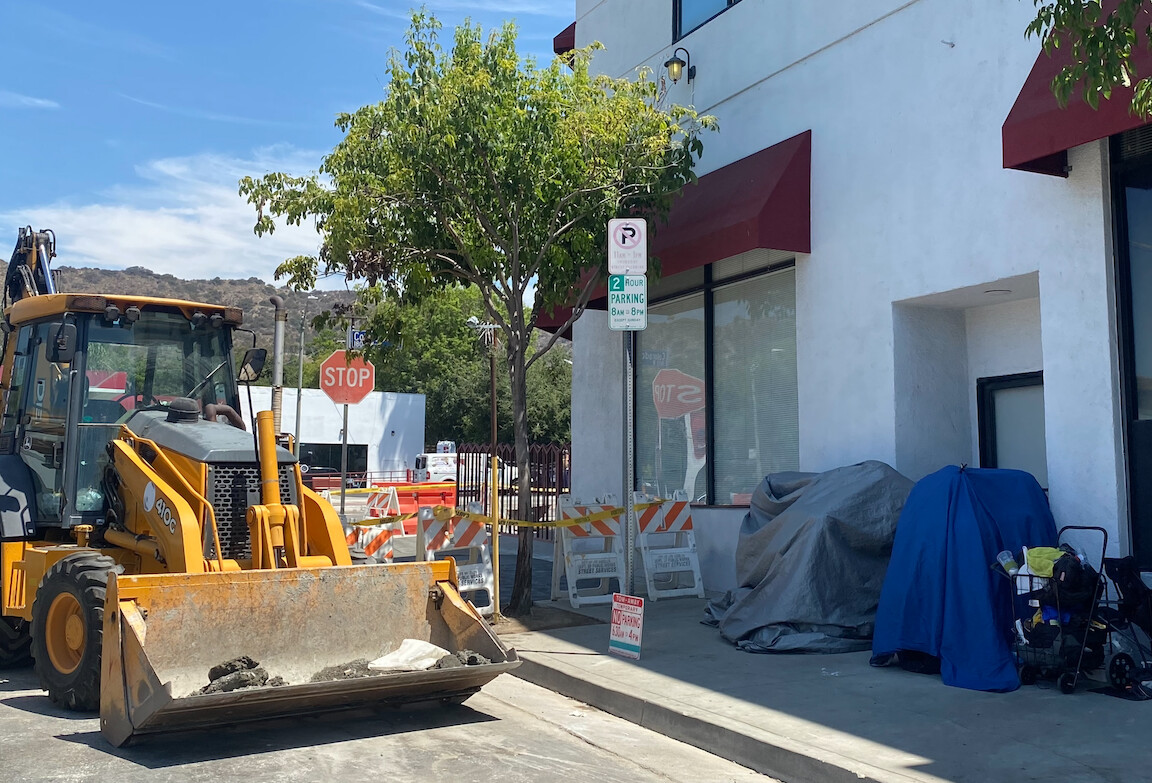 "And they were doing major construction, God forbid, a rock hit that boy in the head, they'd sue the city of Los Angeles," she said.
Another major point of contention is the county's investment in tiny home villages operated by the nonprofit Hope of the Valley. De León plans to place one of the cabin communities in Highland Park, which Adkins said is too close to a family park and a day care center.
The new village, called the Arroyo Seco Tiny Home Village, will be the largest in the state and is expected to take three months to build. A number of other similar communities with wraparound services and job training have popped up across the county as an interim solution while permanent supportive housing units remain stuck in development pipelines.
"A big point of this recall is to attempt to get an emergency injunction to stop it, at least until we can get more data," Adkins said of the village.
One of her main concerns is that while no drugs and weapons are permitted on the tiny home grounds, residents can still do drugs off-site.
"How are you going to keep the residents of this tiny home from selling drugs to our children or to our young adults? There was no answer," Adkins said.
While many homeless people will accept housing opportunities, some say they have chosen to live outside.
While De León's office couldn't be reached for comment by deadline, during a press conference at the July opening of the Tarzana Tiny Home Village, he showed his support for other tiny home projects, alongside Councilmember Bob Blumenfield.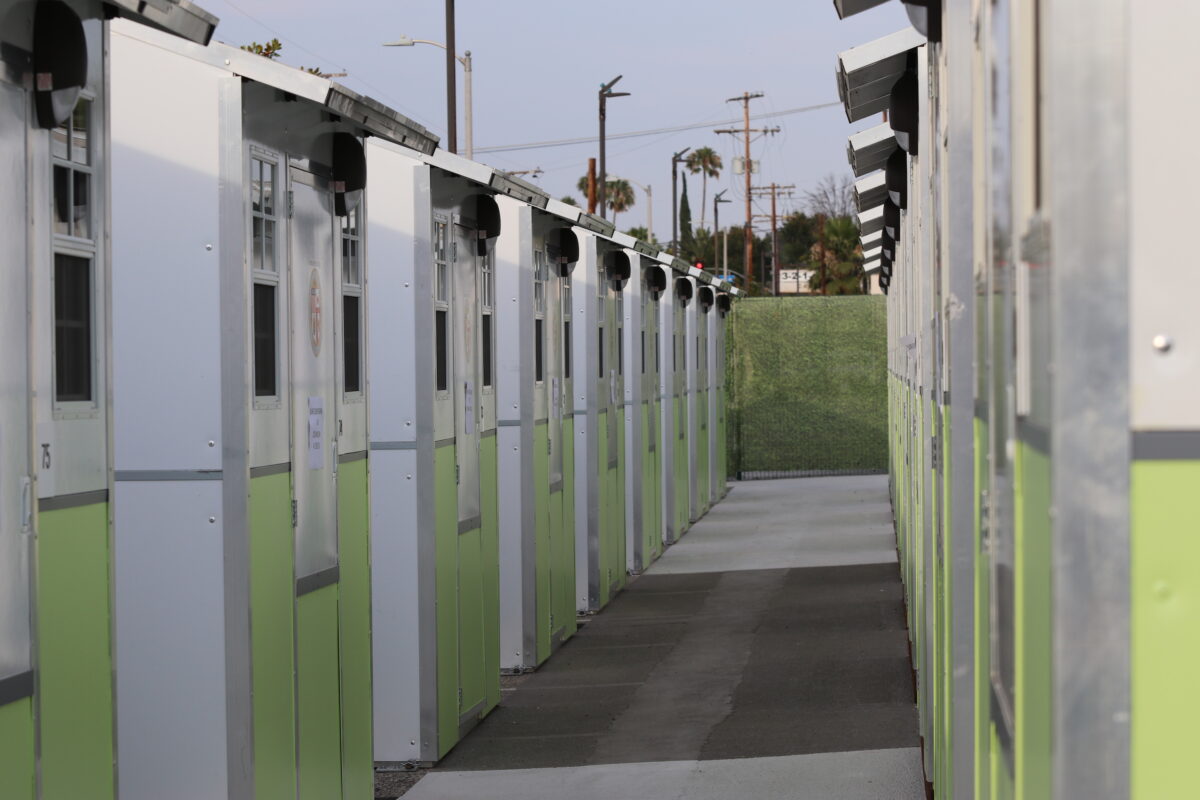 "I want to sort of break that stereotype, that myth that exists that the majority of unhoused individuals are housing resistant. That's been my experience, that for the vast majority of unhoused individuals, if you offer them housing, they'll take it in a heartbeat," de León told The Epoch Times during the press conference.
"For those individuals who continue to say [they] don't want housing, we will continue to work with them. We'll have to be patient with them," he said.
Adkins said she never imagined she would be involved in local politics. She holds a master's degree in human behavior and a bachelor's in psychology, later pursuing a path of entrepreneurship. But after contacting de León's office numerous times without any response from the councilman, she felt she had to take action.
"We have drug addicts, and we have drug dealers, and it's real clear," Adkins said. "The poor, innocent homeless people deserve and need what they need, and that should be accessible."
De León is the third councilmember in Los Angeles targeted for a recall alongside Mike Bonin and Nithya Raman over their handling of the homelessness crisis. All three recall petitions were approved in July.
Bonin has been in hot water over his handling of the homeless encampments and fires in Venice Beach, making the beach the center of a political dispute while Los Angeles County Sheriff Alex Villanueva deployed a team of officers to clean up the beach and connect individuals to housing.
In response to the recall efforts, de León told reporters: "From day one, I promised my constituents that I would partner with them to tackle our district's challenges with urgency, compassion, and common sense—and that is exactly what we are doing. Nothing will derail our focus on saving lives as we fulfill our commitment to lift unhoused Angelenos off the streets and into housing as quickly as possible."
To trigger a recall election, organizers have 120 days to collect roughly 20,500 signatures, or 15 percent of the district's registered voters. Adkins said she has volunteers in neighborhoods across the county ready to begin petitioning.
"I'm getting Facebook support, I'm getting messenger support, I'm getting phone calls," she said.
"We just got rid of José Huizar, and we really appear to have went from the proverbial frying pan into the fire, we've gone from worse to worse. It is time to stop. It's time to let us have our community back."