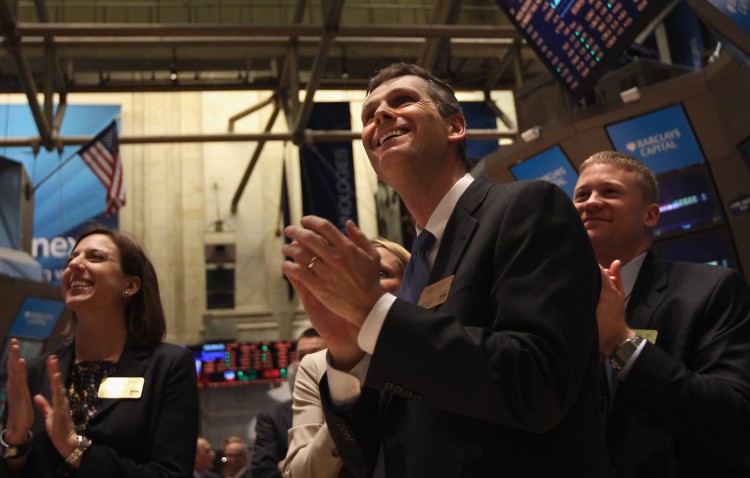 NEW YORK—The Dow Jones Industrial Average surpassed 13,000 points on Tuesday for the first time since 2008, before sliding down to finish at 12,966 to end the day.
It was a momentous day for the Dow, which last saw 13,000 points on May 20, 2008, before the peak of the recent financial crisis. It ended Tuesday up by 15 points, or 0.1 percent. The broader S&P 500 Index gained 0.9 points, or 0.07 percent, while the Nasdaq Composite Index shed 3 points, or 0.1 percent.
At Tuesday's close, the Dow is now almost 100 percent higher since reaching a low on March 9, 2009. "With the headlines that Dow 13K will generate, it might be enough to pull in some more money," said CNBC analyst Jeff Cox. While Wall Street traders don't normally put much stock in such milestones, it might convince retail investors to dive back into stocks.
It was an up and down day for U.S. stocks, which gained early in the day after European officials extended Greece a new bailout package worth 130 billion euros ($173 billion) to avoid a default next month and bought more time for the struggling nation. Creditors agreed to take a 53.5 percent haircut on Greek government bonds to help the nation on the path toward solvency.
But the optimism subsided somewhat as investors digested the Greek news. Essentially, eurozone officials and banks put a new bandage on Greece; giving it a few more months until we reach another bond payment date.
IMF officials admitted this week that unless wholesale changes are made, Greece's debt could exceed 160 percent of its GDP by 2020. 
Among Dow components, shares of Wal-Mart Stores Inc. fell by 4.3 percent after it announced weaker-than-expected earnings. The Home Depot Inc. reported better-than-expected results Tuesday and saw a moderate jump in share price.
A weakening U.S. dollar drove up precious metal and oil prices Tuesday. Gold futures for April delivery rose 1.9 percent on the Comex. 
Oil prices also increased, partially helped by increased concerns that Iran may expand its cut off of oil supply to the European market. Oil prices rose 2.6 percent Tuesday.