Dissident's Families Distressed At Moon Cake Festival Time
October 7, 2006 12:00 am Last Updated: October 7, 2006 12:00 am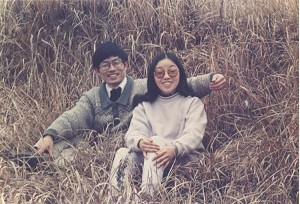 CHINA – October 6 is the Chinese Moon Cake Festival (also called Mid-Autumn Festival), a traditional family reunion. But many mainland political dissenters are still in prison; how are their families coping? The Epoch Times interviewed some of the families.
"His Heart and Mine will forever Unite Together"
The renowned Chongqing democratic human rights activist, Xu Wanping, was abducted by the police on April 30 last year. He was tried behind closed doors for "Subverting State Power." He was sentenced to 12 years imprisonment. Xu appealed on December 23, 2005 but it was rejected.
Xu's wife Chen Xianying said sadly "Since his arrest what I dread the most are holidays and festivals. Seeing other families happily reunited makes us miserable and disheartened".

On August 8 of this year, Chen visited Xu for the first time at the Yuzhou Prison, Chongqing City. She said he was in poor health, very weak, but was in relatively good spirits. He asked me to express his thanks to his friends outside, and hoped to have their continued support and help.
Chen has no source of income, and mainly relies on the help of relatives and friends and she barely gets by. Their 7-year old son has just started school and his school fees are subsidized by friends.
Chen said this whole episode has had a tremendous impact on their son, he often sits by the door waiting for his father to come home and silently mutters to himself "where are you, dad? When are you coming home?" September 16 was his birthday; Xu wrote a letter to congratulate him. After reading the letter he broke down and cried, he said "I miss dad, dad must take care of himself, and I miss him very much."
Chen said: "I would like to take this opportunity to express our appreciation to all concerned friends. Without your help, we would not survive. No matter what kind of threats and intimidations, I will always make the greatest effort to endure and overcome. His heart and mine will forever unite together".

Marriage Refused By Authorities
The renowned freelance writer Zheng Yichun from Liaoning province was abducted, his house searched, and his property confiscated by the police in 2004. He was officially arrested on December 31, 2004 with the charge of "Inciting to Subvert State Power." He was sentenced to seven years imprisonment on September 22, 2005.
His girl friend tried to implement a marriage application to the prison warden and in her request she wrote these sentiments "Although my beloved one is not allowed to have any relatives to accompany him, I would like to show him my true love that in this world there is one who remembers him, there is a lot of warmth for him…", but the application was rejected by the prison authority. Now she is in a very depressed state and suffers regular insomnia and nervous breakdowns.

An Even Sadder Day
Freelance writer Li Jianping from Shandong province was arrested on May 17 last year because he published on an overseas website, articles that criticized the Chinese communist party (CCP). The articles concerned human rights in mainland China. On April 12 this year, he was tried for "Inciting to Subvert State Power". The court has not made a decision as yet.
Li's wife, Xu Hui, sadly told the reporter during the interview: "Mid-Autumn Festival is a day for family reunion for other families, but not for us, this is an even sadder day. It has been such a long time, since we last saw him; the suspense is agonizing. My only wish is that they reach an early verdict so that we can see him again."
After Li's arrest, his company faced bankruptcy; his family income was almost curtailed. His wife has also been under surveillance and has suffered stress, exhaustion, anxiety and financial hardship. She is looking after her 86 year old mother and a 3 year old daughter as well as running around appealing for her husband's release and on the top of that she has to handle the busy company business too.
I Will Wait for His Return
On September 29, 2005, former Bijie Daily Newspaper reporter Li Yuanlong was arrested for publishing articles on an overseas website. His house was ransacked and property confiscated by the police. On May 11 he was also tried on charges of "Inciting to Subvert State Power". On July 13, he was sentenced to two years in prison. Li appealed to a higher court and he is still awaiting a verdict.
Li's wife, Yang Xiumin, said: "I really miss him". Since his arrest her family responsibilities have grown immensely, not only has she to take care of the old and young, she has to manage payments for the house loan and her husband's living expenses in prison. Therefore, she was forced to take on tutoring after work to make ends meet.
As she thought of her husband, she said with a shred of hope: "Although it has been tiring and difficult, I believe I will see it through. I will wait for him to come back; everything will be fine when he gets back".

"Common People Are Helpless"
On May 16, in a closed door trial, free lance writer Yang Tianshui from Nanjing City was sentenced to 12 years in prison for "Subverting State Power."
Yang Tianshui's fourth elder sister, Yang Guixiang sobbed as she spoke, "We miss him very much, we have only one brother, and we are really helpless, we have no means to help him. Everyone looks forward to a family reunion! But, we can only unite with family if the authorities allow us. If they want to keep you in prison, you have no choice! Common people are helpless!"
Yang's sister Guixiang sighed and told the reporter, "We hope people will not forget him, and will continue to appeal for him, rescue him, and let him go free."