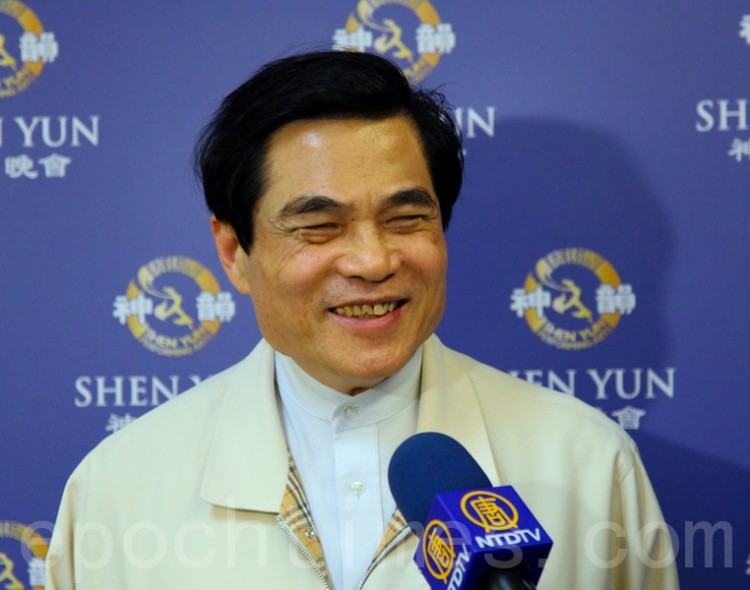 TAIPEI, Taiwan- The Director of the Sun Yat-Sen Memorial Hall, Tseng Kun-Ti On was at the fifth performance of the Shen Yun Performing Arts on March 23. After the performance, he said happily, "I am very impressed by the performances, they have reached a perfect realm."
Mr. Tseng said that the New York based Shen Yun's programs were vivid and interesting and came with unique meanings or implications. "Every program comes with special meanings and they are expressed in vivid ways."
"The meanings of the pieces make people reflect on themselves and ponder upon them. As a result, everyone can relate to the show. I believe everyone feels differently after watching the performance, a marvelous performance."
Mr. Tseng is dedicated in passing down traditional Chinese culture, "By watching such a phenomenal performance, I believe it benefits people in Taiwan by inheriting the Chinese culture and cultivating their souls."
"Shen Yun pursues truthfulness, kindness, and beauty, and this is why we support and admire Shen Yun."
Mr. Tseng appreciated the performers. "The performance of the dancing artists and vocalists is absolutely delicate. The creation of the pieces, the training of the artists, and the devotion to this show are flawless."
With such an extraordinary performance, I wish I will have opportunity to help Shen Yun in the future," Mr. Tseng indicated that he would like to help Shen Yun again when it comes back the next year in arranging the venue and schedule so that more people can enjoy the traditional Chinese culture.
Reporting by Li Hsien-Jen and Lin Hsin-Yi.

Shen Yun Performing Arts, based in New York, tours the world on a mission to revive traditional Chinese culture. Shen Yun Performing Arts New York Company will perform in seven cities in Taiwan until April 8 and then continue to top venues in Australia and New Zealand.
For more information visit ShenYunPerformingArts.org

Read original Chinese article