President Donald Trump sat with Homeland Security officials on Feb. 2 to hear about the biggest gaps in border security and how Congressional legislation can fix them. The roundtable was held at the Border Patrol National Targeting Center in Sterling, Virginia.
After a dramatic drop for several months following Trump's inauguration, illegal border crossings have crept back up to beyond what they were in fiscal years 2013, 2014, and 2015, month for month.
In December 2017, more than 40,000 illegal border crossers were apprehended or deemed inadmissible, according to statistics from Customs and Border Protection (CBP).
Kevin McAleenan, acting commissioner of CBP said the increase in numbers come from two major groups—family units and unaccompanied children. A family unit includes at least one adult and one child under 18, whereas an unaccompanied minor is any child traveling alone under the age of 18.
Border Patrol apprehended more than 83,000 people in those two groups in the last three months of 2017.
The likely scenario for the 83,000 is that they claimed "credible fear" of returning to their home country, and were detained briefly by Border Patrol before being released to travel to their destination in the United States—if they were a family unit.
The unaccompanied minors are released to the Office of Refugee and Resettlement, where they will stay for an average of 45 days before being released to a sponsor within the United States—most often a parent or family member who is already in the country illegally.
We've seen a marked increase in hardened smugglers attempting to bring hard narcotics across our borders and into our communities.
All 83,000 would have been given a date to appear in an immigration court to decide their immigration status, or whether they should be removed. Many will never show up at their court hearing, which means they will be automatically issued an order for removal in absentia. Whether they are located and removed or not now falls to Immigration and Customs Enforcement (ICE).
Last year, there were 700 percent more removal orders issued in absentia for cases that began with a credible fear claim than in 2009, Attorney General Jeff Sessions said on Oct. 12, 2017. From 2009 to 2016, the credible fear claims at the border went from approximately 3,000 cases to more than 69,000. Removal orders issued in absentia in all immigration cases have doubled since 2012, with nearly 40,000 issued in 2017 alone.
"The other factor we've seen is an increasing number coming to our ports of entry. Not even trying to cross the border illegally, but coming to our ports and presenting and claiming asylum in that route," McAleenan said. "This is due to the fact that these groups can take advantage of loopholes in our legislation, court decisions, as well congestion in the asylum and immigration court processes."
Immigration courts are so backlogged that it can be five years from when someone was apprehended at the border to their court date. The immigration court backlog for all immigration cases sits at more than 600,000 cases—triple that in 2009.
"At the same time, and very concerningly, we've seen a marked increase in hardened smugglers attempting to bring hard narcotics across our borders and into our communities," McAleenan said.
He said the increases are in every category: cocaine, heroin, methamphetamines, and the synthetic opioid fentanyl.
Trump signed the Interdict Act on Jan. 10 to increase the ability to screen chemicals, especially fentanyl and its analogues, in the mail system, as well as a boost in CBP personnel to improve screening.
"I think you need … really tough enforcement," Trump said. "And you need to get tough on the pushers, and you have to get tough on the dealers—beyond tough. The tougher the better."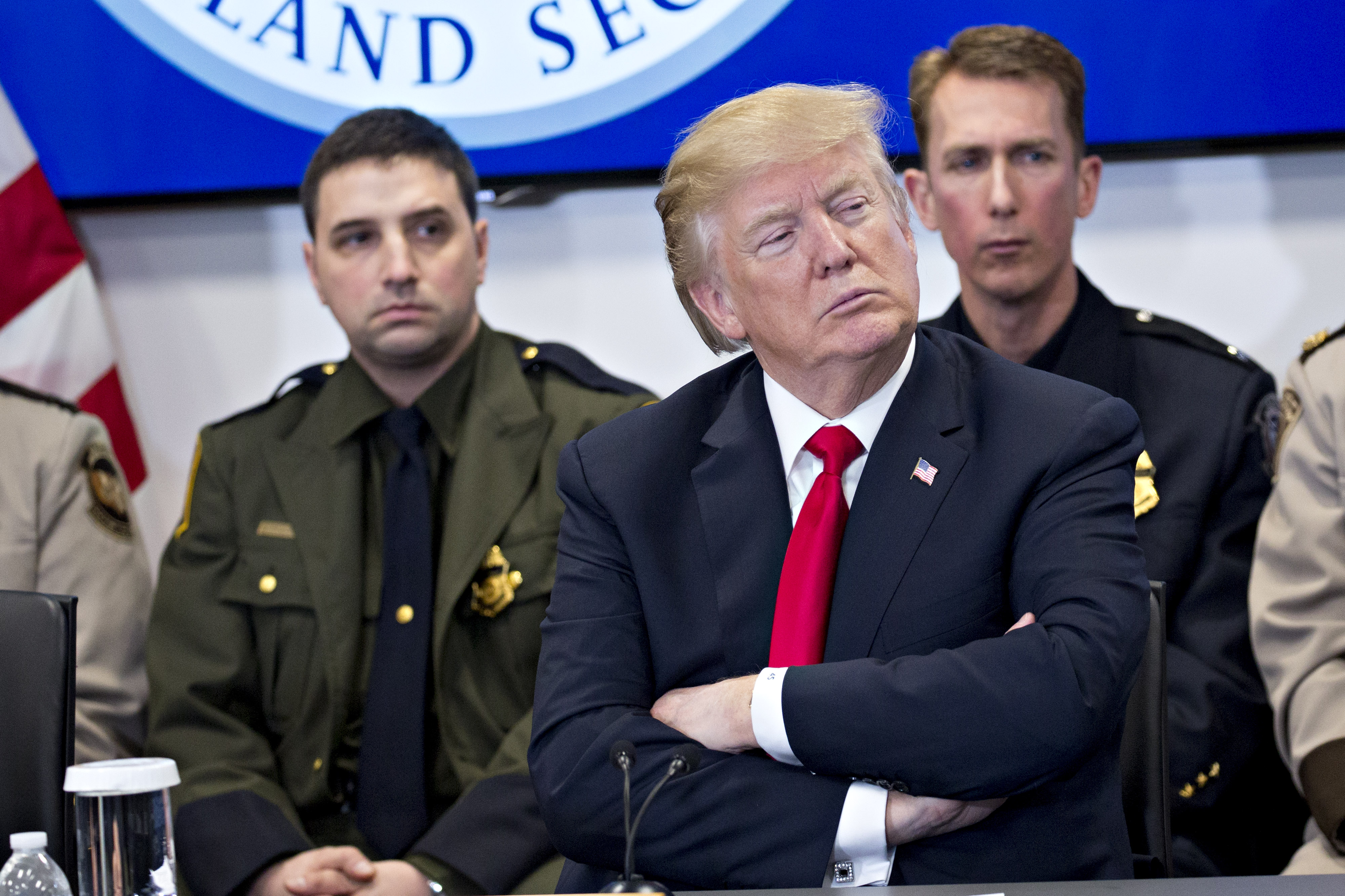 McAleenan said the increase in narcotics trafficking and illegal crossings is to blame for a 45 percent increase in assaults on CBP and Border Patrol agents over the last year. Border Patrol agents alone saw an increase in assaults of 73 percent in fiscal year 2017, with 786 cases reported, compared with 454 in fiscal 2016.
"We think there's two reasons," McAleenan said. "One, we've got this increase in narcotics. We've gotten more effective at securing our border, and so we're dealing with a more determined, a more sophisticated, and a more dangerous population with these smugglers crossing, at the same time as we're seeing this increased flow of families and unaccompanied children."
Exploiting Loopholes
Homeland Security Secretary Kirstjen Nielsen promised Trump his wall would be built.
"You've just requested a $25 billion trust fund," she told him. "We have a very specific and targeted way in which we will use that money to build a border wall system. Not just that infrastructure, but the technology and personnel that go with it."
Nielsen said ICE has its own set of issues with interior enforcement.
"Once we apprehend somebody, we have difficulty under the current laws and loopholes detaining them and then removing them from the country. And that's going to stop," she said.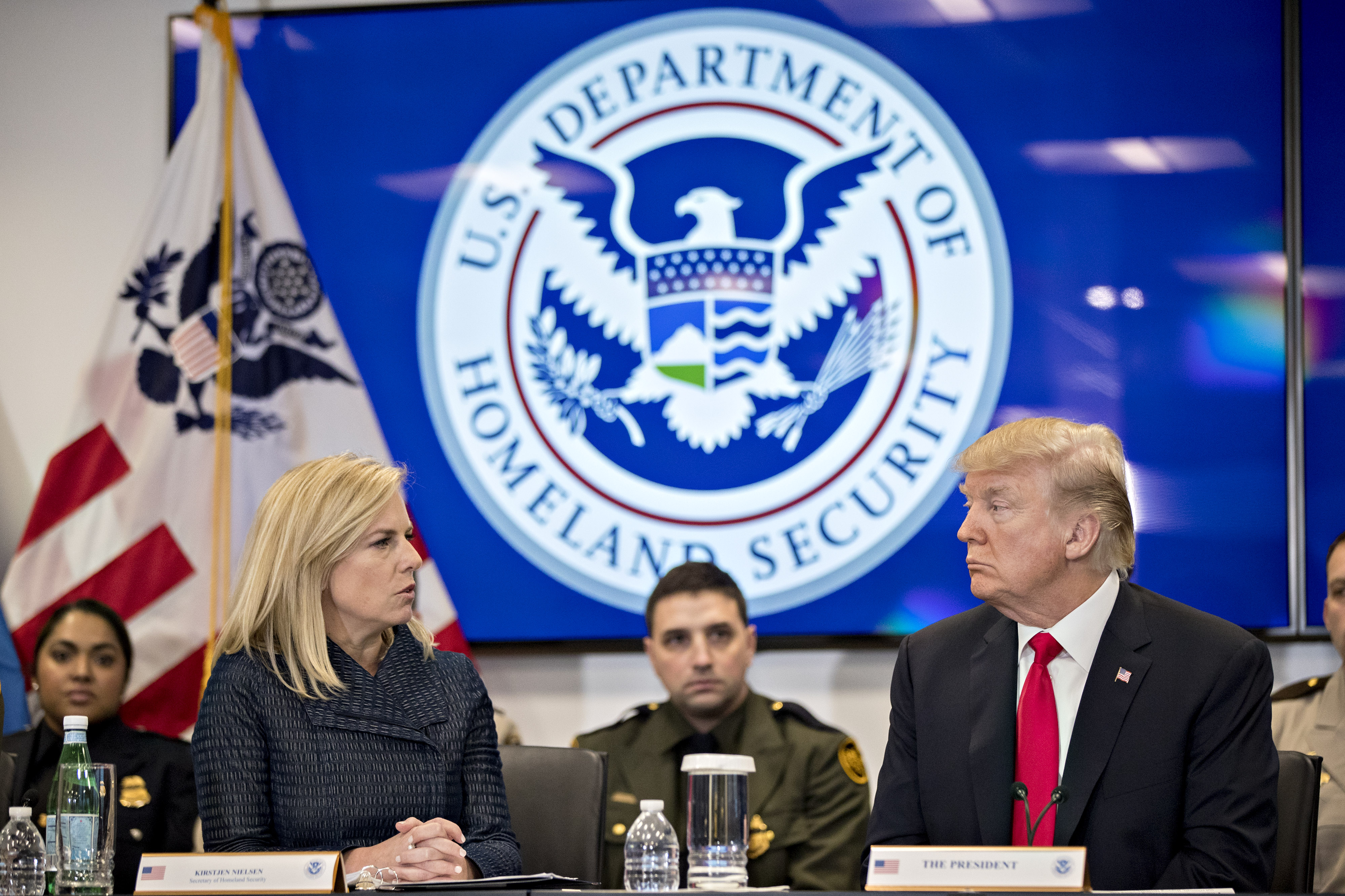 Acting ICE Director Tom Homan said the Trafficking Victims Protections Reauthorization Act (TVPRA) had great intentions to help stop child trafficking, however it has turned into a tool for exploitation.
He said children from Mexico can be returned to their country if it is determined they are not a victim of trafficking. However, a child from Central America cannot be returned back into Mexico and therefore must be accepted into the United States.
Ninety-five percent of unaccompanied minors are from El Salvador, Honduras, or Guatemala. Almost 70 percent are aged between 15 and 17.
Homan wants the TVPRA amended so that minors who are not genuine trafficking victims can be returned home or removed to safe third countries.
"Because once you release a child from Central America that's going to claim asylum … once they get to court—if they show up at court—most of them don't get asylum," he said. "So they're released in the community and very few of them are ever removed because they're in the wind."
Homan said only about 3.5 percent of the unaccompanied minors apprehended by Border Patrol are eventually removed from the United States.
He said family units, in California for example, can only be detained for 20 days.
"If you're a family and want to come to the United States illegally, you'll be detained by ICE for a couple weeks, you'll get your vaccinations, you get your three squares a day, only to be released in the community," Homan said, saying this is the infamous "catch and release" program that the Trump administration has tried to end.
"We certainly don't want to get back to catch-and-release. However, because of these loopholes, we are at catch-and-release," Homan said.
"And because of these loopholes, it continues to drive more illegal immigration. It entices more families and children to come."
Sanctuaries and Gangs
Homan said sanctuary cities are another issue that Congress needs to rectify with legislation.
Currently, many sanctuary jurisdictions do not honor detainers from ICE and will release a criminal back into the community rather than allow ICE to take custody. A detainer is a request from ICE to hold an inmate for up to 48 hours longer so ICE can take custody, or its a request for the jail to alert ICE 48 hours before the inmate is to be released.
"If we can have Congress act on a sanctuary city … and make detainers legally viable—for instance, give the sheriffs the immunity, the protection; if they honor our detainers, the U.S. government will protect them," Homan said. "The police officers in this country support us. They want to honor the detainers. They just need legislation."
Rep. Todd Rokita (R-Ind.) introduced a bill to the House on Dec. 1, 2017, that would punish officials who implement sanctuary policies in their jurisdictions.
Violators of the law, "Stopping Lawless Actions of Politicians (SLAP) Act of 2017," could be sentenced to 5 years in federal prison and be fined up to $1 million. The bill was referred to the Subcommittee on Immigration and Border Security on Jan. 9.
Nielsen said immigration law needs to change to include gangs in the inadmissibility and removability criteria.
"They're only here to commit violence," she said.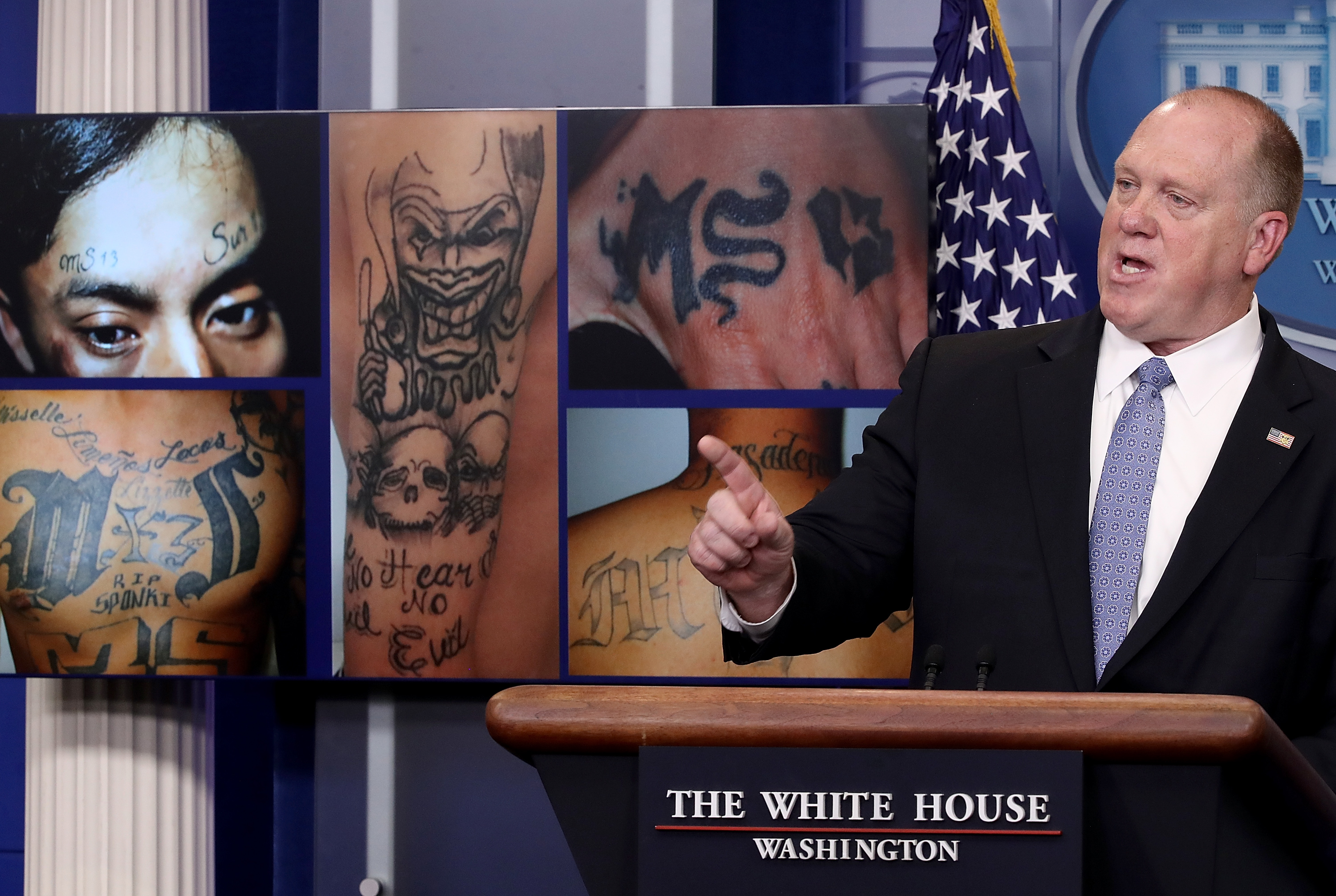 John Cronan, acting assistant attorney general for the Department of Justice, said the problem of gangs, especially the violent MS-13 gang, can be largely solved through legislation. Many MS-13 gang members enter the United States illegally as unaccompanied minors from Central America.
"They are engaging in rape, robbery, extortion, murder, often just for the sake of it," Cronan said. "They're committing these acts for the sake of the indiscriminate, violent, and heinous killings. They're attacking their victims with chains, bats, machetes. They recruit children to be their murderers. They gang-rape young girls and sell them for sex. It's an awful, awful thing."
The Criminal Alien Gang Removal Act passed the House in September and would amend the Immigration and Nationality Act to expedite the removal of alien gang members from within the United States. Gang membership would become grounds for both deportation and for denying entry at the border. Currently, most gang members are only deported after committing an independent crime.
The bill has sat in the Senate Committee on the Judiciary since September last year.
Repatriation
Deputy Secretary of State John Sullivan said some countries refuse to take back their citizens when the United States tries to deport them. A Supreme Court ruling from 2001 says the United States must release a convicted criminal after six months if it is unlikely they are able to be repatriated within the foreseeable future.  
In fiscal year 2017, 1,666 criminal illegal aliens were released from ICE custody because of the court ruling, according to the administration.
Assistant Secretary of State for Consular Affairs Carl Risch said one of the worst offenders is China.
"Most recently, in September, we started a visa sanction plan with Guinea, Eritrea, Sierra Leone, and Cambodia," Risch said. "And we're seeing some progress there. The visa sanctions do work in these cases. And we're seeing that there's people going back to these countries that would not have gone back a year or two ago."
Trump said he would look to solve the issue economically.
"That's an easy one," he said. "If they don't take them back, we'll put sanctions on the countries. We'll put tariffs on the countries.  They'll take them back so fast your head will spin."
"And the other is, we give a lot of aid to some of those countries. And to those countries, we'll stop giving aid, and they will take them back instantaneously."  
Trump gave Congress his immigration framework on Jan. 25, which gives amnesty to 1.8 million illegal immigrants in exchange for increased border security, including a wall, an end to chain migration in favor of a merit-based immigration system, and an end to the diversity visa lottery program.
Recommended Video:
President Trump's First State of the Union Address