Commentary
ATLANTA—Now that his supposed best buddy AG William Barr has hung President Donald Trump out to dry, informing the Associated Press, "To date, we have not seen fraud on a scale that could have affected a different outcome in the election."
The AP comments: "Barr said U.S. attorneys and FBI agents have been working to follow up specific complaints and information they've received, but they've uncovered no evidence that would change the outcome of the election."
Are these some of the same legal eagles and super sleuths who did such a brilliant job with the Trump-Russia investigation, the ones who are allowing Comey, McCabe, and the others to walk around loose?
Well, we may find out "eventually" because, in a surprising addition to Barr's conversation with the AP, the AG announced he had appointed John Durham as a Special Counsel, so that Durham's work would continue regardless of the result of the election. And he did this, unbeknownst to the public, in October!
Why the secret? Was it because Durham's brief appears only to deal with the FBI, making it the investigation of a crime syndicate without the capo?
All this notwithstanding, the AG's announced conclusions about the presidential election differ from what a number of people are telling me here in Atlanta, Georgia having become, willy-nilly, a kind of ground zero in the battle for global democracy.
These same people would vociferously object to the putatively even-handed AP's persistent use of the heavy-handed (and in fact baseless) use of the word "baseless" in its characterization of Trump's electoral complaints.
Moreover, Rudy Giuliani, speaking for the Trump legal team, is having none of it, putting out a statement reading in part: "With all due respect to the Attorney General, there hasn't been any semblance of a Department of Justice investigation. We have gathered ample evidence of illegal voting in at least six states, which they have not examined."
Nevertheless, this is not great news to the president who arrives here in Georgia Dec. 5 for a rally. Talk radio hereabouts seems obsessed with what he will say, everyone chiming in with an opinion.
Basically, this goes on a sliding scale from those who think Trump has the right to insist on a fair election and should say virtually anything he wants about the presidential race (the "Let Trump Be Trump" people) to those who say he should focus exclusively on the senatorial election, because the future of the nation depends on the victory of Republican incumbents David Perdue and Kelly Loeffler.
If they lose, Puerto Rico and D.C. will soon become states, moving the United States inexorably toward a one-party country, something no one but a totalitarian should want.
This was the subject at a breakfast I had Tuesday morning, at a diner ironically called the White House, with Derrick Dickey—formerly Perdue's first chief of staff and currently head of a PAC raising money for his campaign—and a businessman friend of mine who prefers anonymity but has raised substantial sums for Loeffler.
Perdue, Dickey told me, was Trump's favorite senator, in part because both were outsiders, businessmen who came late to politics and were not political lifers of the Pelosi-Biden ilk.
Both Dickey and my friend were early Trump supporters, realized the abnormalities in the presidential election were legion, but were now laser-focused on that senatorial race, as if it were a do or die situation for our country—and maybe it is.
The fear is that rural voters, almost all of whom are pro-Trump, are so fed up with the Republican establishment not supporting the president in his electoral protest that they won't come out to vote in the runoff. But no one had an easy suggestion of how to help with that, short of recalling the current Republican governor and secretary of state.
Watching the Recount
My next stop was very much back in that area of the still-disputed presidential election. I went to the Georgia World Conference Center to meet with Garland Favorito—co-founder of Voters Organized for Trusted Election Results in Georgia (aka VoterGA), a nonpartisan, non-profit, all volunteer organization that, has, in their words, "led the election integrity movement in Georgia for 16 years"—to watch the actual recount in progress.
Garland—a technology (IT) professional for 40 years and in 2002 the first American tech to advocate against paperless voting was the perfect person with whom to be doing this.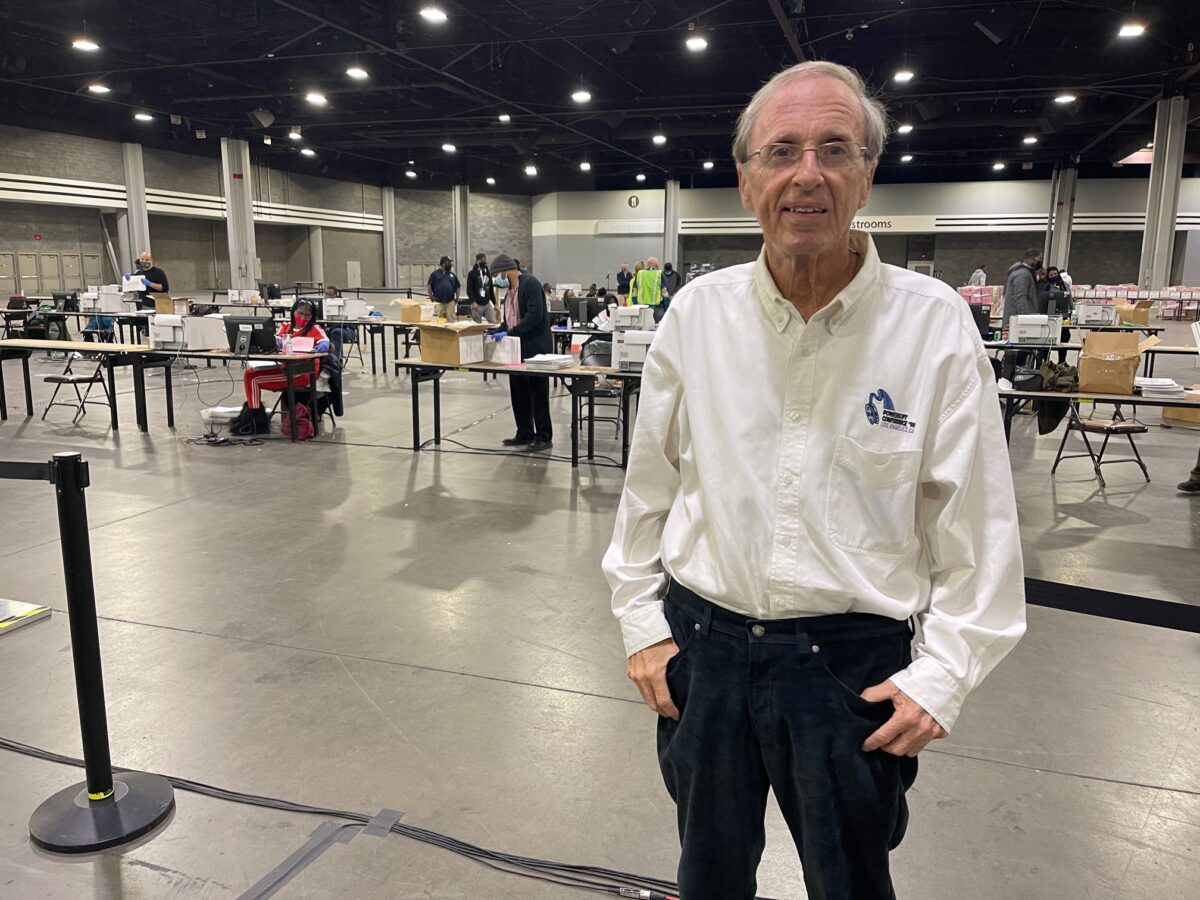 Finding him, however, was no picnic. The Georgia World Conference Center is part of a mammoth complex with the Mercedes Benz Stadium and the State Farm Arena, where the notorious plumbing leak took place enabling a deluge of 5AM Biden votes, and has a half-built maze of a parking structure that seems to have been designed by the architectural team of Kafka and Timothy Leary.
Anyway, we eventually met and I got to talk with Favorito while just ahead of us a few dozen temporary workers from an outfit called Happy Face fed ballots through scanners.
It was a seemingly mundane scene for such a contentious event, except for the reason Favorito was there.
He had rushed over because the server software had crashed. The server was built by Dell but the software came from… you'll never guess… okay, you will… Dominion!
A Dominion representative showed up later and had a confab with Favorito to which the press was not allowed.
Since this failure came late in the process, they would have to start the recount over, missing the deadline, good news for no one save, I suppose, the folks brought over by Happy Face. They will be employed to rescan approximately half million Fulton County ballots.
Favorito had been involved in discouraging Georgia Governor Kemp and later Secretary of State Raffensperger's study commission from adopting the Dominion system in the first place, just as he had been before with the Diebold system that preceded it that he said was even worse. They wouldn't listen, he said.
Georgia then paid an initial $107 million for the Dominion system with $150 million plus, Favorito estimated, to be paid out by the counties over the ten-year life of the machines.
He added this payout had been financed by a 20-year bond! Oh, well. Sort of like still paying off a car that's already been totaled.
There's no business like the election business, at least in the USA.
I asked Favorito, who seemed to know more about this than anybody I had talked to, whether the machines had been connected to the internet. He wasn't sure in every case, but said that the "web server" was.
A memory stick with the tabulated vote was inserted in that server and then uploaded to Scytl (Secure Electronic Voting) in Barcelona via their subsidiary in Tampa before being distributed the world.
And who, if anyone, was watching the voting machines in the several weeks interim between the election and judge's decision to freeze them?
He didn't know.
Still, if I had a choice between trusting the FBI to investigate this situation or Garland Favorito, I'd easily go with Favorito.
More tomorrow.
Roger L. Simon is an award-winning novelist, Oscar-nominated screenwriter, co-founder of PJMedia, and now, editor-at-large for The Epoch Times. His most recent books are "The GOAT" (fiction) and "I Know Best: How Moral Narcissism Is Destroying Our Republic, If It Hasn't Already" (nonfiction). Find him on Parler @rogerlsimon.
Views expressed in this article are the opinions of the author and do not necessarily reflect the views of The Epoch Times.