PUNTA GORDA, Fla.–Gov. Ron DeSantis said on May 16 that Florida would "most likely" take control of Walt Disney World's Reedy Creek Improvement District, rather than local governments.
"The path forward is Disney will not control its own government in the state of Florida. Disney will have to follow the same laws that every other company has to follow—they will pay their fair share of taxes," DeSantis said on May 16 at a press conference in Sanford.
He is "working on some proposals" that he can present to legislative leaders after the November elections, he said.
The Reedy Creek Improvement District is set to be dissolved on June 1, 2023, by legislative action approved and signed into law in mid-April. The area encompasses the Disney World complex as well as neighboring properties. The details of how that dissolution will take place haven't been disclosed by the governor's office.
DeSantis stated emphatically that Central Florida taxpayers won't absorb the Reedy Creek Improvement District's debt, estimated at nearly $1 billion.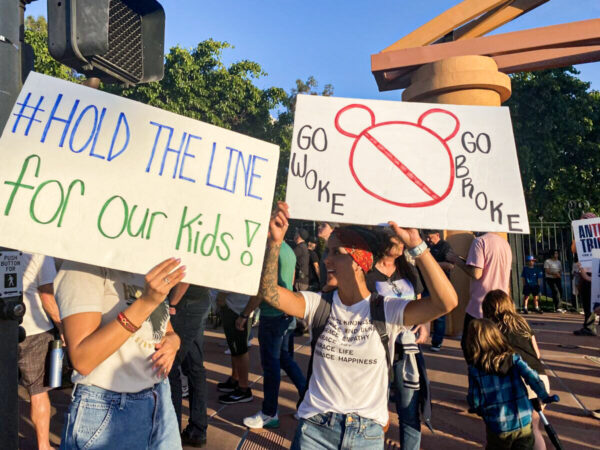 "That debt will not end up going to any of these local governments," he said. "It's not going to go to the state government either—it's going to absolutely be dealt with the taxpayers who are currently in that district."
The governments of Orange and Osceola counties and the Disney-controlled cities of Bay Lake and Lake Buena Vista, or what state law refers to as "local general-purpose governments," would be transferred to them when Reedy Creek is abolished, according to the governor's office.
DeSantis said he wants the state to be in charge of the district. That would ensure that Disney would continue to pay the taxes needed to maintain services for its theme park and resort properties.
The governor singled out firefighters for an increase in pay.
"I think these firefighters should be making more money. I'd much rather have the state leading that effort than potentially having local government [in charge]," he told reporters. "I'm worried that they [local officials] would use that as a pretext to raise taxes on people when that's what they would want to do anyway, and then try to blame Reedy Creek. So we're not going to give them that opportunity."
The dissolution of Reedy Creek came on the heels of the Disney Co.'s opposition to HB 1557, the Parental Rights in Education bill, dubbed by opponents as the "don't say gay" bill. In the past few weeks, DeSantis has called Disney a "woke" corporation.
The Reedy Creek Improvement District can issue tax-free bonds, levy taxes, oversee land use and provide essential public services. The district could also erect and operate a nuclear power plant and seize properties outside of its boundaries by eminent domain, the governor said.
Currently, Reedy Creek is overseen by a five-member board of supervisors selected by Disney, the primary landowner. If the state takes over Reedy Creek, the governor will appoint board members.