Democracy's Next Stand in Hong Kong
June 9, 2010 8:04 pm Last Updated: October 1, 2015 7:55 pm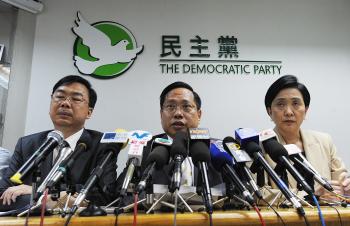 The struggle for democracy in Hong Kong has hit a new level, as clashes erupted over proposed electoral reforms, which democracy groups, known as pan-democrats, say are nothing more than a rehashing of a reform packaged defeated in 2005.
The changes proposed for the 2012 elections by Chief Executive Donald Tsang have met with strong criticism from pan-democratic groups and the public.
"We feel that it is very difficult to support this 2012 political reform package. This is the only opinion we can provide to the democratic camp," said Albert Ho, chairman of Hong Kong Democratic Party, reported NTDTV.
The former British colony was promised a Western-style democracy when it was handed back to China in 1997. Since 2003, Hong Kong's pan-democratic camp has pushed for universal suffrage—allowing people to directly elect their leader and legislature.
In April this year, Hong Kong's Beijing-backed administration announced a new package for democratic reform that barely addressed the issue.
On Monday, hundreds of pro-democracy protesters gathered to oppose what they considered a publicity stunt by Chief Executive Donald Tsang, namely his rallying pro-Beijing supporters to back his reform package.
As Tsang struggled to spread his "Act Now" message—the official slogan employed for the reform campaign—protesters drowned his speech with an "All Wrong" chant.
Over 9,000 people have joined a Facebook group called "All Wrong," which ridicules the reforms.
Opposition groups say the reform package is merely an overhaul of the undemocratic proposals put forward in 2005.
In December 2005, more than 250,000 Hong Kong residents took to the streets in a massive protest march against the reforms. The package was ultimately defeated in the legislature, blocked by pan-democrats who control over one-third of the seats, 23 of 60.
Tsang says the latest reforms aim to bring greater democracy to Hong Kong. However, the package fails to address the crucial issue of universal suffrage.