De Blasio's First 100 Days as New York Mayor
City's unapologetically progressive mayor comes out on top
April 10, 2014 5:15 pm Last Updated: April 11, 2014 7:18 am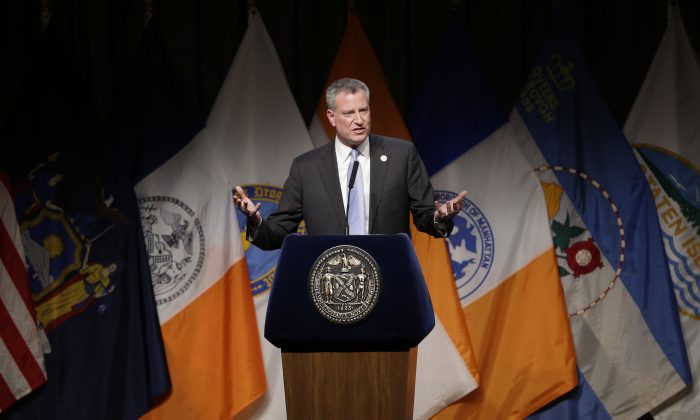 NEW YORK—Mayor de Bill de Blasio has endured 100 days in what many call the second toughest job in the country. He has forborne political ridicule from Albany, media sideshows in New York, and one of the century's harshest winters.
Now, as the spring's first flowers bloom, de Blasio has emerged as an able and result-oriented leader, delivering a victory on universal prekindergarten, a central campaign promise. Laboring to carry out an unapologetic progressive agenda, he also signed a bill to extend paid sick leave to half a million of the city's workers and dropped challenges to landmark stop-and-frisk lawsuits.
The victories did not come without hardship. Gov. Andrew Cuomo, who de Blasio calls a friend, has taken every opportunity to one-up the mayor and school him in hardball politics. During the peak of the snowstorm season, Al Roker, a weatherman, derided the mayor on Twitter, forecasting that he wouldn't last more than one term. Meanwhile, the media found plenty of sideshows to feast on, including the mayor's approach to eating pizza and the traffic infractions of his security detail.
Through all of it, the mayor has shown a surprising ability to withstand. He didn't trade blows with Cuomo. He made amends with Roker, snapping a selfie with him at Rockefeller Center to seal the deal. And he embarked on a long journey in making amends with the press, inviting the City Hall press corps to an off-the-record reception at Gracie Mansion in early April.
Having stuck to his bigger-man approach and lost little to no political capital, de Blasio is now set to steer the administration toward some of his more ambitious goals: creating 200,000 units of affordable housing, revamping Superstorm Sandy recovery, and creating a municipal identification card program for undocumented immigrants.
"I think there's a realization from the mayor and his advisers that there are things they may want or need from the state later on, so it's probably silly to burn bridges this early in his administration," Bruce Berg, a professor of political science at Fordham University, said.
The city's ongoing work on an initiative to reduce pedestrian fatalities to zero requires cooperation from the state government in Albany. So does de Blasio's call to raise the city's minimum wage, and the need for ongoing funding for pre-K and after-school programs. In light of that, the mayor's tempered approach to dealing with Cuomo is certainly calculated and doubtably sheepish.
"The governor is going to be intractable on some issues because he is running for re-election. The de Blasio people were smart enough and astute enough to give the governor some space on that," Berg said.
Looking Ahead
De Blasio gave a speech to mark his 100th day in office on April 10. He touted his victories and outlined the work of the administration going forward. The mayor's agenda, as affirmed once again in the speech, is rooted in his mission to address what he calls an "inequality crisis" that "threatens who we are."
The mayor said that he will continue to focus on improving the city's public schools by finding ways to engage parents, retain teachers, reduce class sizes, and move away from reliance on standardized tests. De Blasio also promised to repair all homes damaged by Superstorm Sandy and to address the health care crisis in Brooklyn and other boroughs.
In closing, the mayor signaled a renewed emphasis on grass-roots politics—an approach of using community groups, nonprofits, and activists to achieve change. De Blasio will undoubtedly need the support given the record so far in working with Albany. He cited parents' work for pushing pre-K, labor activists work around the living wage, and civil right activists work around stop and frisk as examples.
"It's expected that you will experience opposition when you try to make changes of this nature, de Blasio said at Cooper Union on Thursday. "Our responsibility is to look that in the face and continue our work and deepen our work. Because the real power resides with the people. Grassroots politics, neighborhood politics, tells us that the people are almost always ahead of their leaders."
***
Job Approval Ratings for Mayor de Blasio
Jan. 16 — 53%
March 7 — 39%
March 18 — 45%
April 3 — 49%
Sources: Quinnipiac University Polling Institute, The Wall Street Journal/NBC 4 New York/Marist Poll, The New York Times/NY1/Siena College Poll.