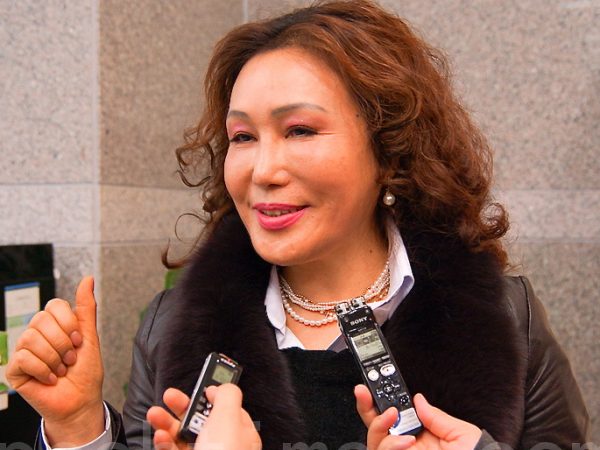 DAEGU, Korea—The Shen Yun Performing Arts New York Company at the Suseong Art Center (formerly Suseong Artipia) on Feb. 25, attracted celebrities and experts from all walks of life. Ms. Choi Yun Xi, a famous Korean dancer and President Award winner said, "Those who attended the Shen Yun show, I think, were selected. Only those with good fortune can see Shen Yun, as it is the top performance."
She said, "The backdrop of Shen Yun was overwhelmingly beautiful, like a dream. The dance movements, the choreography, and the historic connotations made me wonder whether they were a human creation. How could they be so brilliant? They are beyond words. It's so wonderful, and so amazing!"
As the artistic director of the Hongseong County Dance Troupe, Ms. Choi said, "These dance artists' bodies were very elegant, different from other dancers. As they were fully devoted, the connection between their dancing movements was perfect. The agile jumps with strong energy were really marvelous. It's hard to believe how people could perform such actions so beautifully."
Ms. Choi praised Shen Yun's performers. "The actors' mentality in performing the movements with a sense of mystery is something that I hope dancers around the world may learn from."
She added, "Shen Yun's programs were very vivid and vigorous. Korean artists often talked about the stillness in the movement, the movement in the stillness, and coupling hardness with softness. Shen Yun's performance contains all the above elements. Shen Yun showcased China's 5,000-year culture so perfectly that it is beyond our imagination, and has reached the ultimate realm of arts."
Ms. Choi won the President Award in the Korean Hanbat Music National Competition, and served as chairman of the Hanbat Traditional Korean Music Club as well as Artistic Director of the Hongseong County Dance Troupe. She spoke highly of the musicianship in Shen Yun, saying, "The erhu solo and the vocalists were simply like something from heaven. Average people cannot play the musical instrument (erhu) like that. "
Ms. Choi noted the unusual and varied palette of the show. She said, "In the show, the costumes of the heavenly world were mysterious and colorful. How could they make it? This is what I most want to know, as I am eager to learn from it. These mysterious colors and the designs are something that I have never seen in Korea. In Korea, there are many well-known dance troupes, but Shen Yun's costumes are more mysterious than what we have here."
Ms. Choi concluded, "I think only selected people and those who have good fortune could see the Shen Yun show, as it is the top show."
She had never experienced it before, she said, but she hoped to see it again. "This was my first time to watch the Shen Yun show. If Shen Yun comes again in the future, I will never lose any of it."
Shen Yun Presents Full Access to Traditional Chinese Culture

Shen Yun Performing Arts New York Company's fourth performance in Daegu played to a full house on the afternoon of Feb. 26. Kim Nam Suk, principal of Keimyung University, said admiringly, "In splendid, bright-colored costumes, performers dance with very excellent skills, presenting full access to traditional Chinese culture."
White-haired and scholarly, Kim Nam Suk impressed others with his beneficent attitude. He said this was his first time seeing Shen Yun, having unfortunately missed it in the past. He said that watching Shen Yun gave him a very precious opportunity to understand Chinese culture.
Mr. Kim said Shen Yun presents a variety of dance programs from classical Chinese dance to the dance of various Chinese ethnic groups. He said, "This performance furthers my understanding; a very precious opportunity for me."
Mr. Kim was deeply impressed with the imperial guards who displayed strength, dignity and refinement in the program Qing Imperial Guards, and the Monkey King who wreaks havoc in Heaven in the program How The Monkey King Came To Be. He said: "In spite of our previous understanding of Chinese culture, few, except Shen Yun, offer full access to traditional Chinese culture."
Impressed with the rare beauty displayed by Shen Yun, Mr. Kim particularly praised the gorgeous and bright-colored costumes and excellent dance skills of the performers.
He concluded by saying that Shen Yun brings very friendly feelings to Korean audiences, since Korean and Chinese cultures share similarities in Buddhist stories and culture.

Reporting by Jiahui Wang & Joseph Wu and Li Daina & Amy Lien.
Shen Yun Performing Arts, based in New York, tours the world on a mission to revive traditional Chinese culture. Shen Yun Performing Arts New York Company will perform in various cities in Korea until March 4 and then continue to top venues in Taiwan, Australia and New Zealand.
For more information visit ShenYunPerformingArts.org
Read the Chinese article
Read the Chinese article