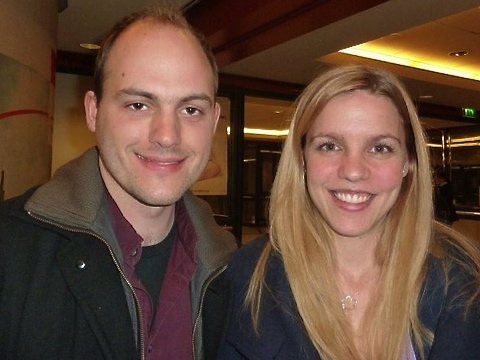 BERLIN—Shen Yun Performing Arts premiered in Berlin on Friday, March 16, as part of its 2012 European tour, gracing the stage at the Internationales Congress Centrum (ICC) Berlin.
A performance by Shen Yun is a presentation of traditional Chinese culture as it once was: a study in grace, wisdom, and the virtues distilled from the five millennia of Chinese civilization, states the New York-based company's website.
After the performance, Ms. Szilvia Wolf, director of a Berlin ballet school, a former ballet dancer and a soloist performing at some of Berlin's best-known venues, felt as if she had been transported into a wonderful and mystical world.
"I absolutely loved the show, including the wonderful colors. The outstanding dancers and the excellent choreography presented the audience with another world. A world in which I had to learn to immerse myself. But, once enveloped by the environment, one finds the beauty in it," Ms. Wolf said.
She continued, "I saw a touching and a very sensible world that was filled with humanness and spirit."
Comparing today's external environment with the spirit she felt in the Shen Yun performance, she said: "We live in a world filled with realism, are constantly on the run and lack the time to look within. It didn't matter which scene, the performers, both the men and the women, showed inner strength, touching my soul and helping me reflect and find my inner soul."
She added: "The performance emanates emotions and feelings. For me the show depicts belief and provides the individual with a tool to find him or herself. That was what made the show so special. All we need to do is to emulate what we have seen."
In her professional opinion, the dancers were outstanding. "To present the audience with a beautiful performance, these dancers give their all and hold passion for what they are doing. Without all of that, they couldn't perform the way they do. This is what I hope to find in my dancers."
What she found astounding was "the precision and coordination among the dancers. It takes a lot of energy," she said. "One has to let go of oneself, be able to be part of the group and take criticism well."
"One can only do this if one lets go of one's ego and stays in tune with the group and becomes one. Without that the group fails."
She said, "Only by being of high morals and a strong soul can one reach such precision, and such discipline. This is magical.
"One always wants to see beauty, but life doesn't permit that. One should enjoy the beautiful moments with this in mind. What we have seen is that life has its ups and downs and that is what I take home from watching this performance."
Reporting by Alexander M. Hamrle
Shen Yun Performing Arts, based in New York, tours the world on a mission to revive traditional Chinese culture. Shen Yun Performing Arts International Company will give two more performances in Berlin on March 17 and 18, and then perform in Zurich, Switzerland, from March 23-26.
For more information visit ShenYunPerformingArts.org