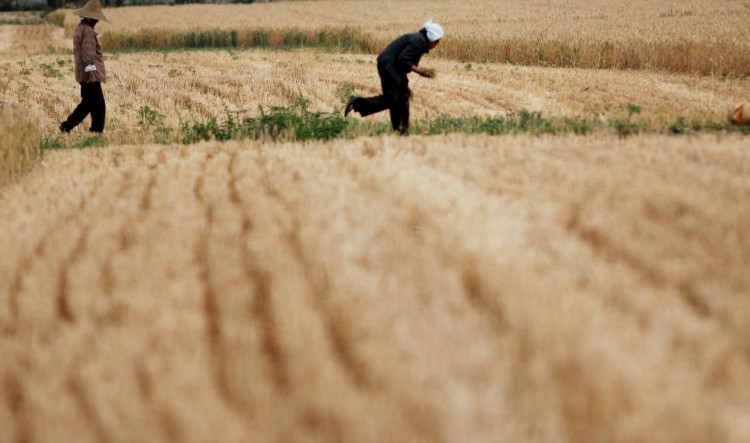 Heavy metals have contaminated one-sixth of China's farmland, according to a scholar from the Chinese Academy of Agricultural Engineering. The amount of contaminated land is more than 300 million mu, close to 20 million hectares (one hectare is equivalent to 2.471 acres) of land.
Every year 12 million tons of food is contaminated with heavy metal, resulting in 20 billion yuan ($3.15 million) in economic losses, said Professor Luo Xiwen during a seminar hosted by the Guangdong Provincial Association for Science and Technology on Oct. 10.
Industrialized coastal regions have the worst pollution from heavy metal. Mercury, cadmium, and copper are among the most common toxic contaminants.
"In Guangdong, only 11 percent of the soil is clean; 77 percent of the farmland is lightly contaminated, and 12 percent is heavily polluted," Luo said.
"In the Tai Lake area of the Yangtze Delta plain, one-third of the land is contaminated. In Hubei Province, 40,000 hectares, accounting for 10 percent of farmland, is polluted."
Luo says that water pollution is also a very serious issue in China. Eighty-four percent of the water is not drinkable in Zhejiang Province; in Lengshuijiang City, Hunan Province, 37 percent of rice crops have been contaminated due to the heavy metal pollution in rivers; sea products in Guangdong are heavily contaminated.

According to data released in 2005 at the Committee of Population, Resources, and Environment of the National Committee of the Chinese People's Political Consultative Conference, 70 percent of rivers and lakes had at that time already been considered contaminated.
Death in the Prime of Life
As bad as the numbers reported by Luo are, an expert living outside China says things are in fact worse.
Wang Weiluo, an environmental expert who currently lives in Germany, told Radio Free Asia that China's heavy metal contamination is much worse than the regime has publicly acknowledged, and that Luo's documentation for the Chinese Academy is grossly inaccurate.
Zheng Yi, an overseas dissident and writer, sounded the alarm 10 years ago that China's rivers no longer nurtured people along the areas they flowed through. Instead, pollutants carried by the rivers have created ubiquitous cancer villages, and Zheng has evocatively referred to the rivers as "cancer rivers."
Last year, China's No. 1 Web portal for health information, disease.39.net, reported that 197 villages had been confirmed and documented as cancer villages. Other villages are suspected of being cancer villages, and, if these are added to the total, then there could be 247 cancer villages in China spread throughout 27 provinces.
Heavy metal contamination in water and soil has led to high instances of occupational diseases and death in China.
And death seems to be coming early. According to an article in the Economic Information Daily, in one cancer village that recorded six deaths due to cancer from January to May of this year, the average age of those who died was 45. According to the United Nations, overall life expectancy in China is over 73.
After having investigated the health records of 70,000 people over a period of 25 years, Zhang Jianxin, director of the Basic Scientific Research Department of the Hunan Planning Institute of Land and Resources found that the number of patients with bone cancer or suffering from bone neuralgia has sharply risen from 1965 to 2005. In Zhuzhou City, Hunan Province, where heavy metal contamination has hit the hardest, the level of cadmium in local residents' blood and urine was two to five times above normal.
In the Hetao area of Inner Mongolia, nearly 300,000 people are at risk for arsenic poisoning, with 2,000 people having been diagnosed from the presence of the heavy metal in the soil and underground water sources. In one village, residents that died from arsenic poisoning contributed to its high mortality rate, with the majority of the victims having died in the prime of their lives.
In Dalahai Village near Baotou City, Inner Mongolia, residents suffer mostly from cardiovascular diseases, cancer, and osteoporosis, while some suffer from ailments that have not been diagnosed. Economic Information Daily reported that a 10-year-old girl was incapable of growing a single tooth. The village's underground water and crops have been contaminated with heavy metal, fluorine, and rare earth elements contained in the wastewater effluence from a nearby mine.
Next…Fundamental cause of this record of pollution, disease, and early death.