Cronuts Are Back! Bakery Reopens Following Mice Scare
Dominique Ansel Bakery fixes violations cited by health department
April 8, 2014 9:12 pm Last Updated: April 9, 2014 7:01 am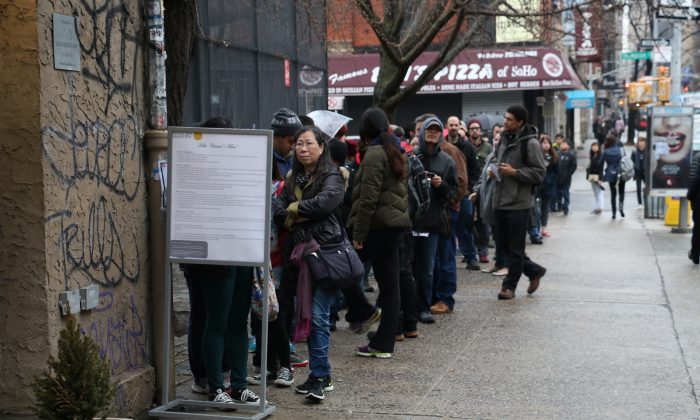 NEW YORK—The Dominique Ansel Bakery, home to the very popular Cronut and now the Chocolate Chip Cookie Milk Shot, was shut down last Friday for health inspections after a video surfaced online showing a mouse crawling in the shop. Despite the mice scare, the bakery reopened today to a warm welcome. By 8 a.m. opening time, dozens of people had already lined up at the door. 
Loyal fans defended the integrity of the bakery as they stood in line for their Cronuts. 
"Honestly, I work in the food business and I understand that New York's a very dirty city, just being fair to Dominique. It's pretty hard. It happens to everyone," said Teymour Derini, a bakery frequenter who lives in the neighborhood. 
"I've been coming for a while so I didn't think it was fair, I mean, it's New York," said Yessica Curiel, a Harlem resident. 
Even customers from out of town decided it wasn't a big deal after all. Kevin Knocky from St. Louis, Mo., heard of the Dominique Ansel Bakery from all the way back home and made a point of stopping by on his anniversary trip. 
"All of our friends were telling us about [the shutdown] and we were just like 'Oh, I've eaten in a lot worse establishments. This is nothing. [Dominique] got out in front of it and that just reeks of honesty, so that's very cool," said Knocky. 
"It's a little sketchy but I think that other places I eat at have similar problems probably, so I'm not super worried about it," said Jennifer Funk, another Cronut fan from out of town. 
Despite the support from loyal fans, the line for Cronuts was a tad shorter than usual. Ansel came out to greet his customers personally. To celebrate the reopening, the bakery staff made a special edition Rocky-themed Cronut with a chocolate glaze on top and a yellow star. 
"You take a hit, you go down, but you come back up stronger. We keep moving forward and make what we believe," Ansel said of the theme. 
Violations Fixed
The bakery was shut down by the city's Department of Health (DOH) last Friday after someone posted a YouTube video online that showed a mouse scurrying across the floor as staff members were busy preparing sweet treats. 
Following an initial examination on Friday, the DOH cited 43 violation points. According to the DOH, the health inspector found several hundred mouse droppings in the bakery. 
On Monday the DOH returned for a re-inspection and the bakery was given the permission to reopen.
The bakery staff issued a message on Facebook about the experience. "We have completely fortified our facilities with a full reconstruction and re-cementing, taking every issue seriously in an effort to provide an even more pristine environment for our guests," the message read.
Yi Yang is a special correspondent in New York.