Criminals Buy Guns Online, Avoiding Background Checks
September 19, 2013 6:08 am Last Updated: September 19, 2013 11:03 am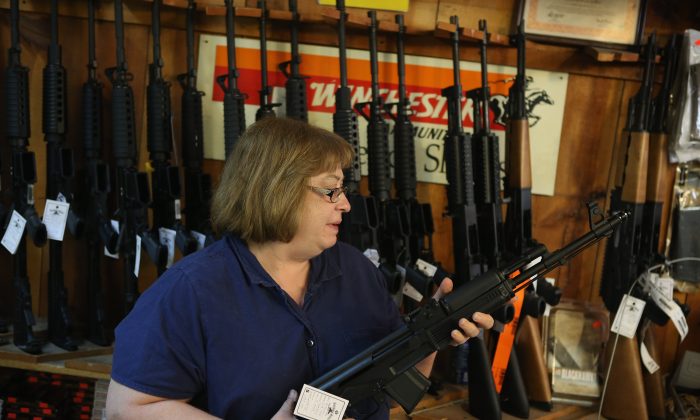 NEW YORK—People with criminal records, who cannot buy guns through a licensed dealer, have been trying to purchase firearms through Armslist.com, a website that operates similar to Craigslist.
The website, and others like it, are not illegal, but a new investigation revealed the loophole in current state and federal law.
An investigation by Mayors Against Illegal Guns found that roughly 1 in 30 potential buyers surveyed at Armslist had felony convictions, domestic violence misdemeanors, bench warrants, or protection orders that under federal law would prohibit them from legally purchasing a firearm.
The findings of the national investigation were released on Sept. 18 by Mayor Michael Bloomberg, who is co-chair of Mayors Against Illegal Guns. The group boasts membership of more than 1,000 mayors, 650 of them joined in the last year.
From Feb. 11 to May 10 investigators from Bloomberg's administration extracted information from 13,298 potential gun buyers who advertised on the Armslist website.
More than 1,400 of the advertisements had unique phone numbers or email addresses, and investigators used those phone numbers to trace 607 individuals.
Article Continues after the discussion. Vote and comment
[tok id=1c18dc10dc3b4698bb42c169ff35020b partner=1966]
Criminal record checks on the 607 showed that 20 had felony convictions, domestic violence misdemeanors, bench warrants, or protection orders.
The number of felons trying to buy guns on the site could be higher. Investigators only checked criminal records in the potential buyers' states of residence.
Almost two years ago, investigators from Bloomberg's administration called private sellers, who were not licensed gun dealers, from 14 states that had advertised firearms for sale online.
Investigators posing as gun purchasers tested the sellers on the phone by suggesting that they would likely fail a background check, but 62 percent of sellers still agreed to sell them guns.
Armslist Linked Killer With Weapon
Last October, Wisconsin man Radcliffe Haughton used Armslist to buy a gun from a nearby private seller, the same day he posted his listing online.
Under federal law, Haughton would have been unable to buy a gun legally through a gun store—a judge had issued a restraining order against him to protect his wife from domestic violence.
One day after Haughton placed the advertisement on Armslist, he used the gun he had purchased to kill his estranged wife and two of her co-workers. He shot and injured four other people before he turned the gun on himself.
Control Reduces Gun Violence
Bloomberg said in each of the 14 states that require background checks on all gun sales—for criminal records and mental illness—the suicide rate is half the national average.
"Suicide sadly, is generally one of those spur of the moment things where people try to get a gun, if they can't then they don't commit suicide," he said.
Bloomberg said that if all 50 states passed local laws requiring criminal record and mental illness history checks for private gun sales, federal laws would not be needed.
"But if any one state does not have it—because it's so easy to carry guns from one [state] to another—you really do need the federal laws to be updated," Bloomberg said.
In April, a U.S. Senate vote blocked legislation that would have made background checks for mental illness and criminal records compulsory for all gun sales. Polls prior to the vote had shown 90 percent of voters supported the legislation.
Bloomberg labeled the vote "a damning indictment of the stranglehold that special interests have on Washington."
He said without the federal law, "in more than 40 states, criminals and other prohibited purchasers can avoid background checks by buying handguns or long guns from unlicensed 'private sellers'—often at gun shows or through anonymous online transactions."
An estimated 6.6 million guns are sold annually without a background check.
Bloomberg said he would continue to be involved with the organization after he leaves office in December.