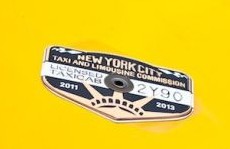 NEW YORK—Various aspects of the mayor's 2013 Preliminary Budget are being scrutinized, and on Tuesday, the City Council's Transportation Committee questioned the Taxi and Limousine Commission about the projected $1 billion revenue from selling 2,000 new taxi medallions this year.
"We have some doubts about their ability to raise that amount of revenue," said Andrea Bender, legislative director for the chair of the Transportation Committee, Councilman James Vacca. "The city has never sold that many medallions at one time. If they don't raise the billion dollars, they leave a hole in the budget."
In the mid-2000s, 900 new taxi medallions were sold over a three-year period. In October, two medallions were sold for $1 million each.
A balanced budget is legally mandated, so if the revenue falls short of the projection, taxes or other measures would have to be used to fill the gap.

Allan Fromberg of the Taxi and Limousine Commission said, "We're very confident in our ability to do this, and we're doing an Environmental Impact Statement that will be ready in advance of the first offering that will address that question [of] whether or not there are too many."
A private professional transportation firm will conduct the study. "They will look at every kind of impact there could possibly be from it," said Fromberg, "whether it's economic or environment or traffic related."
The commission hopes to sell its first batch of medallions in July, and have the impact statement completed well in advance of the sale. Fromberg could not provide details of specifics of the impact statement.
Transportation expert Sam "Gridlock" Schwartz said at a recent transportation roundtable that the average taxi is equivalent to 40 cars, so bringing in 2,000 taxis is like bringing in 80,000 more cars.
"Gridlocks can get worse," he said. "It's going to get much worse."