Chinese Jet Fighter Parts Made by Unqualified Workers
March 18, 2010 9:14 pm Last Updated: October 1, 2015 8:33 pm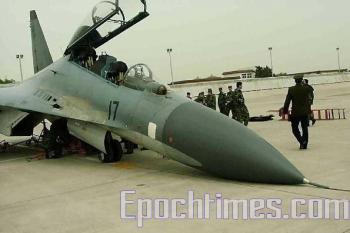 Corruption has turned a military fighter-jet parts manufacturer into a private cash cow, according to one former employee.
The No.8 plant of AVIC (Aviation Industries of China) Shenyang Aircraft Corporation (SAC) is a state-run aviation parts manufacturer with a 60-year history, producing parts for both military and civilian aviation.
AVICSAC former employee Ma Ming told The Epoch Times that beginning in the latter part of 2007, former plant manager Yang Yongying began subcontracting the production of parts for J-8 (Jian-8; NATO reporting name Finback) and J-8II, one of the most advanced all-weather interceptors in China, to eight private workshops to increase profits.
According to Ma, workers in those private workshops have no qualifications, training, or vocational certificates, or even basic technical knowledge. As a result, several serious accidents have occurred. However, workshop owners used payoffs to silence reports on those accidents, and Ma believes many aircraft equipped with such parts are in danger.
"I am furious—he did not take the pilots' lives seriously," Ma said, adding that the parts have been widely used.
An Excuse to Increase Profits
According to Ma, after Yang became plant manager in 2007, annual profits fell from first to last place among the plants in the AVIC: "Yang purposely failed to meet the production quota so he would have an excuse to outsource production and recruit private workshops at a very low price."
Those workshops used AVICSAC's electricity, tools, and equipment free of charge, and their books were also kept secret by several individuals.
And the situation became worse and worse. Many cadres in the plant, while enjoying high salaries, started their own workshops using relatives as managers and then outsourced AVICSAC production to their own workshops.
Although there are several military representatives from the navy and air force who are supposed to oversee the management, Ma said that "they also took advantage of their military privileges to have their relatives run such workshops," so in the end no one responded to Ma's reports.
"Yang also had his own workshop and often asked plant employees to work there, but their salaries would still come from AVICSAC's payroll," Ma said.
After reporting the corruption to many levels of authorities without response, Ma posted the information on the Internet: "Yang is not alone. It is a bunch of corrupt officials. I want to teach them a lesson—at least I can constrain them from doing more bad things."
Yang has now stepped down from his position. Ma said it is probable that some higher authorities feared his case would lead to more trouble. To date, no media report has confirmed Yang's removal.