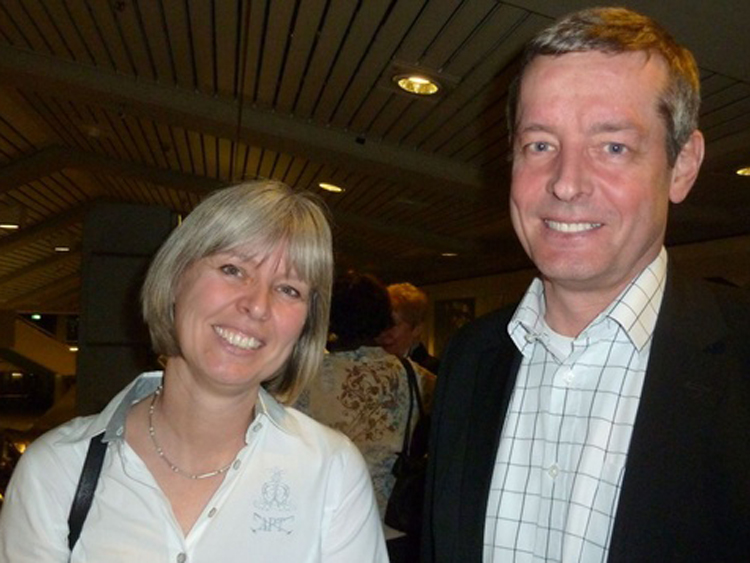 BERLIN, Germany—A beautiful sun-filled day was just the perfect precursor for the opening night of Shen Yun Performing Arts at the International Congress Centre (ICC) in Berlin on Friday evening, March 16.
In order to restore and revive Chinese traditional culture, a group of overseas Chinese artists established Shen Yun in New York in 2006, with the mission of reviving 5,000 years of divinely inspired Chinese culture.
Mr. Klaus Grotstabel, a contractor, and his wife, said that they had enjoyed many a Chinese dinner, but had not really come across traditional Chinese culture. They felt that Shen Yun had opened their eyes to something unique and they felt privileged to have the opportunity to see the classical Chinese dance and music company.
"Fantastic costumes! Graceful dancers! A wonderful experience," said Mr. Grotstabel during intermission.
Ms. Grotstabel was impressed with the two Masters of Ceremonies. Two bilingual emcees lead the audience from piece to piece, explaining Chinese culture and history.
She said she also admired Shen Yun's animated backdrops that bring scenes from 5,000 years of history to the modern stage. The digital moving backdrops also feature interplay between the performers and the screen.
"I was totally taken by what was shown on the backdrop, especially when it appeared as if the artists came out of the backdrop. Everything was part of the scene on stage and harmonized the presentation for the audience."
She particularly enjoyed the dance Lotus Leaves, saying, "I enjoyed the scene about the Lotus blooms and I loved the scene with the green fans. It was vivid and graceful."
Her husband recalled the opening scene. "I was quite impressed with the drums in the first scene. … An opening scene must present something unusual. I remember it quite vividly," he said.
Reporting by Wen Jing
Shen Yun Performing Arts, based in New York, tours the world on a mission to revive traditional Chinese culture. Shen Yun Performing Arts International Company will give two more performances in Berlin on March 17 and 18, and then perform in Zurich, Switzerland, from March 23-26.
For more information visit ShenYunPerformingArts.org
Read the original German article.