Community Gardens a Rare Respite in New York
April 22, 2014 7:31 am Last Updated: April 22, 2014 2:04 pm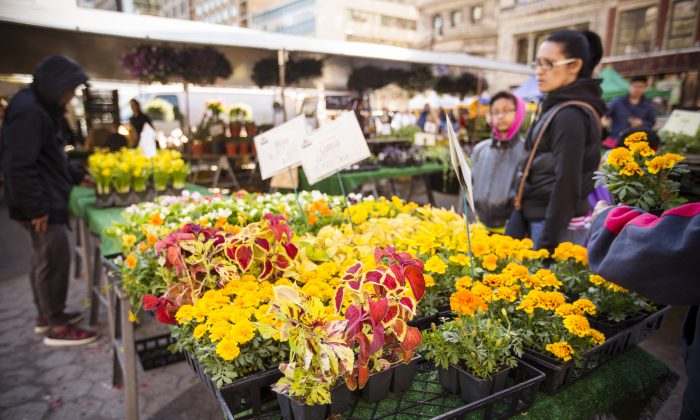 NEW YORK—In many parts of the United States, finding a quiet spot to dig in the ground, plant a few seeds, and watch them grow is commonplace. Not in New York City. The largest metropolis in the country is dense with people, buildings, and concrete. Though the city boasts a network of 1,700 parks, playgrounds, and recreation facilities, finding even a tiny space to garden is a rarity.
Enter community gardens. By no means a new concept in urban life, many gardens have been in existence for decades.
Plots of land communally cared for and cultivated by otherwise disconnected city residents has enjoyed a resurgence in popularity in the past few decades after an interlude of neglect. During World War I and World War II, so-called victory gardens famously provided sustenance during times of national strife. In the post-World War II years of plenty, the popularity of community gardens waned, though.
In 1970, the first Earth Day in New York, local organization GrowNYC was created. Initially focused on policy, it later became increasingly engaged with tangible green projects, such as assisting in the creation of community gardens, as well as operating the robust Union Square Greenmarket. Multiple organizations throughout the city are working actively to ensure that green spaces in the city survive and thrive.
Historic Brooklyn Garden
At Highland Park Children's Garden in north Brooklyn along Jamaica Avenue, residents have been gardening there since the 1880s. Yet even it, one of the oldest in the city, fell out of use for several decades until 1989 when a group of students revived it. It's been in continuous use ever since.
One of 500 community gardens in New York City, the land was set aside by a wealthy family for community use.
Plot size and maintenance requirements for garden members vary, but the just under 1 acre of land at the Highland Park garden is only $30 per plot of land for a year of membership. It's gated and fenced, which makes it safe for small children and families. Tools and compost are also provided for member use.
For coordinator Linda Herschberger, who has been gardening there for nine years, she relishes the chance to connect with her childhood years on a farm in Indiana.
"I grew up gardening, so I was really excited to have a spot where I could dig and plant," said Herschberger. "I was living in a small apartment, and didn't even have a backyard. It was really therapeutic to get out and dig in the dirt."
Over the years she has grown mostly tomatoes, green beans, carrots, lettuce, and peas.
Herschberger said that she loves the peaceful space, birds, and butterflies, but one of her favorite aspects is connecting with other people.
"It's hard to get to know people if you don't have a place to get to know them," she said. "We share common interests."
Though the garden's 32 plots are already full for the coming spring and summer seasons, there is always a wait list, and partner organizations can help find alternative spaces. Some plots are also abandoned during the hot summer months.
The Right Space
Such community spaces also bring together otherwise unlikely garden-fellows.
Larisa and Calvin Cox travel from Kew Gardens in Queens to their plot in Highland Park. After they found out a garden nearby them has a wait list and a lottery for potential members, Larisa expanded her search. The couple and their two young children, ages 10 months and 2.5 years old, plan to use their plot for quality family time and object lessons.
"One of the reasons we joined was so my older son can dig around in the dirt, and see how things grow, and see bugs and have a chance to be exposed to nature in the way that I was when I grew up," said Larisa, who is originally from Russia. "He can't stop talking about it."
For her, it is worth the short drive with her family to spend the afternoon amid the garden's daffodils in a tranquil setting.
"I think it's great that at least some families have access to community gardens," she said.
GARDEN INFO
For more information about community gardening, visit GreenThumb online at greenthumbnyc.org or call 212-788-8070.
GreenThumb has a garden map locator, with contact information for individual gardens. Each garden is unique in how it is organized and run, as each is stewarded by citizen volunteers.