Most Chinese Say Commodity Prices Are Too High
March 19, 2010 12:49 am Last Updated: October 1, 2015 8:33 pm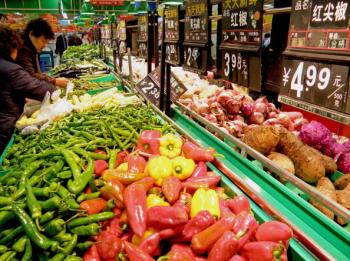 Over half of the Chinese people believe commodity prices are "unacceptably high," and the index of current price satisfaction reached a new 10-year low of 25.9 percent, according to a survey released by China's Central Bank on March 16.
Consumers in 50 large, medium, and small cities across the country were surveyed about their incomes, jobs, commodity prices, and housing costs in mid and late February this year.
The results show that the index of current price satisfaction decreased 2.3 percent over the fourth quarter of 2009. Only about 27.6 percent think current housing prices are acceptable; the rest think the prices are "too high to bear," up 10 percent compared with the second quarter of last year.
The high price of housing was critiqued at the "Two Sessions," the annual meeting of China's Congressional and Political Consultative Conference which ended last weekend. But it seems that no action has been taken to curb prices. A survey published by Xinkuai on March 18 reported that housing prices in Guangzhou remain unchanged after the Two Sessions. In Beijing, the price of new construction within the Fourth Ring Road has reached 40,000 yuan ($5,860) per square meter.
The high prices suppress consumer willingness to buy. The surveys show that 43.6 percent of urban residents have opted to save their money, and 41.2 percent prefer to invest in bonds, funds, and/or stocks.
China's Ministry of Commerce noticed that the price of living necessities among 36 large and medium cities nationwide increased by 1.5 percent compared to the same period last year. In mid February, prices increased 3.6 percent because of the Chinese New Year, according to a report by state-run China News on Feb. 25.
As a result of price reform in water, electricity, natural gas, and other energy sources, manufacturing costs are expected to rise. Food prices, which are sensitive to inflation, have been going up since the Chinese New Year.
In an interview with Economic Daily News, Jiang Yongxiong, vice chairman of the Beijing Association of Taiwan Businessmen, pointed out that prices used to rise slightly before the Chinese New Year and then drop back after that, but this did not occur this year.
Read the original Chinese article.