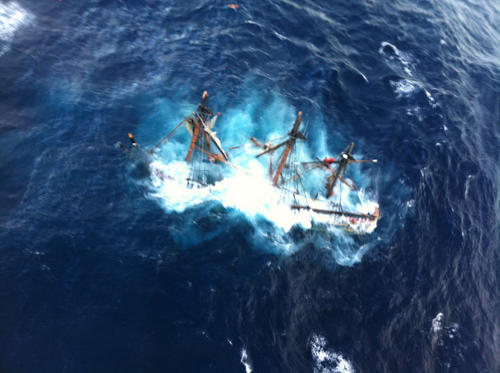 Updated Oct. 30 12:54 a.m.
The Coast Guard has recovered the body of one of two missing crew members near the site of the sunken HMS Bounty, and is now focusing its efforts on finding the ship's captain. 
The crew of the replica tall ship abandoned the vessel Monday off the coast of North Carolina near Cape Hatteras, 160 miles from Hurricane Sandy's center. The 16 people on board prepared to abandon ship, dressed in cold-water survival suits and lifejackets. They escaped the sinking ship in two 25-man lifeboats with canopies.
Earlier in the day Lt. Michael Patterson, spokesman for the U.S Coast Guard (USCG), said there were 16 people on board the vessel despite previous reports of 17. "The Coast Guard has successfully rescued 14 and they have been brought back to Air Station Elizabeth City," said Patterson over the phone. None of the rescued people had life threatening injuries, according to Patterson.
Two people were unaccounted for earlier in the day, and the Coast Guard issued an update later Monday evening stating they had found the body of an "unresponsive" 42-year-old woman. She was flown to Albemarle Hospital in Elizabeth City, N.C.
The Coast Guard stated they are still searching for the ship's captain, 63-year-old Robin Walbridge. 
Patterson said the USCG had conducted survivor debriefs to get a better sense of whether the missing got into their survival suits or made it to the life raft. 
The ship has sunk but the mast was still visible, according to USCG reports.
"Right now we have a Coast Guard helicopter, a MH-60 out of Elizabeth City, and a HC-130 fixed-wing aircraft also out of Elizabeth City, and those aircraft are presently on scene and searching," said the lieutenant in the early afternoon on Monday, Oct. 29. 
The Coast Guard is making preparations to increase search efforts on the surface. Crews aboard the Coast Guard Cutter Elm and the Coast Guard Cutter Gallatin are en route to assist with the search, according to USCG reports.
Caught in 40 mph winds and 18-foot seas, the ship was taking on water and had lost power, according to the HMS Bounty website and the U.S Coast Guard news release. The HMS Bounty sent a distress call to its headquarters, which asked the Coast Guard for help.
The captain ordered all hands to abandon ship, according to the HMS Bounty website.
The Coast Guard is advising boaters to stay off the waters and urges mariners to take precautions as Hurricane Sandy approaches the Great Lakes region. The National Weather Service lists marine weather forecasts and current storm advisories regularly at www.nws.noaa.gov and people can monitor the storm's progress on VHF-FM marine radio channel 16, according to a Coast Guard news release.
The Epoch Times publishes in 35 countries and in 19 languages. Subscribe to our e-newsletter.