The fast-spreading COVID-19 has hit China's top internet censorship agency and sickened 10 employees, according to Beijing health officials.
It was an instance of sustained community transmission, meaning people spread the virus to each other while commingling together.
The infections started when a sick janitor began coughing on Feb. 18 but continued to work, according to a Feb. 27 press conference in Beijing on the outbreak.
The janitor, surnamed Sun, tested positive for the virus on Feb. 24. On Feb. 26, officials confirmed infections among 10 of Sun's coworkers.
These 10 cases include 9 workers of the property management company in charge of outsourcing services, while the other is a third party catering service worker. The officials have quarantined 178 close contacts and thoroughly disinfected the work unit, according to the press briefing.
The officials indicated the affected company to be a state-owned institution but didn't specify its name. Yet the address provided on a Feb. 25 notice from the Beijing Center for Disease Control and Prevention (CDC) revealed the institution to be the National Computer Network Emergency Response Technical Team/Coordination Center of China, an agency under the control of Cyberspace Administration of China, the country's top internet regulatory office.
Reactions
There was rejoicing among netizens and Chinese dissidents, who have come to see the agency as a surveillance tool for the regime to crack down on their freedom of speech. On Twitter, which is only accessible through VPN in China, a post commenting on the "fall" of the office received over 1,800 likes.
The agency has played a central role in controlling the information in China's internet space, including enforcing real-name registration on major social media platforms, such as Twitter-like Weibo, and deleting accounts of outspoken users or comments that they consider out of tune.
"With the Great Fire Wall, the Chinese Communist Party turned the over 1 billion Chinese population into a 'frog in the well,'" Hu Jia, a prominent Beijing-based human rights activist, told The Epoch Times. "Our eyes and ears are muffled, and our mouths are zipped up … we are cut off from the world."
He called the news a show of "retribution."
Imported Cases
Sun had just come back from another city. Before he went back to work, he went through a quarantine period during which he came into frequent contact with another coworker from Handan, a city in nearby Hebei Province, Pang Xinghuo, the vice director of Beijing CDC, said in the conference.
The officials found antibodies of the virus from the worker, indicating that he had been previously infected. They believed Sun acquired the virus from the worker over the period. It was what Pang called an "imported case," in which the virus was "imported" from another region.
The other infected workers either shared the same dorm or worked in the same work office nearby—meaning it was also a case of community spread.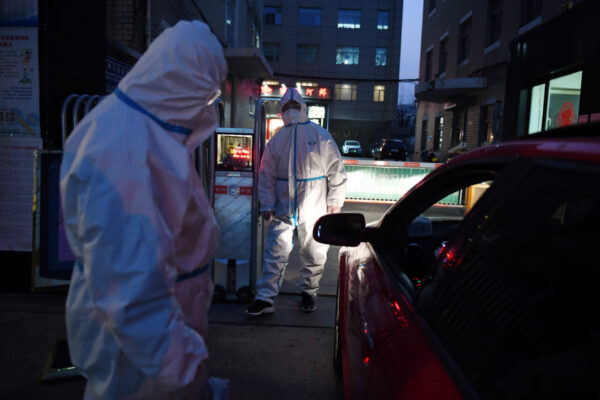 Zhu Sheng, the vice director of Chaoyang District where the infections occurred, said they have sealed off the facility and restricted movement of vehicles and personnel. Zhu said they have tested all the employees and have found no additional infections.
In another recent imported case, Huang, a newly freed prisoner from Wuhan, traveled back to Beijing and was later confirmed to have the virus. Beijing has launched a probe into how she managed to defy the transportation restrictions and leave Wuhan in the first place.
China has reported nearly 79,000 cases total, with 400 in Beijing, although analysts and Chinese residents suspect that these numbers may be a gross understatement.
Grim Challenges
Beijing officials have noted more than 200 cases of community transmission over the past weeks.
In a televised speech on Feb. 23 to an audience of 170,000 officials and military personnel, Chinese leader Xi Jinping made Beijing one of the key areas in outbreak control efforts.
On Feb. 20, Fuxing Hospital, a top hospital in Beijing, reported 34 community-acquired infection cases, including eight medical workers as well as nine nurses and cleaners. The hospital temporarily closed down two buildings and put 668 people under medical observation as a result, according to a daily city government press conference.
On the same day, Peking University People's Hospital also announced hospital-acquired infections involving a patient undergoing kidney dialysis, her daughter, and her son-in-law. It remained unclear whether the kidney dialysis patient transmitted the virus to the couple or vice versa.
Beijing's call for factories to resume production fueled more anxiety of cross-infections.
On Feb. 18, an officer at a government institution in Xicheng district came down with the virus, leading to the quarantine of 69 people who were considered close contacts.
Dangdang.com, a Chinese e-commerce company, asked everyone to work from home after one worker was diagnosed.
On Feb. 21, a worker surnamed Wang at state-owned paper making firm China Paper Corporation reported infection in his family. Wang's wife, who got the virus, had recently traveled to Hubei. The entire office building shared by seven companies has now shut down.
The accuracy of the nucleic acid tests, which is the standard method for screening the coronavirus, also remains in question. Wang Chen, pulmonologist and the director of the Chinese Academy of Medical Sciences, the country's top medical institution, told the state broadcaster CCTV on Feb. 6 that the test only had a detection rate of 30 to 50 percent so far.
Wang's wife, for example, had been coughing since Feb. 7 but had a negative test result on Feb. 12.
Another patient's throat swabs tested negative three times, but samples from his lower respiratory tract later confirmed the person's infection.