City Proposes Raising Age Limit on Cigarette Purchases to 21
Tobacco tax revenue may decrease, but it's a good thing
April 23, 2013 8:40 am Last Updated: April 23, 2013 10:41 am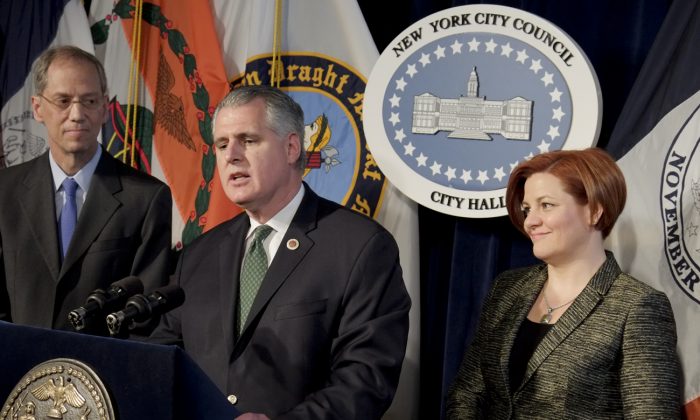 NEW YORK—Council member Jim Gennaro's mother Audrey was like many post-war woman of the 1940's. She picked up smoking by age 18, a common age for people to get started, and developed a heavy habit.
Though Audrey quit later in life, the habit proved fatal and she died of lung cancer.
Nearly 70 years after his mother picked up her first cigarette, her son is proposing a bill in her honor which would raise the age to purchase cigarettes from 18 to 21 in New York City.
"For me this is not about all kinds of statistics and facts," Council member Gennaro said from City Hall on Monday. "This is about my mom."
New York City has led the way in curbing smoking beginning with a first-in-the-nation indoor smoking ban back in 2003. Heavy taxes at both the city and state level followed, driving the price per pack to nearly $11. 
Despite efforts, the city's youth smoking rate has remained flat since 2007 at 8.5 percent, with an estimated 20,000 high school student smokers, according to City Health Commissioner Tom Farley. 
"Today we are going to address this problem head on," said City Council Speaker Christine Quinn. "With this legislation, we will be targeting the age group at which the overwhelming majority of smokers start."
The bill proposed only to make the purchase of cigarettes illegal; young adults would not need to be 21 to smoke. 
Tax Revenue Drop
The idea of raising the purchase age for cigarettes to 21 is not new in the United States, but such measures have rarely been instituted. California tried unsuccessfully in 2002, but cash-strapped California couldn't afford it. The bill stalled when legislators realized they would miss out on an estimated $25.7 million in tax revenue, according to a 2002 San Francisco Chronicle article. 
More recently in 2013, Texas proposed a bill which would not only make illegal the sale of tobacco products over the age of 21, but also consumption. The bill died after it was discovered the law would reduce tobacco income by $42.6 million over two years. That money was needed to fund the state's school property tax cuts.
"Ironically [it] means that we're relying on these 19 and 20 … year olds to smoke cigarettes so we can balance our budget," Texas Senator Carlos Uresti, who introduced the bill, told the Dallas Morning News. 
It may be money in the bank, but unlike Texas or California, neither the state of New York, nor the city, rely on tobacco tax income to balance their budgets.
In 2012 the city took in $67 million in tobacco tax revenue, a figure that has continued to decline since its inception in 2002. Based on a $67 billion budget, the revenue represents just .02 percent.
"It is not important in terms of city revenue," said Michael Jacobs, supervising analyst of economics and taxes for the Independent Budget Office. "It is sort of a drop in the bucket."
The State took in $471 million in fiscal year 2012 and is expected to receive $448 million in fiscal year 2013.
"In general, this is the one revenue source where it is a good thing if it goes down," said Tammy Gamerman, senior research associate for Citizens Budget Commission. "That has always been the intention of the cigarette tax—to lower consumption."
The state puts 76 percent of the money it gets from cigarette taxes back into health programs for multiple healthcare initiatives. 
New York's lawmakers do not currently have an estimate for how much in lost tax revenue their new initiative will cost, but the potential for lost revenue does not appear to be a major concern. 
"They are taxes we want to lose," Quinn said. "Losing those taxes means fewer young people are smoking so that is money worth losing."