Chris Froome Wins 100th Tour de France in Finest Fashion
July 21, 2013 6:08 pm Last Updated: July 21, 2013 6:54 pm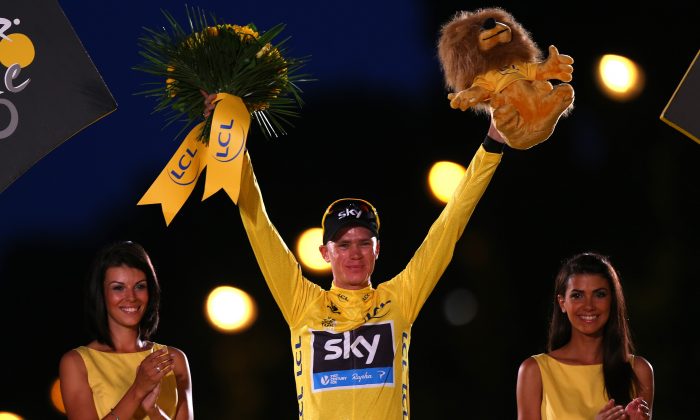 Chris Froome, leader of Sky Procycling, addressed Paris and the world from the top step of a podium in front of the Arc de Triomphe in downtown Paris Sunday evening, talking about how he felt after winning the 100th edition of the Tour de France cycling race. The speech was broadcast in the U.S. on the NBC Sports Network.
Froome started his acceptance speech in French, a language he speaks well enough, living as he does in Monaco during race season.
"I'd like to thank all the supporters who came to this edition of the Tour de France—it was an exceptional tour with a battle right up to the end," he told the crowd gathered around the Arc de Triomphe.
"I'd like to dedicate this win to my late mother," he continued in English. "Without her encouragement to follow my dreams I'd probably be at home watching this event on TV.
"It's a great shame she never got to come see the Tour but I am sure she'd be extremely proud if she was here tonight." Froome's mother died in 2010 of cancer, never seeing her son's greatest triumphs.
Froome continued, "This amazing journey would not have been possible without the support I've received on and off the bike. I'd like to thank my team mates, who have buried themselves day in, day out, throughout this Tour to keep this yellow jersey on my shoulders, and to Team Sky management for believing in my ability and building this team around me.
"Thank you to all the people who have taken the time to teach and mentor me over the years to get me into this privileged position.
"Finally I'd like to thank my close friends and family who have been there for me every step of the way especially, my fiancée Michelle, who's here tonight."
"This is a beautiful country with the finest annual sporting event on the planet. To win the 100th Edition is an honor beyond any I've dreamed. This is one yellow jersey that will stand the test of time. Thank you."
The Tour de France is the most prestigious race in professional cycling; winning it is one of the highest points of any rider's career. Froome, only 28, could conceivably win it several more times before the end of his career. Even if he never stands atop the podium in Paris again, Chris Froome has achieved the greatest goal of his chosen profession; he has reached the highest heights.
A Decisive Performance
There are many ways to win a grand Tour. Some winners never take a stage victory; because the winner is decided by cumulative time over 21 stages, it is possible to be the best while never actually beating anyone else.
Chris Froome did not win by losing less time than his rivals; he won by decisively defeating them in head-to-head combat.
The first real test for the GC contenders came in Stage Eight. With an Hors Categorie climb followed immediately by a Cat One summit finish, the 195-km stage offered GC contenders a chance to show their stuff.
After his Sky team mates had pushed the pace so hard everyone was nearly exhausted, Froome attacked, riding the last five kilometers solo to win the stage by more than a minute over his nearest rival.
The next day, in Stage Nine, things were very different. All of Froome's team mates were exhausted by the previous day's efforts, and Froome was left alone to defend his lead. Froome held his own. He let some breakaway riders, down in GC, escape to win the stage, but he made sure to stay close to his GC rivals, keeping control of the yellow jersey.
Froome repeated his Stage Eight performance in Stage Fifteen, which finished on the summit of the famous—and feared—Mont Ventoux. On one of the toughest climbs in the Tour, Froome again attacked early, seven kilometers from the summit, and rode to victory while his rivals fell even farther back.
Froome extended his lead on the Stage 17 mountain time trial. Froome is good in the "Race of Truth"—he showed that by finishing second in the first individual time trial in Stage 11. This time the race leader went for the win, and got it, finishing nine seconds ahead of two-time Tour winner and former Spanish Time Trial champion Alberto Contador. Contador moved into second in GC, but he was more than four minutes behind Froome, with only three racing stages to erase the deficit.
Froome made his overall win absolutely certain in the final mountain stage, an Hors Categorie summit finish in Annency-Semnoz. While he couldn't win the stage, he dropped most of the competition. Froome rode to the top with two other riders, Nairo Quintana of Movistar and Joachim Rodriguez of Katusha, who finished first and second in the stage and second and third overall.
It didn't matter to Froome—he was more than four minutes ahead of them in time, and the rest of his rivals were farther down the mountain, struggling to follow. As he crested the final climb, Chris Froome knew he had won the Tour.
Proven in Grands Tours
Froome, a native of Nairobi, Kenya who now lives in Great Britain, turned pro in 2007 and in 2008 joined the South African Barloworld Pro Team, riding his first Grand Tours. He finished eleventh in the Best Young Riders classification. His next Grand Tour was the 2009 Giro d'Italia, where he finished seventh among the young riders.
Though he grew up in Africa, Froome had always felt British, and in 2010 he began riding as a British rider when he joined Sky. He entered the 2010 Giro but had to withdraw with a knee injury. His breakthrough came in 2011's Vuelta a España, where he finished second overall, one place ahead of team leader Bradley Wiggins.
Froome's Vuelta performance earned his a sport on Sky's 2012 Tour team, where he once again proved stronger than Wiggins in the climbing stages while shepherding the then Sky leader to his 2012 Tour win.
Team Leader by Luck
Chris Froome got his chance to lead in 2013, and he made the most of it. After winning four of the first five races he entered in 2013, Froome was picked to be team leader in the Tour.
It was a near thing. Wiggins was building his 2013 season around defending his 2012 Tour win. The 32-year-old former track rider didn't enter a race until the Giro d'Italia in May, planning to use that 21-stage race as a warm-up.
The 2013 Giro was one of the toughest in memory, not because of the route but because of the weather. Pelted by cold rain for most of the race, many riders were felled by chest infections, Wiggins among them. On top of losing time to respiratory illness, Wiggins was also stricken with a sore knee, which cut into his training schedule and ultimately kept him out of the Tour.
While a bad break for Wiggins, this might have been the best possible outcome for Team Sky. Originally Wiggins had decided not to defend, but had changed his mind in December 2012. Sky had originally announced Froome as the Tour team leader, then had to retract. With Wiggins one again out of the picture, Sky didn't have to make a decision which surely would have caused some ill will.
Ready for the Opportunity
Froome had already been having a career-best season with wins in the Tour of Oman, Critérium International, Tour of Romandie, and Critérium du Dauphiné. He was ready physically and mentally for leadership in the Tour.
Froome had behind him a team of powerful cyclists, most of whom had helped Bradley Wiggins win in 2012. Bad luck thinned Sky's ranks; Edvald Boasson-Hagen and Vasil Kiyienka crashed and withdrew early in the race, and Gerraint Thomas crashed and fractured his pelvis. When doctors told him continuing wouldn't worsen his condition, Thomas elected to keep riding, but he was in a lot of pain and not able to offer his team full effort.
Despite this Froome still had some powerful riders: young Peter Kennaugh, who gave a great performance in Stage Eight, powerhouse Ian Stannard, and climbers David Lopez and Kanstantin Siutsou. Most important Froome had Ritchie Porte, himself likely a future team leader and Tour winner.
Porte, also 28, joined Sky in 2012 and was instrumental in Wiggins winning. He rode support for Chris Froome in the 2012 Vuelta a España, helping Froome win that race. Porte proved his own leadership abilities with an overall win in the 2013 Paris-Nice, and in the Tour, Froome could count on Porte to blaze a trail forward in almost every stage.
Even in the stages where Porte was dropped, he worked hard to get back to help his team leader. On all the important climbs, Ritchie Porte helped Chris Froome as Froome had helped Wiggins in 2012.
Having a great team is essential to winning but having a great team would have been worthless without Froome putting in a great personal performance. Chris Froome proved that he could lead the team, and proved that he could look after himself when the team couldn't help him. Chris Froome won the yellow jersey with a powerful attack, and kept the yellow jersey through fourteen stages not just by having the best team, but by being the best rider from the best team. Chris Froome earned his Tour win in the finest fashion.