The death of an 18-year-old soon-to-be college freshman has thrown a spotlight on a chronic problem in Chinese society—fraud.
Xu Yuyu came from a poor family in the coastal province of Shandong. Her mom was disabled, and her dad worked as a cement mason. In September she was supposed to be a student at the Nanjing University of Posts and Telecommunication, according to the Chinese news website Shandong 24 Hours.
On the afternoon on Aug. 19, Xu got a call from an unidentified person claiming to be from the educational bureau and offering her 2,260 yuan (about $390) in financial aid. Xu, having got a phone call a few days earlier from the educational bureau, didn't suspect the call could be a scam.
After Xu followed the caller's instructions and transferred a total of 9,900 yuan (about $1,486) to the caller's account, he turned off his phone.
Later that night, Xu and her mom went to the police. On their way home, Xu collapsed on the tricycle that she and her mom were riding. She passed away two days later in the hospital.
"Our family is already not well off, how could there be people wanting to swindle me!" cried Xu before she passed away, according to her mom, Li Zhiyun. Doctors said Xu died because her heart and lungs abruptly stopped, but Li believes she died because her daughter was too hard on herself. She was healthy before she passed away.
Xu's tragedy is in fact a reflection of an ongoing social problem in China. Personal information can be easily brought, partly because people have faced minimal punishment if they are caught. Only in November 2015 did China enact a criminal law for illegal disclosure of personal information, with a maximum punishment of seven years in prison in addition to a fine.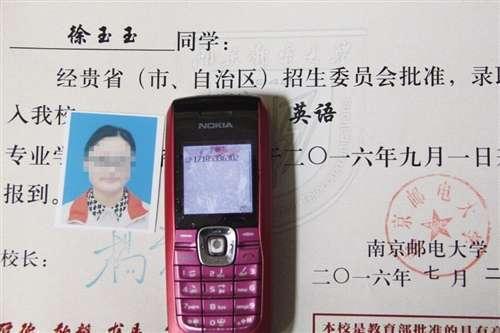 Back in 2013, a crackdown by Chinese authorities netted over 1,100 suspects for illegally obtaining and selling personal information in over 21 provinces and cities, reported state-run Xinhua. In June this year, the state-run media reported another cross-province crackdown, where 379 were detained from 11 provinces, for stealing and selling over 110 million pieces of personal information.
Continuing reports of people becoming victims of fraud or simply being harassed by telemarketers, even after the official crackdowns, underscore how easily personal information is leaked in China.
"Sometimes I got about 7 to 8 phone calls a day. Once I got 10 calls in one weekend, and they were calls from interior decoration companies," said Mr. Wang, who complained these calls become a daily nuisance ever since he bought a house three years ago in northwestern Xinjiang Autonomous Region, reported Chinese news portal Tencent in July 2016.
Wang never found out how these decoration companies got his number, but investigation by Tencent revealed that some real estate companies sold customers' information at a price of 5 to 10 yuan (between .75 and $1.50) per piece of customer information.
Zhou Li (a pseudonym) is pregnant. She said she was bombarded with calls from postnatal care centers and milk powder companies as her expected date of delivery drew near, reported the state-run Pennisula Morning Daily in January 2015.  When Zhou asked these callers how they had gotten her personal information, including her husband's name and her delivery date, they refused to answer.
On China's popular microblogging site Sina Weibo, an overwhelming number of netizens were outraged. Some netizens decided to share how they were also victims of fraud. A netizen from Tibet wrote, "I have a friend who was defrauded 4,000 yuan, and it has been three months since he reported [the crime] to the police. And the response by the police has been wait, wait, and wait some more."
Several netizens pinned the blame on the Chinese authorities. One netizen from north-central China's Gansu wrote, "It is the result of inaction by the government."
Another netizen from coastal Shandong Province wrote, "Shouldn't Uncle Wang send somebody to investigate the Ministry of Industry and Information Technology. Fraud is so rampant now. What have those officials being doing?" The netizen was referring to Wang Qishan, the head of China's anti-corruption body.
Xu's mother hoped that police would soon solve the case. "The crook took my daughter's life." Li said. "He doesn't have a conscience and should be arrested soon, so he cannot hurt anyone anymore."