Chinese Tear Mao's Image to Support Arrested Youth
November 6, 2012 8:41 pm Last Updated: October 1, 2015 11:56 am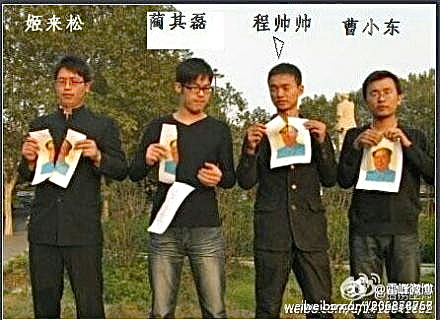 A young man was summoned by police in Henan Province on Nov. 1 after he publicly tore a portrait of Mao Zedong, the former leader of the Chinese Communist Party, along with three other young men. The whereabouts of two of the four are currently unknown.
The incident took place with China's 18th National Congress just around the corner, and has provoked protests and outrage. A large-scale movement has started in Zhengzhou City, Henan Province, to tear Mao's image to support the young men.
The movement has been named Tearing the Eight Heads, which refers to tearing portraits of eight Chinese leaders, which sounds similar to 18th Congress in Chinese. Activists in China regularly use similar-sounding words to bypass the regime's censors.
The four men were Zhengzhou lawyer Ji Laisong, AIDS activists Cao Xiaodong and Cheng Shuaishuai, and a university student named Lin Qilei. They tore Mao's portrait on Oct. 25, in a public space of Zijing Square, Zhengzhou City, Henan Province. While tearing Mao's image, they called on the Chinese regime to "eliminate the ideology of Mao" and to show anger at the harm Mao caused the Chinese people.
The Epoch Times spoke with Ji on the evening of Nov. 5. Ji said he is still walking around freely, but local authorities recently invited him to have tea. Cao was detained by the police for investigation, and Ji has not been able to reach the other two. Ji said the four young men's motive in burning Mao's image was what really set the authorities off.
Ji said that while he is worried about his situation, he has no regrets. His said his motive was "to show our unhappiness toward Bo's action of returning to the Cultural Revolution. Also, we cannot allow the evilness to spread in China." Bo Xilai, now in prison and awaiting trial, was the head of the CCP in the province-level city of Chongqing, where he led Mao-inspired campaigns that are often described as imitative of the Cultural Revolution.
Shuaishuai and Cao do volunteer work for AIDS victims and had collected funds to build an AIDS apartment that could offer free accommodation to AIDS patients and their families when traveling to see doctors in Zhengzhou, according to NetEase Henan News.
After Cao was taken by police overnight on Nov. 1, one of his friends, who goes by "V Blue Worriless" on Sina microblog, posted a message on Nov. 2 saying "At about 7:00 p.m., Cao's girlfriend and I picked him up at Jingsanlu Police Station. I met Xiaodong."
Another Sina microblog user, going by the name of "Corpse Resurrection," claimed, "Cao Xiaodong was pushed back several times with violence in the interview room when he asked to go to the bathroom. He only got a small piece of cold pastry that day."
The incident enraged the public. Writers, journalists, lawyers, and celebrities spoke out for him and asked the police to release him immediately.
Xing Jianmin, an attorney, said, "What is the legal basis for detaining the four youth in Zhengzhou just because of tearing Mao's portrait?"
Novelist Xia Shang said, "In a democratic country, tearing and even demonizing the portraits of political figures is nothing at all. The portrait of Mao is printed on RMB [renminbi]. We bring and use it every day, which doesn't mean we like this person."
One person posted a message on Weibo saying, "I just called Captain Liu of the Zhengzhou police and asked him what crime Cao committed? He didn't reply, but asked me to call the police station. I said that I've torn about one hundred portraits of Mao. You are welcome to investigate me!"
[The Weibo page has been blocked. An archive of the post can be found here:]
Sichuan dissident Huang Xiaomin said people have the right to tear anyone's portrait. Huang told Sound of Hope Radio: "It was not what the police wanted to do by themselves, or if it was what the police wanted to do, it was also controlled by a particular individual. It was controlled by the power of some officials."
Read the original Chinese article.
The Epoch Times publishes in 35 countries and in 19 languages. Subscribe to our e-newsletter.
Click www.ept.ms/ccp-crisis to read about the most recent developments in the ongoing crisis within the Chinese communist regime. In this special topic, we provide readers with the necessary context to understand the situation. Get the RSS feed. Who are the Major Players?