On Nov. 3, the local court in Dongguan City in southern China's Guangdong Province put a seal on the gate of Dongguan Xing Hong Shoe Industry, after confirming that the owner of the footwear company had gone, leaving its employees unpaid for two months. This closure is only the latest of several shoe companies in Dongguan that have failed.
"The owner has disappeared for days, [and] we workers haven't gotten a penny. We don't know what to do." Mr. Wang, an employee of the shoe company, told Epoch Times in a phone interview.
Hundreds of workers started to occupy the office building of Dongguan Xing Hong on Oct. 26, sleeping on the floor at night to protest their not being paid.
With the company not doing anything, over 600 workers marched to the county government to protest on Oct. 31, hoping the government could help them in getting the wages they are owed.
However, hundreds of police and riot police were dispatched to crackdown on the protest. Many protesters reported that they were brutally beaten, and four were taken away by the police. The four have been released, according to the workers.
On Nov. 3 the workers approached the Labor Bureau of Dongguan City to seek a solution. Officials of the Labor Bureau offered a compensation of 2620 yuan (US$428) for each worker, even though each worker is owed 7010 yuan ($1145), according to Mr. Wang.
"We formal workers all refused to sign [the compensation document.] Only 20 some temporary workers signed." Mr. Wang said.
The Dongguan Xing Hong Shoe Industry was a Taiwanese-owned company established in 2003 with assets of over $3.3 million. The company has about 700 employees in Dongguan.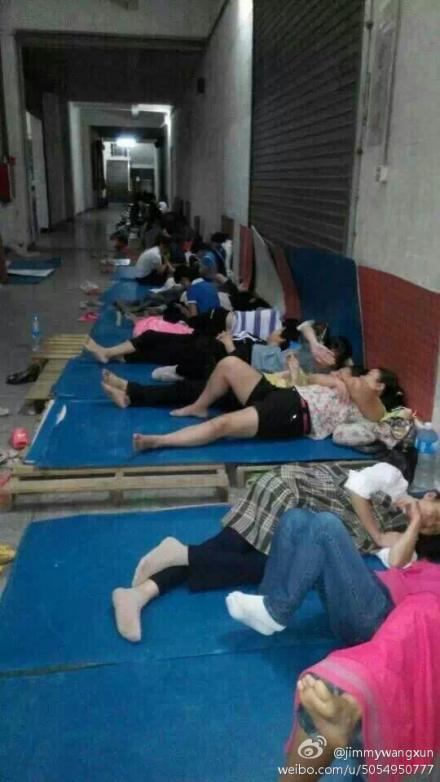 Dongguan City is a major manufacturing hub with a number of footwear manufacturers centered in the city. The disappearing owner of Dongguan Xing Hong is the latest of several similar cases in the city, as the footwear industry as whole in China is coming upon hard times.
Chinese netizens have compiled incomplete and speculative figures showing that at least eight footwear manufacture owners in Dongguan disappeared in the month of October alone, leaving employees unpaid.
On Nov. 1, a report by the China Federation of Logistics and Purchasing and the National Bureau of Statistics states the purchasing managers' index for October is 50.8 percent, which shows very weak economic activity. A figure above 50 shows the economy is expanding, and below 50 that it is contracting.
According to the October report, growth of new orders and new export orders including domestic and foreign demands have slowed to the lowest point in the past five months.
With translation and rewriting by Lu Chen.