Chinese Petitioners Organize Group Appeal During Clinton's China Trip
February 21, 2009 3:57 pm Last Updated: February 21, 2009 3:57 pm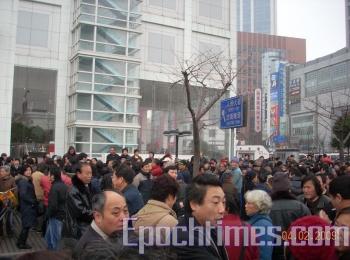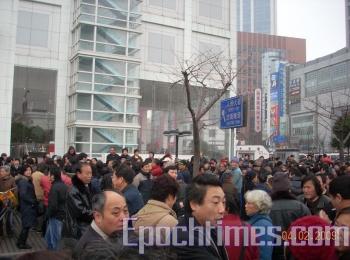 As U.S. Secretary of State Hillary Clinton started the China leg of her inaugural trip on Feb. 20, petitioners from all over China gathered in Beijing to use the event as another opportunity to make themselves heard.
Because of the coming Chinese National Congress, many petitioners have recently returned to Beijing. But many of them have changed their strategy this year—instead of going through the normal channels such as visiting the appeals office or delivering their letters to Supreme Courts, which have netted no results—they now have taken to organized actions.
On Feb. 20, a "Rights Protection Walk" was organized by Beijing right activists Cao Shunli and several others. They planned to gathered in front of the Beijing Municipal Appeals Office and then walk together to the State Council Press Office.
Their goal is to request that the regime give them a reply about their previous request that petitioners should be involved in the process of drafting China's first "National Human Rights Action Plan" because they are the people struggling at the lowest level of Chinese society.
As usual, accompanying the petitioners were large numbers of uniformed and plainclothes police and many police vehicles. Almost all of the petitioners were taken away before they even get close to the government buildings.
The Epoch Times interviewed Ms. Zhou Li, a Beijing rights activist who participated in the "Walk" and was taken away by the police. She was released around noon that day. "This early morning, I was taken to a police vehicle when I just arrived at the Beijing Municipal Government. I heard the activity when I arrived on the scene. Police cars were all over the place. The 'Walk' organizer Cao Shunli and other two petitioners were taken away at the same time," she said.
Over 20 petitioners from Shanghai made their way to the State Council Press Office and met a foreign journalist. One of them told The Epoch Times by phone that they knew Clinton's visit and human rights will be a topic, and they wanted to let their voices be heard.
However, their luck ended quickly, as during the phone interview, the Epoch Times reporter heard security guards shouting and beating appellant Shen Peilai, the interviewee on the scene.
"Several of them beat me, they beat my head, and I am bleeding," said Shen after the reporter called back to continue the interrupted conversation.
Read original article in Chinese.