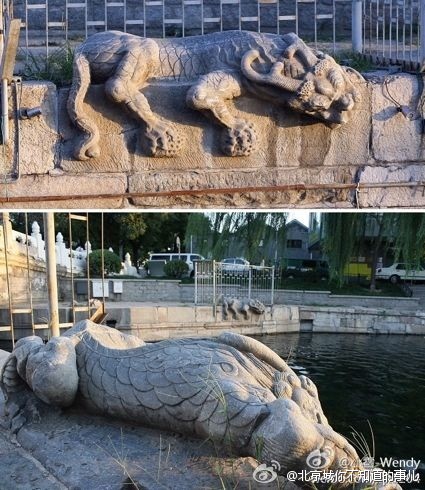 "To the south of the drum tower (Gulou), east of Houhai, west of Dianmen, there was a white marble bridge. Nobody dared to touch the bridge during the street-widening projects because of the two statues of divine creatures under the bridge to the east. Although the statues were worn with time, people still believe that Beijing would be flooded for seven years if they were disturbed. The recent flash flood might have been caused by the demolition happening now at that spot."
This comment was posted on June 23 by a female blogger from Beijing on her Weibo after a big downpour in the city. The post has been forwarded almost 14,000 times with 1,470 comments as of 2 p.m. EST on July 24.
After the Beijing flood this past weekend, the topic was raised again. Another Beijing blogger called "Something you do not know about Beijing" with more than 45,000 followers, forwarded this post on July 22, when Beijing experienced heavy rain and was later flooded. The comment was re-posted more than 900 times with 112 comments within three days.
The legend of Beijing's divine creatures that stabilize the water has been widely reported by media outlets, such as Sohu.com and Yahoo.com and many blogs, like the Sina blog http://blog.sina.com.cn/s/blog_594278290100082m.html.
The elders say that these two divine creatures were put there to protect Beijing against water. If they were disturbed, Beijing would be flooded. Residents would be homeless, according to a Yahoo report.
Nobody knows how many years the statues have been there. People say that they existed before Beijing became a city. Legend holds that they were divine creatures from distant ages and descended from the heavens to protect Beijing.
According to the legends, before the divine creatures came to Beijing, the city was filled with foul-smelling filthy water in which demons lived and no fish could survive.
Sometimes small islands could be seen in the flood waters, and these became the mountains in the suburbs of Beijing. There were no traces of humans, because the entire mountain was haunted by demons and monsters. These monsters were very cruel and violent. They would fight and kill each other and other races for land. Beijing was filled with blood until the divine creatures came.
The legend describes their arrival when suddenly the sky split open, and they appeared amid thunder and lightning. They vanquished the evil and the flood waters receded several days later. The fertile soil surfaced and eventually human beings gathered and slowly they built the city of Beijing.
The Epoch Times publishes in 35 countries and in 19 languages. Subscribe to our e-newsletter.