Chinese Human Rights Law Firm Faces Six Month Closure
February 24, 2009 2:25 am Last Updated: October 1, 2015 10:09 pm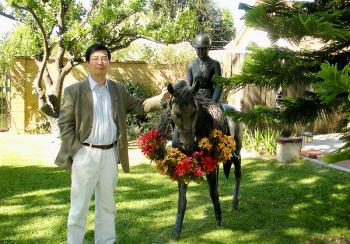 Chinese Communist Party (CCP) officials ordered well-known Beijing human rights law firm Yitong Law Office to cease operations on Feb. 17 for six months for allegedly allowing a lawyer in the firm to practice without a license.
The lawyer in question, Li Subin, had his license suspended after he filed a case against Henan Province's Judicial Bureau for overcharging legal fees. He was illegally detained for 391 days before eventually winning the case. However, he still has not been able to get his license back. Li then moved to Beijing and joined Yitong as an administrative assistant.
Last year, Li and several other lawyers in Yitong Law Office including Cheng Hai, Wen Haipo, and Yeung Huwen launched a campaign to call for direct elections in the Beijing Lawyer's Association.
Their campaign has gained the support of several Beijing lawyers and has been a cause of alarm for the CCP controlled Beijing Bureau of Justice and Beijing Lawyer's Association. In Sept. 2008, Li and the other lawyers involved left Yitong under duress.
Li believes the closure order, which was issued five months after the event in question, is just a front. He feels the real reason behind the closure is a number of controversial cases the firm has taken up, such as the case of Hu Jia, winner of the European Parliament's top human rights award in 2008 and who is now serving a three-and-a-half year sentence for supposedly "inciting subversion."
Yitong has also taken up the case of Chen Guangcheng, a blind activist sentenced to four years imprisonment in 2006 after a starting a campaign against the CCP's infamous "one child" policy of forced abortion and sterilization
The firm was also involved in the Yang Jia case, the man who was accused of murdering six Shanghai police officers with a knife and was executed. His case received international media attention for the sympathy that Chinese citizens felt for him.
Yitong's owner Li Jinsong and partner Liu Xiaoyuan took the leading role in the case to defend Yang and his family's interests.
Li Jinsong said that he believes the CCP member's ultimate goal is to shut down Yitong because the firm is capable of playing a leading role in challenging the actions of corrupt CCP officials.
Read original article in Chinese.