Land-Deprived Chinese Farmers Win Case but Do Not Regain Land
October 21, 2008 4:51 pm Last Updated: October 1, 2015 10:44 pm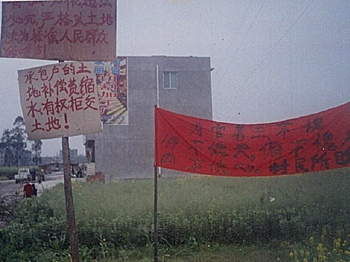 Villagers in southwest China's Sichuan Province won their case against the local power supply bureau's coercive land expropriation in February, but still were not given their land, and have not received any compensation for their expropriated farmland.
According to local villagers, the Jiajiang Power Supply Bureau expropriated over 35.3 mu (2.35 hectares) of farmland to construct the Power Bureau office building in Jiajiang County, Leshan City, and later resold it to a private building company for a great profit, without the permission of the landowners.
On May 10 in 2006, local authorities sent more than 200 people including armed police, policemen from the local public security bureau, court officials and local officers to forcibly destroy the villagers' collectively owned farmland, burying their farmland with sand used for building construction.
Witness Li Xiulian said, "They used many bulldozers to level the ground. All routes in and out of the village were blocked. When I asked them to act in accordance with the law, those people threatened me. They arrested me and other villagers. Many villagers were beaten."
One villager Wang Liang said, "They arrested me without a word, and then beat me. Two public security officers gave me two slaps, one of them seizing me by the throat and choking me. I was then taken away, and was released one week later."
Another villager Wang Daoquan said, "All those arrested villagers were beaten. My wife was arrested too. They were gangs in uniform."
A total of nine villagers were illegally detained, six released on the same day and three a week later.
The villagers tried to appeal to higher authorities to hear their land dispute case, but their efforts had no results.
On October 29 in 2007, ten representatives from the now-landless farmers submitted an administrative reconsideration application to Leshan Legislative Affairs Office about the case against the Jiajiang Power Supply Bureau and the Jiajiang county authorities to forcibly expropriate the land.
On February 29 in 2008 the city authorities announced the administrative reconsideration decision that the Jiajiang county authorities and the Jiajiang Power Supply Bureau had infringed upon Jiajiang villagers' farmland ownership or right-to-use, and the ladn-use rights certificate issued by the county authorities was void and invalid due to illegal acts.
On March 5 the villagers filed a complaint at the county procuratorate seeking restoration of the expropriated land and the compensation of 20 million yuan (US$2.93 million).
However, the court has not placed a case on file for official examination and possible prosecution; nor has the local public security bureau taken any effective measures, in response to the illegal farmland expropriation, which continues to exist.
Wang Daoquan said, "We were forced to take legal action and we won our case. But the local authorities keep ignoring the decision and have not paid us the required compensation."
To arouse the media's attention, the lost-land villagers have posted this case on Baidu, Google China and other websites. All of their posts have been removed afterwards.