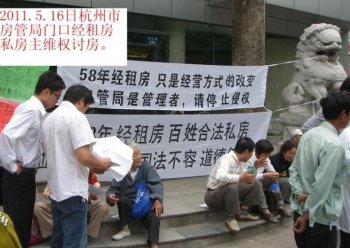 Decades ago the Chinese communist regime took privately owned homes away from urban residents. Now they want their property back.
In the 1950s and 1960s, the Chinese Communist regime used the slogan of "socialism reform" to force private property owners to let the government borrow their properties. Such properties are called "rented properties" and have not been returned to the owners since. After the Great Cultural Revolution, the rents were no longer paid to the owners.
In Hangzhou City, the capital of Zhejiang Province in eastern China, a group of property owners gather outside the Housing Administration Bureau every Monday morning to ask that their privately-owned properties maintained by the State be returned.
On Monday May 18, one petitioner said, "The government forced the property out of our grandparents' hands. Now it's time to return it back to us."
Property owner Mr. Feng is an elderly man. He told The Epoch Times: "We have been gathering here every Monday since 2008. It's been almost 3 years."
Ms. Gao said, "My grandmother's house was 47 square meters (506 square feet). The authorities forced her to bring the house under government maintenance. My grandmother had no choice but comply and her house has been taken away.
"We have asked the Housing Administration Bureau many times to return our property. In 1989 they offered to pay us 35 yuan (US$5.39) per square meter (per 10.76 square feet), which amounted to 1,600 yuan (US$246) for the house. That was way too little considering property prices. My grandmother did not accept the offer."
Ms. Xu said, "Constitution Article 13 says that a 'citizens' lawful private property is inviolable. Is the Chinese Constitution merely a piece of paper?"
In recent years, many house owners across China have started to reclaim their private properties from government maintenance.
On Dec. 10, 2010, World Human Rights day, several dozen petitioners from Beijing, Yunnan Province, Henan Province, Zhejiang Province, and overseas, gathered in Shanghai to announce the establishment of the "Association of State-Maintained, Privately-Owned Rental Property Owners."
In Shanghai, a group of house owners demanding the return of their properties posted an article and photos on aboluowang.com saying, "In 1958, many private properties were taken away. We've been waiting for a few decades now to have our properties returned."