Chinese Counterfeits Costly to US Economy
October 5, 2010 2:02 pm Last Updated: October 1, 2015 6:52 pm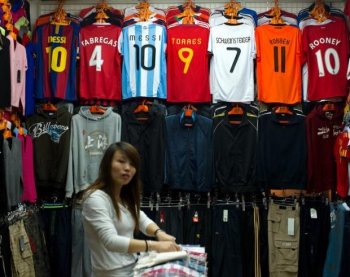 Much media coverage has been dedicated to China's violation of intellectual property rights, but many experts are now questioning the United States's actions—or lack thereof—in combating patent infringements.
The United States must make China accountable for its violations of World Trade Organization trade rules, according to testimony from industry and government experts before a Congressional-Executive Commission on China held last month.
"The question posed by the Commission is 'Will China Protect Intellectual Property?'" said Thea Mei Lee, deputy chief of staff at the American Federation of Labor and Congress of Industrial Organizations, before the Commission.
In her own response, she said, "I believe that the answer depends on our government's actions. To date, despite many efforts, we have not done enough to insist that the Chinese government fully comply with its international obligations."
Lee said that "until the price for non-compliance exceeds the gains, American workers and businesses will continue to pay a high price, and the Chinese government will continue on its current short-sighted path."
The majority of speakers reiterated in different words that quiet diplomacy has not worked in the past and will not work going forward. America must go on the offensive and ask its trading partners in other industrialized nations to support its actions and show China that it means business.
American entrepreneurs in the movie, software, and electronic industry, including most U.S. manufacturing companies, have faced an ever increasing deluge of counterfeit products for which they hold intellectual property rights.
Many U.S. experts say that if China wants to become the world's most dominant trade player, it must give the world more than just lip service, or it will never achieve this desire, especially if it continues to steal propriety information from its trading partners.
"Joshua Cooper Ramo, a strategic consultant and former journalist, concluded in a 2007 report on Brand China, 'How China is perceived by other nations—and the underlying reality that perceptions reflects—will determine the future of Chinese development and reform.' And by extension, it will determine the future course of global trade and politics," according to a 2010 article on the Canadian Business Online website.
Catching Fake and Harmful Products at the US Border
"CBP [U.S. Customs and Border Protection Agency] has designated intellectual property rights enforcement as a priority trade issue," according to a recent statement.
The CBP seized 8,000 batches of products that violated intellectual property rights during the first half of 2010 just before the products could enter the United States. During the same month, the agency donated $2.3 million of counterfeit apparel to the needy. In March, $52 million of counterfeit designer products were seized at Miami's ports. These are just the tip of the iceberg. CBP publishes a full list of fake, unsafe, and other products that were caught before the products could be delivered to the respective dealers.
In July, 6,000 counterfeit video games that came in on trucks from Mexico were seized. In June, 62 cartons of counterfeit electronic equipment were caught at the Dallas Fort Worth International Airport.

Continued on the next page…