Chinese Communist Party Website Using Porn to Increase Page Hits
September 3, 2005 12:00 am Last Updated: September 3, 2005 12:00 am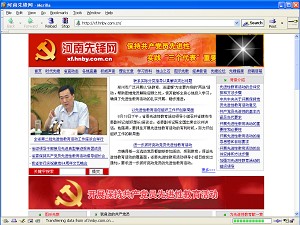 An outstanding example of inappropriate use of the internet is the appearance of obscene materials on one of the Chinese Communist Party&#039s (CCP) websites. Many people are disgusted by the erotic and pornographic content. In July 2004, the Public Security Bureau announced that it would immediately block erotic websites to comply with Secretary Hu Jintao&#039s declaration that he wanted to clean up obscene and offensive websites in China. However, the Henan Baoye (HNBY) website, maintained by the Henan Daily, a CCP newspaper in Henan province, has specifically set up an obscenity-based web discussion forum in order to entice visitors to the site.
Currently, HNBY is emphasizing the activities of the Henan Education Office that focus on "maintaining the advancement" (in other words, glorifying the CCP). One of the forums at the website is called the "Big River Forum," which has ten sections. Internet surfers report that the first section is the "Pioneer Forum" which promotes "maintaining the advancement," as does another forum, named, "Pioneer Mutual." However, there are other forums are called: "Beautiful Pictures," "Fairyland," "Night Talk," "Life," and so on.
A reporter clicked on the "Beautiful Fairyland" and the "Night Talk" forums and was very surprised at what was found. Though a person must register before entering the site, there is quite a bit of provocative content right in plain view. This site, which claims to be an important forum for the Party, Henan&#039s gateway website, and a site that emphasizes "educational activities on maintaining the advancement," is openly promoting obscenity.
The reporter interviewed an internet user with the screen name, "Fire Phoenix."
Reporter: Do you visit this website regularly?
Fire Phoenix: Yes, I was the owner/moderator of a forum there and used it for a long time. But just recently, I was involved in two incidents that caused the managers to block my site.
Reporter: May I ask what happened? Why did they block the website?
Fire Phoenix: Hao Dongya, the Assistant Supreme Procurator visited our forum, intending to experience and observe the local people&#039s situation. So a few friends and I questioned him about some incidents that had occurred here in Henan. We also appealed to him on behalf of a lady farmer whose husband had been murdered. Not satisfied with the investigation, we publicly stated that the investigation had been rather superficial and just done for show. Thus, I was seen to be offending a few people, which raised the ire of the forum managers.
The second reason I lost my screen ID was because I started an online discussion that criticized the CCP Zhengzhou Municipal Committee and Government when they initiated a "clean city" project that prohibited melon-carrying trucks from entering the city. The government enforces these regulations only to enhance their "achievement evaluations" and to protect their political positions. However, these policies are clearly unpopular and violate the will of the people. So my strong and aggressive criticism elicited tremendous responses on the forum and had a great impact.
When I still had my ID, I mainly went to just a few special websites and did not like to surf around. But after my ID was prohibited, I started to surf more and that&#039s when I found the "Beauty" link within the HNBY site. The very first page is filled with pornography. Since viewing requires registration, I signed in temporarily. I truly could not believe that an official government website, a site that claims to be promoting, and is a spokesman for, and a follower of, the CCP, and that represents a gateway to Henan, could harbor such obscene content! I was startled and quite taken aback!
Reporter: What did you do then?
Fire Phoenix: I communicated with the website manager and learned that the content was changed, with strong political support, to attract viewers. Since I am forthright and open, I reported this to the government, but then all my postings were blocked.
Reporter: What did the webmaster say?
Fire Phoenix: The webmaster is afraid of the higher authorities and said that the content change was designed to increase the browsing rate of the CCP newspaper. He said that all discussion forums do this kind of thing and even thanked me for having criticized other forums, because that had caused increased hits to his web site.
Reporter: Could you talk about your reasons for challenging the HNBY website?
Fire Phoenix: First, it is shameful, that the HNBY, as the gateway to Henan province, the main public website, and the so-called "voice of the CCP," would deliberately use pornography. It makes me angry, as there are certain things that should only be seen in private. Such a public display is like exposing the private relations of a married couple. HNBY&#039s behavior has exceeded the limits of decency for a public forum. Secondly, HNBY closed out my ID five times without any warning, notification, or justification. So I, a citizen, have been deprived of my freedom of speech. Also, my permit as a webmaster on the website was terminated without telling me why.
Reporter: What would you like the public to know?
Fire Phoenix: Last year, our government conducted a "porn-purging" campaign. A Ministry of Public Security rule states: "…any unit or individual who disseminates obscene, pornographic materials, or content that promotes gambling or violence, etc. will be warned by the public security department. In serious cases, a legal investigation will be conducted." Who would believe that such obscene pornography would exist on an official government website!
Therefore, for the sake of my conscience, I would first like to expose their shameful act of publishing pornography, and secondly, report it to the Zhengzhou Net Police of the Zhengzhou Municipal Public Security Bureau, since it is my duty as a citizen.
The CCP has the biggest and most effective system for inspecting and monitoring computer networks compliance using laws and technical standards. The CCP has also established the most complex network filtering mechanism in the world. The Ministry of Public Security has said: "Mobilizing the public to participate in the destruction of obscenity and pornography on the web is a &#039people&#039s war&#039." However, people will have to wait and see whether the CCP is going to fight such a war against the pornography on its own website and whether a clean and wholesome website will be restored to the public.