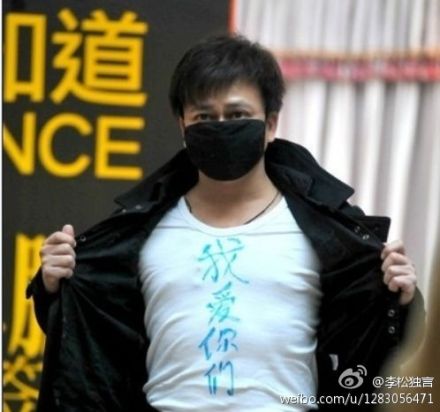 Book signings are normally sedate affairs, but liberal Chinese author Li Chengpeng had to fend off attackers—one who tossed a knife, another who punched him in the head—while introducing his new work The Whole World Knows, Monday in Beijing.
Li is a widely-followed opinion setter who has six million readers on China's Sina Weibo, the Twitter-like service. "The Whole World Knows" is actually Li's first book and is a collection of short essays. Since going on sale a few days ago it has topped the best-selling chart on a number of websites.
The Party government in Sichuan has curtailed the selling of his book. At his book event in Chengdu, the capital of that province, on Sunday, Li was told that he could not speak to the crowd. The news of Li being suppressed, along with the recent attack, have become a cause célèbre on the Chinese Internet, with a torrent of commentary and forwarding.
A topic room dedicated to the beating and harassment of Li has been established on Sina Weibo, and more than eleven million posts logged.
The events were first revealed by a netizen called "Fanwei." He wrote: "Here is what happened! First, Li's opening remarks were hard to hear as the area was packed with his friends and supporters and many patrons were kept outside. Next, at 5 p.m., a guy snuck in and elbowed his way to the podium where he punched Li in the head. The man, named Yan, was caught as he tried to escape."
"Then, around 7 p.m., another man was in line for Li's autograph when he pulled out a knife and threw it at the author, who was momentarily boxed in by the crowd. The knife missed…"
Posts elaborating on what happened have also been forwarded to tens of thousands of readers.
A video later emerged showing that the individual originally intended to place the knife, wrapped in red paper, on the table. After he was hustled away by guards he resorted to tossing it at, or to, the author. 
According to a Weibo post from activist and former Tibetan official "Doje Cering," "a fight did not break out as there was a strong police presence."
A perturbed Li told Deutsche Welle after the event that thousands of readers were there, including some from other provinces, and that poet Liu Shahe, who is in his eighties, was forced by security to remain seated in the audience, instead of congratulating the author. 
Li, unable to hold back his anger and emotion, said: "Thousands of readers have come and I have provided them with warmth. Likewise, I have also brought up a sense of warmth to this country, and everyone who is lost in this era."
A netizen wrote, "I don't agree with your point of view, but I will defend your right to talk freely with my life. If somebody could punch another person, for the simple reason of having a difference of opinion, what kind of society is that?" 
After the event in Beijing, Li will host another book-signing event in Shenzhen on the Jan. 15.
The Epoch Times publishes in 35 countries and in 21 languages. Subscribe to our e-newsletter.