Just as the Russia-Ukraine war affects the world's food and energy supply, China's zero-COVID policy under the raging Omicron variant further threatens the global supply chain.
Chinese officials announced that as of March 15,  Omicron has spread to 28 provinces in China, and at least 385 cities have reported confirmed cases.
Consequently, many cities are locked down or semi-closed to comply with the zero-COVID policy.
Dongguan, an important industrial city in the Pearl River Delta, in the coastal province of Guangdong, adopted a 7-day lockdown on March 14. Factories, enterprises and industrial parks are restricted from business activities and cargo transport. Public transportation is suspended, non-essential traffic is banned, and unnecessary traveling out of the city is prohibited.
A Dongguan textile company owner Mr. Wang told The Epoch Times that the lockdown has caused the complete disruption of production logistics, "Even express delivery is halted, it's all interrupted," he said.
"We can only try not to take orders and wait for the epidemic to subside," said Ms. Peng, owner of a hardware and mold accessories company in Dongguan.
Before the lockdown was imposed on March 14, a joint letter from 10 business owners was posted online calling for partial lifting of the measures to save the knitting industries in Dalang, "China's Woolen Sweater Town," in Dongguan city.
According to the letter, the local lockdown began in Dec. 2021, and the business has suffered tremendously and lost many customers.
On March 13, two major manufacturing hubs implemented a lockdown: Changchun, an auto industry town; and Shenzhen, a technology and financial center.
Consequently, automakers Volkswagen and Toyota, and more than 60 Taiwanese companies in Shenzhen, including Foxconn, had to stop production.
China insisted on the "dynamic Zero-COVID" policy as a containment measure in many cities, along with nationwide nucleic acid testing.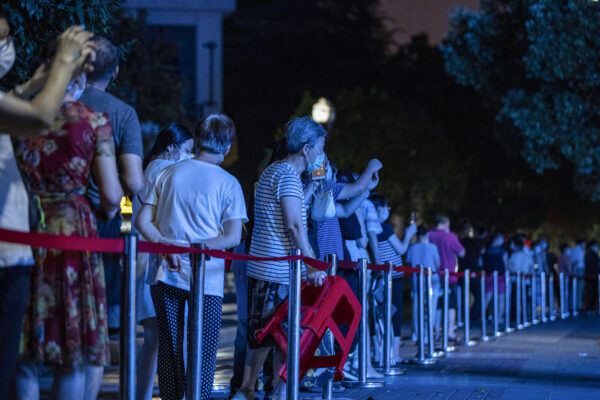 Mr. Li, a trucker for a furniture factory in Shenzhen, told The Epoch Times on March 16 that all activities have been suspended; on a daily basis the lines of people waiting to give a sample for nucleic acid testing stretch for more than a mile in Shenzhen.
He said: "Our factory has been shut down since the 13th … I have a truckload of goods not yet delivered … there are very few vehicles on the road."
Mr. Tan, an employee of an electronics factory in Shenzhen, also told The Epoch Times that the factories are shut down and the goods can't be delivered, "Customers are urging us to deliver; it has affected our supply to both domestic and foreign customers," he said.
All domestic Chinese interviewees were given pseudonyms to prevent reprisal from the regime.
"As the main supplier of many commodities such as electronics, communications, computers, furniture, from raw materials to final products, China's tough lockdown measure in zero-COVID policy will surely threaten the global supply chain," economist William Yu at UCLA Anderson Forecast told The Epoch Times.
"The abruption in supply will cause the shortage of goods and thus intensify global inflation," he stated.
As for the scale of the impact, it depends on the spread of the outbreak, and the number of cities and provinces imposing the lockdown measures.
The U.S. Department of Commerce reported that "in the second quarter of 2020, real GDP decreased 31.4 percent."
Yu said that the future of Chinese factories and exports is gloomy if China ends up in a nationwide lockdown.
Mary Hong contributed to this report.