A top business group says that China's zero-COVID policy has made European companies weigh a shift of investments out of China.
The strict COVID-19 lockdown and supply chain disruptions have rattled business confidence, according to a survey by the European Chamber of Commerce in China published on May 5.
"Our members are weathering the storm for now, but if the current situation continues, they will increasingly evaluate alternatives to China," said Jorg Wuttke, the chamber's president. "A more expensive, functioning market is better than one that is relatively cheaper, but paralyzed."
A total of 92 percent of the businesses that responded to the survey stated that they had been affected by recent port closures, a decline in road freight, and rising sea freight costs.
Nearly a quarter of the 372 respondents were considering moving current or planned investments out of China, more than double the number at the beginning of the year and marking the highest proportion in a decade.
About 60 percent of businesses have cut their business revenue projections this year, while nearly a third said they have reduced staffing levels.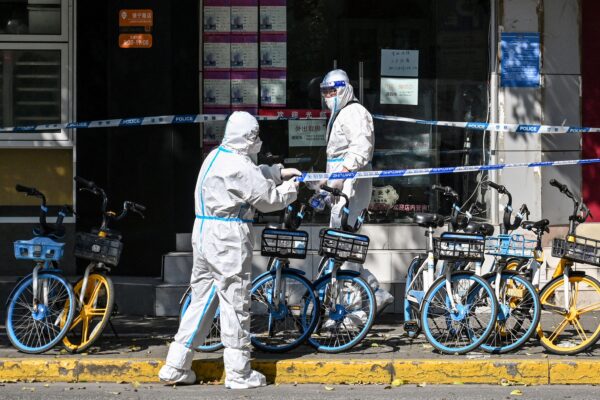 The survey, conducted in late April, is one of the few indicators of business sentiment over Beijing's heavy-handed COVID-19 control measures.
The Chinese regime's determination to eliminate the virus through lockdowns and mandatory quarantines has brought major manufacturing and tech hubs to a halt. As of May 3, 43 cities are under full or partial lockdowns or have implemented district-based controls, which involve strict mobility restrictions for local residents, according to Nomura.
There's no sign that the regime will change its course. The lockdown in the financial center of Shanghai has entered its second month. The city of Beijing is stepping up measures to curb COVID-19, with about 15 percent of subway stations closing on May 4.
In a recent interview with a Swiss media outlet, the top European business community's president said the Chinese Communist Party leaders have become "prisoners of their own narrative" after declaring their handling of the COVID-19 pandemic as being "much better than the decadent West."
Domestically, many experts and economists have also expressed concerns about the expensive policy, to which the regime has often responded with censorship. The social media accounts of Hao Hong, a prominent market strategist, were blocked this month after he warned of the economic effects of the lockdown and the capital outflow from China.
Reuters contributed to this report.