China's U.N. Speeches Raise Questions
September 19, 2005 12:00 am Last Updated: September 19, 2005 12:00 am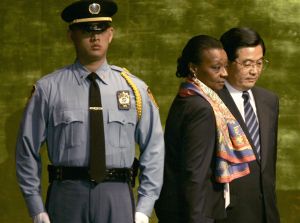 NEW YORK – Chinese top leader Hu Jintao delivered two speeches to the United Nations General Assembly last week, the first addressing aid for developing countries, and the second–to the suspicion of some analysts–focusing on peace, fair trade, and global responsibility.
Hu's first speech outlined five new measures for China to provide aid to developing nations, especially in Africa. The measures include medicine, direct aid, and $10 billion in loans. All five aid offers excluded countries that have diplomatic relations with Taiwan, which Beijing refuses to recognize as a sovereign state.
Many China-watchers believe that Beijing's support of African countries is intended to influence their U.N. votes. In his comments on development, Hu made no mention of the hundreds of millions of peasants that live in abject poverty in his own country.
Hu's second speech had an entirely different focus, and seemed to be an about-face from the last 50 years of de facto Communist Party policy. Though the author of this article was removed from the General Assembly hall by U.N. security officers just before Hu's talk, apparently at the request of Chinese officials because of his status as a reporter for The Epoch Times, the author was able to read the official transcript of the speech. In it, Hu Jintao used the word "harmonious" seven times and "peace" nearly 30 times.
"We must abandon the Cold War mentality, cultivate a new security concept featuring mutual trust, mutual benefit, equality and cooperation, and build a fair and effective collective security mechanism aimed at jointly preventing war and conflict and safeguarding world peace and security," said Hu.
Such comments form a sharp contrast to a comment made two months earlier to Hong Kong journalists by Chinese Major-General Zhu Chenghu that, should the United States threaten China during a confrontation over Taiwan, "Americans will have to be prepared that hundreds… of cities will be destroyed by the Chinese."
In addition, while groups like Amnesty International, Human Rights Watch, and The Falun Gong Human Rights Working Group continue to receive fresh reports of torture and murder of dissidents and religious and spiritual adherents in China, Hu asserted, "We should actively promote and protect human rights."
"President Hu's words were entirely lies," said renowned political analyst Ling Feng. "They have deceived China, and now they want to deceive the world." "Is threatening Taiwan considered 'peace'?" he added. "How can there be 'openness' when media is tightly controlled and censored? This is all to deceive people."