China's Shame: Underfunding Public Education
March 17, 2011 1:08 am Last Updated: October 1, 2015 5:20 pm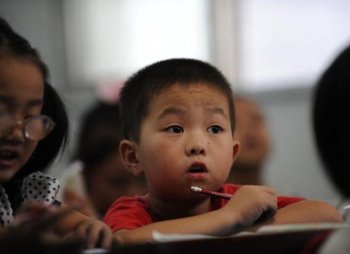 China's education budget has never reached the regime's goal of four percent of Gross Domestic Product (GDP). In 2004, education spending around the globe averaged 4.7 percent of GDP, but in that same year, China spent 2.79 percent of GDP on education.
China Economic Weekly analyzed information published by the Ministry of Education's Finance Department, China Statistical Yearbook 2009, and the National Bureau of Statistics and discovered that China's education expenditure has been less than four percent of GDP from 2000 to 2009.
The Outlines of China's Education Reform and Development, published in 1993, recommended that education spending should gradually increase to four percent of GDP, reaching that level by the year 2000.
However, in a March 8 report, China Economic Weekly revealed that if China had been spending four percent of GDP annually on education between 2000 and 2009, it would have put an additional 1.6 trillion Yuan (US$ 243 billion) into the education system over those 10 years.
In contrast, China spent nearly three trillion Yuan (US $455 billion) in building a high-speed rail in 2010, says an April 2010 report by Shanghai Securities News. The Ministry of Railways alone invested one trillion Yuan (U.S. $152 billion) on high-speed rail in 2009. By the end of 2009, the ministry was 1.3 trillion Yuan (US$ 197 billion) in debt.
Economist He Qinglian says China's education system has become a source of shame. Taiwan spends about 10 percent of its GDP on education. Even the African nation of Ghana spends a larger percent of GDP on education than does China.
Officials Claim Financial Difficulties
A sampling of some online reactions to this news shows strong revulsion.
"Agate" from Baoding who works at First High School in Gaobeidian City, Hebei, posted online: "A teacher in his 40s makes 1300 Yuan (US$ 197), less than half what a migrant worker makes (3500 Yuan, US$ 530) per month. In the future, who would want to become a teacher?"
"A person from overseas" in Qingdao City posted, "No wonder so many cannot afford to attend school, so many school buildings collapsed, and so many children have no money to go to elementary school or to attend college. The government owes the education system 1.6 trillion Yuan!"
"Source of life" from Simao City said: "I am so angry! I was wondering why teachers are so poor. I have worked for 16 years as a high school teacher, and I am paid 2200 Yuan (US$ 333) a month. How can I survive?"
"Fanfuduan" from Guangyuan City: "Look at the middle school in our village; the students don't even have a laboratory to do experiments, not to mention multi-media classrooms. The local education bureau always tells us 'you have to understand, we are undergoing financial difficulties here…'"
According to the State Council's National Working Committee on Women and Children and information published by the All-China Women's Federation in June 2010, there are 19.82 million migrant children under 18 in China and the dropout rate of these children is 9.3 percent. Also, half of these school-age children are chronically truant.
Education Burdens Families
At a forum at Beijing University in 2009, Professor Yuan Liansheng of Beijing Normal University's School of Management confirmed that in rural areas teacher's salaries and the quality of education are both low. "In a more economically advanced area such as Guangdong, there are still students sitting in shaky buildings built dozens of years ago. I read in a newspaper that in a school out west without a cafeteria, hundreds of students had to eat lunch on the playground. Rural areas have little funding for education or for teachers' salary. Many schools do not even have what it takes to be a school."
"There is an enormous deficit in our education," said Professor Yuan. According to him, the debt runs up to dozens of billion yuan. "The huge amount of debt indicates there are not enough governmental funds being properly budgeted."
Professor Yuan pointed out that the financial burden of education for each family was much higher than the international average. "Our government picks up 65 percent of total education costs. However, in most countries, including in India, the government picks up more than 75 percent or even close to 80 percent of education costs."
"The amount the government spends on education barely satisfies the basic need for education in this country. The education system relies too much on students' families, putting economic pressure on most of them," concluded Yuan.
Read the Original Chinese article.