China recently banned Micron chip sales to critical information infrastructure operators over cybersecurity issues. It came after the world economic power players showed their support for alternative and secure supply chains, and Micron announced its investment in Japan.
China's ban will only enhance the risk of foreign investors in China, and possibly force economic decoupling between China and the free world, says an expert.
Micron's Awareness
While the technology war between the two economic powers is escalating, "Micron may have been fully aware and prepared," said Shen Rongqin, an associate professor at York University in Canada.
The Cyberspace Administration of China (CAC) started the cybersecurity review on Micron on March 31, when Micron was also in the process of increasing the production of semiconductor chips in the United States.
Micron acknowledged in its recent quarterly report in March that the Chinese regime "may restrict us from participating in the China market or may prevent us from competing effectively with Chinese companies."
A Secure Supply Chain
When South Korean President Yoon Suk Yeol prepared a state visit to the United States in April, the White House was reported to have asked South Korea to urge Samsung Electronics and SK Hynix—the two other dominant players in the Dram memory chip, not to fill in the market gap in China if Beijing bans Micron from selling chips.
In response to a media request, South Korean trade minister Ahn Duk-geun said any decision would be left to the individual companies. He said, "It's hard for the government to dictate what a company should or should not do," reported Wall Street Journal.
However, just two days before China announced the ban, Japanese Prime Minister Fumio Kishida met with executives of global chip companies on May 18, including TSMC, Micron, Intel, IBM, Applied Materials, Samsung, and IMEC, in an effort by the Japanese government to secure a stable supply of critical components without relying on China and foster the region's economic security.
Since 2021, the Japanese government has focused on the development of the chip industry, which has brought more than 2 trillion yen ($14 billion) in announced investment plans.
Almost concurrently, Micron announced that it will be introducing extreme ultraviolet (EUV) technology to Japan, investing up to 500 billion yen in 1-gamma process technology development to manufacture its next generation of Dram.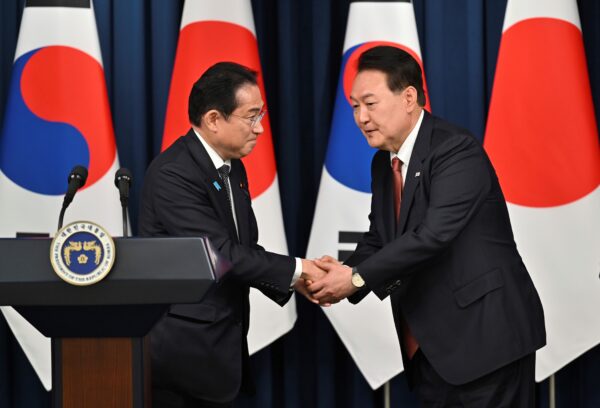 Samsung Electronics also plans to establish a central research and development (R&D) facility at Yokohama Research Institute and will likely build a semiconductor packaging test line in Japan.
"This is unprecedented for major players such as Micron, Intel, TSMC, and Samsung to have all increased their investment in Japan," said Yueh-Chung Chu, an assistant professor of the Department of Finance, Southern Taiwan University of Finance and Technology.
Especially for Samsung to set up an advanced packaging production line in Yokohama, this changed the mutual blockade between Japan and South Korea in the field of technology. "For Japan, it is of great significance," he said.
Geo-political Decoupling
Chu said that Beijing picked the evening when G-7 Hiroshima summit had just concluded its three-day meeting to announce the Micron chip ban, and that was meant to warn the United States and the participating states regarding investment in China.
However, the ban brought concern to foreign investors in China.
U.S. businesses are worried about "being the next target of China's security review," said Michael Hart, president of the Beijing-based American Chamber of Commerce in China (AmCham China).
European companies in China are also worried, especially about the possible impact on the semiconductor supply chain, according to a report by Voice of America.
Shen said that the U.S.-China tech war isn't likely to be eased in the short term. He said he believed the White House was seeking to decouple in high-end technology and high-end products, but the decoupling is not unilateral.
"Ever since Huawei was sanctioned, China has comprehensively reviewed its product line both upstream and downstream, and searched for substitution. If there is no alternative, they'll look into self-reliant development," he said.
Lin Cenxin contributed to this report.