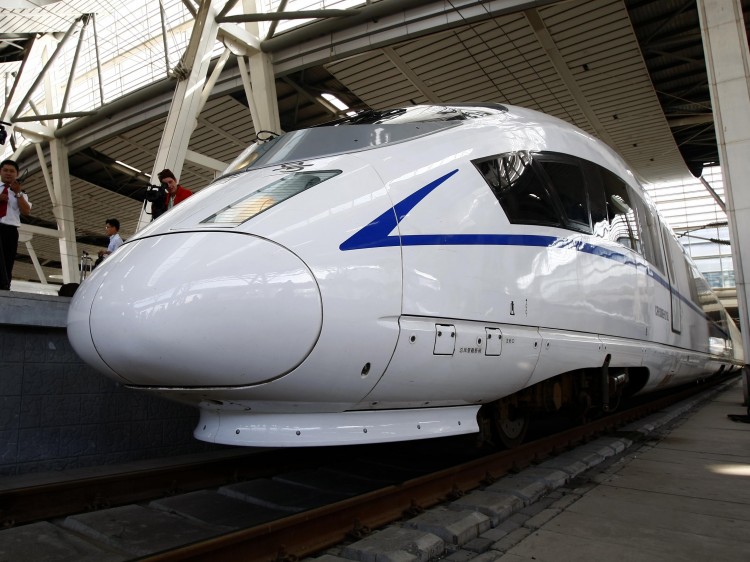 Barely 10 days after its debut, China's new showcase high-speed rail connecting Beijing and Shanghai has been plagued by power outages and safety concerns.
The G151 train heading south towards Shanghai had to stop halfway in Shandong province shortly after 6 p.m. on July 10 due to an electrical system malfunctioning, causing 19 subsequent trains to be delayed.
Annoyed passengers expressed their frustration on microblogs about travel delays and lack of ventilation inside stranded trains. They were also upset with state media's slow reporting, saying the G151 train was stopped a little after 6 p.m., yet state media Xinhua didn't inform people of the trains operation disruption until 10:44 p.m., a report by First Financial Daily (FFD) said.
Blogger "Metal-tooth sister of Qiao Renliang" said she was on the G151 train. She said: "When the power went out, the air conditioning stopped working and there was no ventilation inside the train. The passengers were quite concerned. The train crew explained that the power outage was caused by heavy rain. About two hours later, the train restarted, but had to stop at Xuzhou for inspection and repairs."
Bloggers said passengers were questioning the quality of the system. "How come the high speed rail is so fragile that it gets stopped by a rain?" some asked.
Mr. Xu from Shanghai also had an experience on the same high-speed rail route. He said about half an hour after his train left Tai'an station in Shandong province, the train suddenly stopped.
"The body of the train was a little tilted. It sat there for more than two hours. There was no electricity and no air conditioning. Passenger felt suffocated by the heat," Xu told FFD.
Mr. Lei was riding on another high-speed rail line, the G19 that also experienced trouble. "Ten minutes after the G19 train left Tengzhou in Shandong province, it had to stop on a bridge. When it arrived at the Shanghai Hongqiao station, it was two hours late," Lei told FFD.
Lei said many people were asking the captain why the train had stopped, and the captain merely said that there was no signal ahead. Lei said it seemed the crew were in a chaotic state and did not have enough experience dealing with emergencies.
On the morning of July 12 several people posted messages on microblogs saying the high-speed rail was once again crippled. However, this time it couldn't be blamed on the weather, as photos posted by bloggers showed good weather conditions at the scene.
Continued on the next page … Speed over Safety