China's HNA Group was recently hit with an open letter from a whistleblower who said it was written on behalf of more than 20,000 employees, accusing former chairman, Chen Feng, of an under-the-table operation to repay his own debts.
Previously, The Epoch Times reported that the acquisitive conglomerate, once synonymous with China's global ambitions, had entered bankruptcy proceedings this past January.
A former HNA employee, Jiang Bing (alias), told The Epoch Times that the local government provided funds to HNA for repayment of debts it incurred for restructuring and bankruptcy proceedings. However, Chen misappropriated the funds to repay his own debts first, ignoring his promise to put the interest of the employees first.
The Open Letter Alleges Top Executive's Crimes
A Chinese WeChat public account called "ershicimi.com" published the open letter, which was addressed to the Central Commission for Discipline Inspection, Beijing's top watchdog agency. The post was widely discussed on Chinese social platforms, but the original post is no longer available, and no media reports are available inside China.
The open letter claimed that Chen had manipulated his power in the company to repay himself and his immediate investment circle with funds made available by the Hainan provincial government and HNA Group, which continuously disposed of more than $46 billion in fixed assets to resolve the internal cash flow shortage during 2018 and 2020.
When HNA was running short on cash and employees' wages weren't paid in full, Chen's son Chen Xiaofeng, his nephew, and others were still buying luxury cars and goods on a large scale. Chen Xiaofeng also became a member of HNA's board of directors without following any approved legal procedures. Chen was accused of trying to turn HNA into his personal family business.
In addition, when the company made investment portfolios available to employees, senior executives received interest payments as high as 30 percent, while ordinary employees only received 8 to 11 percent interest, unbeknownst to them.
Employees Deceived by Corporate Culture
Jiang Bing, who worked at HNA for 20 years, told The Epoch Times that he responded to the company's call and jointly invested more than $772,000 in the company's employee-based investment portfolio.
According to Jiang, HNA started these employee-only portfolios as early as 2015, with different tiers and rates of return paid as direct deposits to their bank accounts.
The company promised that if the employees supported the development of the group, the company would share profits with them first and executives second. The company also promoted the investment portfolios to employees' friends and family to join.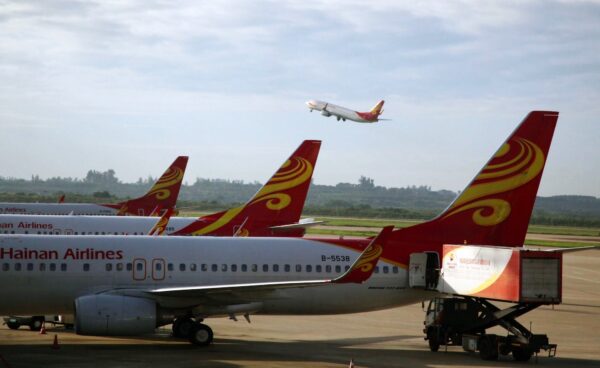 Jiang indicated that he had been a careful investor. He was only involved in HNA's investment portfolios because he trusted Gu Gang and Chen Feng's promise that "the interest of employees is the priority," but the repayment was not seen.
"We did not sue them, but continued our work. We've been waiting. Now Gu Gang took office but refused to acknowledge his own promise."
Gu Gang is the newly elected Secretary of the HNA Party Committee. In China, every organization is required to establish a Party Committee when there are three members of the Chinese Communist Party. The Secretary of the Party Committee has a higher power than the chairman of the company.
Jiang alleged that Chen recovered his principal investments. According to online information made available for debtors, Chen only claimed a loss of unpaid interest in the first debtors' meeting held on June 4. Jiang said that if Chen only claimed the unpaid interest, he must have already received his principals.
"I believe that some senior executives have also recovered their investment privately," Jiang said.
On June 30, Jiang was notified by the company that he was being let go, without a reason. As for the compensation, the company advised him to file legal proceedings.
Jiang and his father-in-law and other relatives, a total of four families, had invested nearly $1 million to purchase HNA's internal investment portfolios. This is more money than he made in his entire 20 years of working at HNA. His monthly salary was only $772.
"Think about how much I have earned after working at HNA for more than 20 years? Now the company is bankrupt. I know it is not easy for a company to go bankrupt, but they can't even guarantee us the principal."
He said his family had thought about the risks associated with the investment but, "We believed that our corporate culture is about honesty. The chairman and the Party Secretary both assured us that we would be protected."
"That's why we invested all our savings."
Jiang admitted that for 20 years, he's been brainwashed by the so-called corporate culture of "integrity, participation, and sharing" touted by HNA.
He realized that he's been fooled. There are as many as 60,000 low-level employees that participated in the investment portfolios, according to Jiang.
He is thinking of going to the company in Haikou, the capital city of Hainan, to negotiate his repayment.
Wang Mei (pseudonym), a family member of an HNA employee, told The Epoch Times that she invested more than $15,000 in HNA's investment portfolio in 2017. When the repayment was overdue, the company advised her not to aggravate the financial crisis of the company but consider an alternative option which allowed the company to repay later.
"We chose one of the options, which was to delay redeeming for one year, and the interest would be 12 percent."
However, a year later, the deposits ran late. So far, Wang only received a portion of the principal—a little more than $2,000.
Wang said, "The company should repay the employees first, just like the wages should be taken care of first."
HNA was founded in 1993 by Chen Feng and Wang Jian, and headquartered in Haikou, Hainan.
On July 3, 2018, Wang Jian, then chairman of the HNA Group, fell to his death from a 26-foot wall in France. The police believe that it was an accident, but there is some speculation of suicide or homicide.